Shopping in Lille - authentic goods, best outlets, malls and boutiques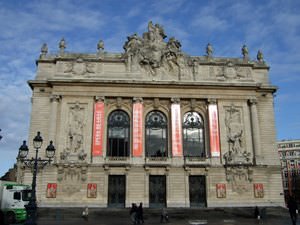 One of the most visited shopping facilities in Lille is Euralille Mall, the largest in town. Among dozens of stores concentrated within its walls, there are fashion boutiques of well-known European brands, shoe stores, jewelry and cosmetics stores. On the ground floor of the mall is Carrefour supermarket, which is very popular among independent tourists. Visitors to the shopping center can also relax in cafes and fast-food restaurants.
Lille is the fourth largest city of France that perfectly combines culture and history of Flanders, France and Norway. It is located in Nord-Pas-de-Calais region and is known as the …
Open
Wazemmes Market with its impressive selection of goods is a real city attraction. The market boasts endless grocery rows, while tourists are particularly interested in local-specialty counters, as well stalls with fresh pastries. Besides vegetables and fruits, here one can find inexpensive clothes and shoes, popular souvenirs, and fresh flowers at reasonable prices in the warm season. The rows with various antiques and works of art deserve special mention.
Those having a sweet tooth should never ignore Jean Trogneux specialty store famous for its huge selection of chocolates and sweets. In addition to sweet gifts, it also sells traditional souvenirs at affordable prices, and colorful postcards depicting city landscapes will cost customers about 0.70 euros. The cost of many original souvenirs does not exceed 3 euros in this store. Copyright www.orangesmile.com
Lille has many excellent entertainment centers. Fans of game simulations will like the center AviaSim Lille. In this center, everyone can feel himself as a professional pilot. On special …
Open
Among the numerous local shoe stores, it is worth highlighting Eram, one of the largest stores in its category. Here you can find shoes for every possible taste, ranging from elegant classic to extraordinary designer models. Reasonable prices make the store even more popular. Prices start from 25 euros for one pair, and the average price is about 50 euros. This store would be of interest to both men and women.
La Grande Braderie de Lille is a flea market ideal for those looking for unusual souvenirs. Here they sell a variety of antiques, from unique works of art to old tableware and bronze figurines. Ladies will have a chance to pick beautiful antique jewelry, as well as vintage accessories "from the past". Famous local artisans present their exclusive products at the market. Popular restaurants and cafes nearby will make your shopping as comfortable as possible.
Local cuisine features a large variety of dishes and unexpected combination of different taste characteristics of components. In Lille chefs aren't accustomed to spare time and money; …
Open
Jours Heureux grocery shop is perfect for buying edible souvenirs, including the most popular national products. The store's strongest point is a rich selection of sweets - it sells beautiful sweets, cookies, various types of chocolate, and homemade jams. With such a wide range of goods, it's easy to choose souvenirs of various price categories.
Souvenirs Lille offers customers a rich selection of traditional souvenirs at affordable prices. Right at the entrance to the store, you will see beautiful postcard racks, and inside, you can enjoy a wide selection of magnets, trinkets, miniature figurines depicting city attractions, mugs, and T-shirts, as well as other souvenir products so demanded among tourists.
Lille attracts tourists not only with its unique attractions but also with fascinating traditions and the great variety of holidays and festivals. Local residents are not indifferent to …
Open
To choose the best French wine for friends and loved ones, go to Les Vins d'Aurelien. This specialty store presents hundreds of wines delivered from different regions of France. Even big professionals can get lost in such a great variety of drinks. The owners will help you choose the right drinks of various price categories.
There is also a great store for beer connoisseurs in Lille - L'Abbaye des Saveurs. In addition to beer, it also sells popular local products, as well as rare ones that are not sold in ordinary supermarkets. The store also has a large selection of beer mugs and beautiful coasters for them.

This guide to shopping in Lille is protected by the copyright law. You can re-publish this content with mandatory attribution: direct and active hyperlink to
www.orangesmile.com
.
City tours, excursions and tickets in Lille and surroundings
Reference information
Shopping streets in Lille
♥ Shopping area ' Vieux Lille' Lille, 1 km from the center.
On the map
Photo
Designer outlets in Lille and nearby
♥ Outlet 'McARTHURGLEN ROUBAIX' 44 mail de Lannoy, Roubaix, 59100, France, 10.2 km from Lille.
On the map
♥ Outlet 'L USINE CHANNEL OUTLET STORE' Boulevard du Parc, COQUELLES, 62911, France, 94.5 km from Lille.
On the map
♥ Outlet 'Rosada Fashion Outlet' Rosada 70, Roosendaal, 4703, Netherlands, 138 km from Lille.
On the map
♥ Outlet 'Usines Center Paris ' 134, avenue de la Plaine de France, Zone industrielle Paris Nord 2, GONESSE, 95500, France, 188.5 km from Lille.
On the map
♥ Outlet 'Quai des Marques Franconville' 395 rue du Général Leclerc, Franconville, 95130, France, 193 km from Lille.
On the map
♥ Outlet 'Marques Avenue L Ile Saint-Denis ' 9 Quai Châtelier, L Ile Saint-Denis, 93450, France, 197.5 km from Lille.
On the map
♥ Outlet 'La Vallée Village' 3 Cours de la Garonne, Serris, 77700, France, 198.9 km from Lille.
On the map
Photogallery of Lille best places
Search for shopping areas, streets, boutiques and supermarkeets on Lille map
Shopping advices for the whole region around Lille
Shopping advices for Lille. The best spots for buying designer clothes and local delicacies from France - shops, galleries, boutiques and outlets. We provide you with the shopping streets map, so you can plan your efficient shopping routes, while hunting for authentic souvenirs, goods, drinks, shoes and clothes in Lille.