Colors of Las Palmas - traditions, festivals, mentality and lifestyle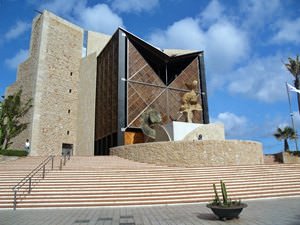 More than twenty colorful festivals are held in Las Palmas during the year. Those are bright carnivals and music concerts, fairs and religious celebrations; all national holidays would be interesting for travelers and would allow experiencing the local culture. National holidays also differ with special traditions. For example, Cavalcade of the Magi Kings is passing through the city on Christmas. According to an old tradition, the city hosts a beautiful parade headed by biblical kings. They drive through the main streets of the city on camels and shower locals with sweets; children pass letters with their cherished desires to those 'kings.'
The promenade and Las Canteras Beach, located next to it, are considered the most crowded and busy places of the resort. Visitors can sit on beach chairs and take sun bathes, or take a boat …
Open
Fans of classical music have to visit Las Palmas at the end of January, when the music festival starts. During the month, concerts featuring local and international teams, as well as other fun activities are held. One of the most striking events in the cultural life of the city is the Carnival, which is usually held in February or March. Carnival lasts for at least three weeks and involves performing a wide variety of recreational activities. The main venue of the festival is traditionally the Santa Catalina Park. A large outdoor stage is set there; attractive restaurants, open-air cafes and attractions for children are working in the park during the Carnival.
Highlight of the event is choosing the Carnival's Queen. Only one participant can be honored by this title, and she has to pass some qualifying tests. Children also select their Queen; special entertainment programs for young participants are also held during the Carnival. The next day, after the Queen was chosen, a gala parade is performed. It is headed by Queen's wagon decorated with fresh flowers and colorful ribbons; it is followed by other parade participants dressed in beautiful costumes. Carnival ends with a grand pyrotechnic show. Copyright www.orangesmile.com
1. Going on a trip, you should definitely bring warm clothes with you. It will certainly come in handy to those who hope to go walking in the evening and to make trips to other parts of the …
Open
Among the best known religious holidays is St. John's Day, which is celebrated on June, 24. It is believed that the city was founded on this day; for many centuries, the locals believe St. John to be founder and chief patron of the city. The program of celebrations is quite diverse and includes sporting events, theatrical and musical performances, as well as concerts and entertainment for children.
An attractive event for tourists is the Festival Internacional de Teatro, Música y Danza Temudas, which is held in July when visitors can watch bright theatrical street performances of artists coming from all over the world. Festival venues are the central streets near the Port of Las Palmas. Watching street performances can be combined with visiting local cultural institutions, bars, and clubs where a festival called Canarias Jazz & Más Heineken is organized at this time. As the name implies, it is dedicated to jazz, however, here you can also listen to related genres such as soul, R'n'B, funk, rock.
Cinema buffs are advised to visit Las Palmas in March when it hosts the Festival Internacional de Cine de Las Palmas de Gran Canaria. Attending this event is a great opportunity to watch movie premieres from famous directors. This is also your chance to see celebrities just on the streets or at the festival's opening and closing ceremonies. The City Day (Fiestas Fundacionales) is scheduled for June. The event lasts about three weeks, during which visitors are entertained by musicians who come from all over the world. Art exhibitions are also available to tourists. The venues are cultural institutions around the city such as theaters, exhibition complexes, bars.
Las Palmas has an excellent shopping center Centro Comercial Las Arenas. It is quite small in comparison with many European malls but still offers a great variety of goods. It houses large …
Open
Among other interesting holidays widely celebrated in the city, it's worth highlighting Easter (Pascua), which is traditionally accompanied by religious processions and solemn divine services. Another widely celebrated Catholic holiday is Corpus Christi, during which a religious procession passes through the city's central streets decorated with flowers. The sight is absolutely amazing, which is confirmed even by atheists to whom religious processions don't mean a lot. Las Palmas is also of interest to tourists on the Christmas holidays when fairs open and interesting shows take place in cultural institutions. Such a remarkable event as Cabalgata de los Reyes Magos is held after the New Year, on January 5. The celebration includes a colorful parade, a gastronomic program, as well as theatrical performances.

This guide to traditions and festivals in Las Palmas is protected by the copyright law. You can re-publish this content with mandatory attribution: direct and active hyperlink to
www.orangesmile.com
.
City tours, excursions and tickets in Las Palmas and surroundings
Reference information
Survived castles around Las Palmas
♥ Castle 'Castle of San Francisco' Canary Islands, 0.9 km from the center.
On the map
Photo
♥ Castle 'Castle of San Cristóbal' Canary Islands, 2 km from the center.
On the map
Photo
♥ Castle 'Fortress of Santa Catalina' Canary Islands, 2.6 km from the center.
On the map
Photo
♥ Castle 'Castle of la Luz' Canary Islands, 5.5 km from the center.
On the map
Photo
Colors of Las Palmas in photos
Search for popular touristic sites on Las Palmas map
Traditions and festivals in cities around Las Palmas
Cityguide on traditions, mentality and lifestyle of people in Las Palmas. Learn the best periods to visit Las Palmas to discover its soul - authentic festivals, events and celebrations. We will also reveal the interesting habits, attitude towards the world and to tourists in Las Palmas.