City break in Las Palmas. Active leisure ideas for Las Palmas - attractions, recreation and nightlife
The promenade and Las Canteras Beach, located next to it, are considered the most crowded and busy places of the resort. Visitors can sit on beach chairs and take sun bathes, or take a boat trip. All possible forms of entertainment are available for visitors of the beach; there are popular cafes and restaurants on the waterfront. At any time, you can leave a coast and go to a nearby garden, Jardin Canario. Here, there is always a pleasant coolness; fans of cycling and walking like to rest here. One of the main features of the park is an abundance of beautiful cactus permanently photographed by travelers.
Las Palmas has an excellent shopping center Centro Comercial Las Arenas. It is quite small in comparison with many European malls but still offers a great variety of goods. It houses large …
Open
Those, who can't imagine vacation without a visit to a golf center, won't be bored also. The most popular club is Real Club de Golf de Las Palmas. The high-class course, a rent center and a cozy cafe with an abundance of food and beverages are waiting for visitors; you can relax all the day in this club. Fans of outdoor activities are recommended to go to the charming Parque de San Telmo. An abundance of colorful fragrant flower beds, cozy gazebos and benches, as well as a great area for families with children have made this park one of the most popular in the city. Doramas Park has equal popularity; it is sure to appeal to fans of active holidays.
In the center of the city is well-known Union Deportiva sports complex. There are well-equipped gym and fitness center, a swimming pool, a spa and several massage cabinets on its territory. For those who want to relax away from the bustle of the city and to enjoy the natural splendor, Playa de Las Alcaravaneras is recommended. Close to the coast there is picturesque park making the beach the best place for a peaceful and relaxing stay. Copyright www.orangesmile.com
Las Palmas is a town on the Gran Canaria Island. The city is the island's capital, the largest city of the whole archipelago and the largest port of Spain. The population of the city …
Open
Hotzone Surfschool is a real godsend for tourists who have long dreamed about surfing. Fine professionals are working here; just in a couple of lessons you will be taught the basics of this sports entertainment. Shoppers should definitely look into the Artesania Santa Catalina shopping complex, which will surprise with an abundance of goods and nice prices. Fashionable clothes, trendy accessories, cosmetics, and original jewelry are also available in this shopping center. For souvenirs it's better to go to one of the street markets, Fisaldo is the biggest among them.
Apart from diving, surfing, and other water sports, Las Palmas invites tourists to ride luxury yachts, kayaks or boats, as well as go fishing as part of a tour. Of special interest are ecological tours, thanks to which tourists can see the most picturesque places of Las Palmas and its surroundings. However, beautiful panoramic views can also be enjoyed on a flight tour, and in this way, two needs are met at once: the need for aesthetic enjoyment and the need to increase the levels of the "extreme hormone" in the blood. Travelers who wish to explore some natural attractions can ride a horse, and this opportunity can be found in Canarias Ecuestre equestrian center.
Las Palmas is famous for its picturesque parks which are sure to please vacationers with children. One of the most picturesque is the Jardin Canario Park. It will be an ideal place for …
Open
The rope town GrancAventura is another great place for active leisure where visitors can climb the ropes exploring different routes for this (both for beginners and more experienced players), as well as learn the basics of rock climbing. Hundreds of interesting obstacles, coupled with the picturesque expanses surrounding the rope park, make this center one of the most enjoyable for family fun or spending leisure with friends. However, one can try to master climbing in another place - Indoorwall Gran Canaria. Here the action takes place not in the open air but in a covered complex.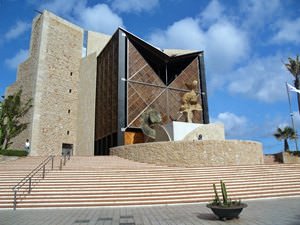 While in Las Palmas, be sure to explore a spectacularly styled aquarium called Poema del Mar. It presents a large number of marine species, including crocodiles, chameleons, fish (including both small aquarium fish and predatory sharks, moray eels). Have a great time in Experiencias Virtuales, especially if you are a gaming geek and want to brighten up your stay in the city with the help of virtual reality. Also, Las Palmas boasts such a wonderful place as Delik 2 where visitors can shoot a bow and develop their accuracy.
There are more than three hundred restaurants, cafes and bars on the island, and each place is trying to attract visitors with special treats. The Deliciosa Marta restaurant is very popular …
Open
Las Palmas is definitely a great place to learn something while on holiday. For example, Spanish flamenco dance - just go to Gran Canaria Flamenco Estudio. It is also worth attending some cooking classes to learn about the traditions of gastronomy in Gran Canaria through the art of cooking. The most popular spa in town is Thalasso Gloria Amadores. Its visitors are provided with excellent thermal areas, jacuzzi, massage, relaxation rooms, as well as a great bar. And all this is complemented by scenic views of the Atlantic Ocean from the windows.
Some of the most popular escape clubs are Wayout Room Escape and La Casa de Los Enigmas Ngaro-Games. Each of them is worth a visit, as this is a great opportunity for tourists to visit one of the beautifully designed themed rooms where they can use all their ingenuity. Participants can choose from such themed zones as Tesla's laboratory (this room is available in Wayout Room Escape), a pirate-style room or a room for conducting scientific experiments (both quests are offered by La Casa de Los Enigmas Ngaro-Games).
More than twenty colorful festivals are held in Las Palmas during the year. Those are bright carnivals and music concerts, fairs and religious celebrations; all national holidays would be …
Open
In Las Palmas, you can find a lot of interesting places for a night out, and each one is worth a visit. So, the city is a paradise for those wishing to dance all night long: Chester Club & Lounge and Disco La Divina remain the best options among local clubs. Those who want and know how to sing will find a place to their liking too - the best karaoke bar in town is called Reina De La Noche Las Palmas. Those who prefer watching and listening to live performances over a glass of foamy drink to all other entertainments should never ignore a bar called La Guarida del Blues. Particularly noteworthy is La Barrica Vinoteca attracting visitors with its excellent wine list. Well, the best lounge bars include Ginger, Billy Rockabilly Bar, and Fortuni. It is worth mentioning Dissareli Club where, among other things, one can smoke a hookah.

This guide on active recreation and leisure in Las Palmas is protected by the copyright law. You can re-publish this content with mandatory attribution: direct and active hyperlink to
www.orangesmile.com
.
City tours, excursions and tickets in Las Palmas and surroundings
Reference information
National and city parks around Las Palmas
♥ Cave 'Cueva del Barranco Hondo' , 24 km from the center.
On the map
Photo
♥ Cave 'Cueva del Lago' , 27.7 km from the center.
On the map
Photo
♥ Natural Park 'Pilancones' , 32.5 km from the center.
On the map
Photo
♥ Natural Park 'Tamadaba' , 33 km from the center.
On the map
Photo
♥ Cave 'Cueva Cerdaña' , 90.6 km from the center.
On the map
Photo
Water attractions around Las Palmas
♥ Water park 'Aqualand Maspalomas' Maspalomas, Gran Canaria, Canary Islands, 40.3 km from the center.
On the map
Photo
♥ Water park 'Lago Taurito' Mogán, Gran Canaria, Canary Islands, 45.6 km from the center.
On the map
Photo
Michelin-starred restaurants in Las Palmas
♥ Restaurant 'Ribera del Río Miño' Las Palmas de Gran Canaria. Type - Galician. 5.1 km from the center.
On the map
Photo
♥ Restaurant 'El Arrosar' Las Palmas de Gran Canaria. Type - Galician. 5.1 km from the center.
On the map
Photo
♥ Restaurant 'Casa Brito' Arucas. Type - Traditional cuisine|Meats and grills. 10.9 km from the center.
On the map
Photo
♥ Restaurant 'Nelson' Arinaga. Type - Regional cuisine. 27 km from the center.
On the map
Photo
Photogallery of picturesque Las Palmas
Search for active leisure and attraction spots on Las Palmas map
City break ideas for neighbours of Las Palmas
Guide to your best city break in Las Palmas - popular places for recreation and leisure. Things to do during the day in Las Palmas - attractions, parks, beaches, aquaparks, racing tracks, biking trails or waterski. Recommendations (with addresses, phone numbers and links) where to spend your time in the evening (bars, discos, clubs, etc.). We share some good ideas and the question 'What to do in Las Palmas?' disappears immediately.