Shopping in Las Palmas - authentic goods, best outlets, malls and boutiques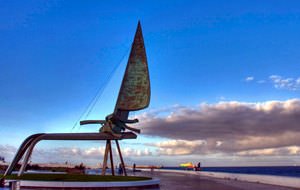 Las Palmas has an excellent shopping center Centro Comercial Las Arenas. It is quite small in comparison with many European malls but still offers a great variety of goods. It houses large sports shops, as well as trade pavilions full of clothes and shoes from popular European and American brands. Ladies will have the opportunity to visit perfume shops, and tourists with children will appreciate colorful toy shops. On the ground floor of the shopping center, you will find a supermarket selling all popular national products.
More than twenty colorful festivals are held in Las Palmas during the year. Those are bright carnivals and music concerts, fairs and religious celebrations; all national holidays would be …
Open
Not far from the coast there is another popular shopping center - El Mirador. It attracts travelers with a large selection of budget clothing and shoe stores. Within the walls of this shopping center, customers will find a Mango outlet and a large Media Markt appliance store. Not to mention many shops with women's accessories, cosmetics, and perfumes, as well as attractive cafes with a rich selection of signature desserts.
A beautiful historic villa houses the famous souvenir shop Casa del Perfume Canario featuring a very unusual design. This store sells cheap magnets and photo frames, unique glass and clay products from local artisans, as well as own-made perfumes - the shop's exclusive product. The store has been run by the same family for more than 150 years. Hereditary perfumers make their unique branded perfume according to secret recipes, using only natural ingredients. Copyright www.orangesmile.com
The major attraction of the island is El Museo Canario founded in 1879. It is located in a beautiful historic building. Its spacious rooms host priceless collection of archaeological …
Open
Las Palmas boasts a great market - Mercado Central where it will be interesting to walk here in search of national delicacies and other local products. Besides a huge selection of fresh fruits and vegetables, here you can get excellent farm cheese and other dairy products. Women are attracted to the market by a large cosmetics department, which specializes in low-cost organic cosmetics of local production.
In the Old Town of Vegueta, you'll find another popular market - Mercado de Vegueta. It is considered one of the most beautiful on the island, as vendors in this market turn their stands into exemplary trading venues. In addition to fresh vegetables and fruits, in this market, they sell a lot of fresh pastries and popular ready-made dishes that tourists and locals willingly buy to take away. Here you can buy very interesting delicious gifts for loved ones, for example, sets of dried fruits, spices and sweets popular in the Canary Islands.
The promenade and Las Canteras Beach, located next to it, are considered the most crowded and busy places of the resort. Visitors can sit on beach chairs and take sun bathes, or take a boat …
Open
Chocolate lovers will love the specialty store El Antojito. Chocolates y más delicias. Its customers can choose from dozens of chocolate candies that can be bought by weight. Apart from chocolate sweets, the store sells various types of marmalade and biscuits, there is also a large shop window with popular local wines and various canned products. A comfortable terrace with tables is equipped at the entrance to the store so everyone can arrange a great sweet breakfast here.
The city has a number of attractive antique stores, and MASAP Anticuario y Coleccionista is among the most interesting ones. Suitable souvenirs "from the past" can be found here for absolutely everyone. It has a very interesting showcase with old books, as well as unique works of art, watches, and even an old phone for sale. Old tableware, miniature porcelain figurines and jewelry boxes, chic hand-painted fans and beautiful silverware - this store has collected more valuable antiques than many museums.
1. Going on a trip, you should definitely bring warm clothes with you. It will certainly come in handy to those who hope to go walking in the evening and to make trips to other parts of the …
Open
Mercadillo Municipal de Santa Brígida will be of particular interest to fans of gastronomic shopping. The street market presents the most popular local wines, as well as canned products, fresh vegetables and fruits. There is a large section with flowers where you can buy a chic bouquet at a reasonable price or choose a live flower in a pot. This market is very small and in many respects focused on local residents so prices always remain at an affordable level here.

This guide to shopping in Las Palmas is protected by the copyright law. You can re-publish this content with mandatory attribution: direct and active hyperlink to
www.orangesmile.com
.
City tours, excursions and tickets in Las Palmas and surroundings
Reference information
Shopping streets in Las Palmas
♥ Shopping area ' Calle Mayor de Triana' Las Palmas de Gran Canaria, 0.5 km from the center.
On the map
Photo
Photogallery of Las Palmas best places
Search for shopping areas, streets, boutiques and supermarkeets on Las Palmas map
Shopping advices for the whole region around Las Palmas
Shopping advices for Las Palmas. The best spots for buying designer clothes and local delicacies from Spain - shops, galleries, boutiques and outlets. We provide you with the shopping streets map, so you can plan your efficient shopping routes, while hunting for authentic souvenirs, goods, drinks, shoes and clothes in Las Palmas.