Family trip to Las Palmas with children. Ideas on where to go with your child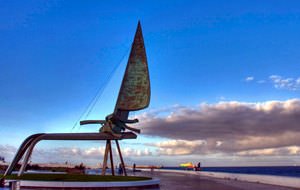 Las Palmas is famous for its picturesque parks which are sure to please vacationers with children. One of the most picturesque is the Jardin Canario Park. It will be an ideal place for family walks. In this park, there are many exotic plants and flowers, and an enormous number of exotic birds whose observation can become an exciting event. The park is quite large. There are interesting monuments and natural attractions on its territory, including beautiful lakes and big trees, which are several hundred years old.
For those who do not want to go with children far beyond the city limits, it will be pleasant to stroll through the Doramas Park. This park is very unusual. It has many landscape decorations, artificial waterfalls and original stone structures. The park is very popular among tourists with children. In summer, it is always possible to watch a lot of colorful butterflies in the park. Interesting entertaining activities are often conducted in the park. Right on the park, there are several cozy cafes which are suitable for a family lunch or dinner. Copyright www.orangesmile.com
Las Palmas has an excellent shopping center Centro Comercial Las Arenas. It is quite small in comparison with many European malls but still offers a great variety of goods. It houses large …
Open
On a rainy day, you can visit the original entertainment center Bubble Fever Gran Canaria. It has special halls for playing football. Visitors are offered to play in rather unusual "outfit" where they are dressed in large balloons. You can have fun with the whole family in this entertainment center. It is suitable for recreation with children of school age.
In the program of active rest with children, it is necessary to include a visit to the viewing platform, Mirador Pico de Bandama. It is located on the territory of a beautiful nature reserve, on top of a mountain. You can go to the observation platform by foot admiring the picturesque surroundings at the same time, or you can go by car and make a small ascent to the peak. At the top of the mountain, you can make a lot of spectacular photos. There are a lot of spacious tracks and playgrounds where children can run and play active games here.
Las Palmas is a town on the Gran Canaria Island. The city is the island's capital, the largest city of the whole archipelago and the largest port of Spain. The population of the city …
Open
There are many high-class spas on the island, some of which will be interesting to visit even with children; they can observe the modern water park. One of these centers is the Thalasso Gloria Amadores. In addition to the classical spa cabinet, there are chic pools, and a relaxation area with a Jacuzzi. You can perfectly relax here with the whole family. The center is equipped with panoramic windows. So on a sunny day, you can even get a tan at the indoor pool. In the center, you can see saunas and a beautiful relaxation area with bamboo chairs. In the warmer months, massage sessions are conducted for visitors in open cabinets overlooking the coast.
A favorite vacation spot for many tourists with children on the island is the Beach de las Canteras - the most beautiful and largest beach on the coast. You can come here for no particular reason. The beach is equipped with excellent playgrounds for children. Here you can build sand castles or give time to sports entertainment.

This guide to family holidays in Las Palmas is protected by the copyright law. You can re-publish this content with mandatory attribution: direct and active hyperlink to
www.orangesmile.com
.
City tours, excursions and tickets in Las Palmas and surroundings
Reference information
Water attractions around Las Palmas
♥ Water park 'Aqualand Maspalomas' Maspalomas, Gran Canaria, Canary Islands, 40.3 km from the center.
On the map
Photo
♥ Water park 'Lago Taurito' Mogán, Gran Canaria, Canary Islands, 45.6 km from the center.
On the map
Photo
Zoos and gardens in/near Las Palmas
♥ Zoo 'Loro Parque' Tenerife, 117.5 km from the center.
On the map
Photo
♥ Zoo 'Monkey Park' Tenerife, 125.2 km from the center.
On the map
Photo
♥ Zoo 'Las Águilas Jungle Park' Tenerife, 125.4 km from the center.
On the map
Photo
Photogallery of best places of Las Palmas
Children attractions (aquaparks, zoos, amusement parks) on the map of Las Palmas
Interesting places to visit with children around Las Palmas
Guide to sightseeing and entertainment for children in Las Palmas - parks, attractions, museums, zoos, water-parks. All fascinating and educational sites of Las Palmas, which are must visit and see for your child. Find out the best discovery routes and places for kids (local theaters, exhibitions and museums), where you can spend quality time together. Las Palmas for families with children.