How to spend top weekend in Bilbao - ideas on extraordinary attractions and sites
Exciting River Kayak Tour
You can go on a river kayak tour from April to November in Bilbao. It is a narrowboat that can accommodate 1 to 3 people. You will row with a two-bladed paddle. The guide will instruct you and give you a wetsuit and a life jacket before the trip. After that, you will take your place in the kayak and start the journey on the river. It's called the Nervión River. This trip will last 60 minutes. It will allow you to take a different look at the city's attractions.
Discovering the architecture of Bilbao from bird's eye view! Basilica de Begona, Teatro Arriaga, Mercado de la Ribera, City Hall, Alhondiga Bilbao, Palacio Euskalduna Jauregia, all those monuments are defining the image of Bilbao …
Open
You will choose one of several routes. They pass through the central part of Bilbao. If you want, you can take part in a night trip to Nervión River. It will start at 9 pm. Lights turn on at this time. The city becomes even more beautiful. You can apply, as well as specify the price and route of travel by going to the site bilbaokayak.com. A rental of kayak, wetsuit and life jacket are included in the price.
Get Thrill during Plane Voyage
You can make a plane voyage in Bilbao. It costs 550 euros. You will be picked up from the hotel and taken to the airport. The air journey will last 1 hour. You will be given a safety briefing before you start. You will admire the view of the city during the tour over Bilbao. You will also see the Bay of Biscay and get vivid emotions and increase the level of adrenaline in the blood. You will be taken back to the hotel after your trip. Copyright www.orangesmile.com
Bilbao is a wonderful city located on the north of Spain. It's worth mentioning that this town is the administrative center of Vizcaya. This is one of the largest cities of Spain. It …
Open
Funicular Ride to the Mount Artxanda
If you want to admire the city of Bilbao from a height, you can do it from the observation deck. It is located in a park on Mount Artxanda at an altitude of 770 meters. It is worth noting that the way to it will be very exciting for you. You can reach this place on foot or by a funicular called Artxanda. It is open from 7:15 am to 10:00 pm. The funicular runs every quarter of an hour. The second method is more popular than the first one.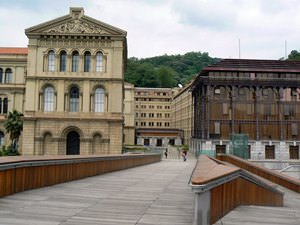 You will take the funicular at Funikularreko Plaza. You will pay 1 Euro. The trip will last a few minutes. However, you will enjoy a magnificent view of the city at this time. You will see Bilbao, the airport and the Atlantic Ocean once on the observation deck. You should walk back. So you can look at the mansions of the rich persons and the houses of not very rich citizens. This walk will give you no less impressive than a trip on a funicular.
Cum Laude Café Bilbao is a cozy restaurant that is known as one of the most beloved dining facilities among both local residents and tourists. The small hall of the restaurant is divided …
Open
Journey on the Bridge-Transporter
There is a bridge called Puente de Vizcaya near Bilbao. It connects Las Arenas and Portugalete, located on the banks of the Nervión River. It was built in 1893. It is a transporter. However, locals call it hanging bridge. The bridge operates around the clock. It is possible to transport 6 cars and more than a dozen people for 1 trip from one city to another using a hanging platform.
You can also make the crossing in just 1.5 minutes. You will pay 0.56 Euro per ticket for 1 passenger. A ticket for a car without a driver costs 2 euros. However, you can travel between cities by taking advantage of the footpath. A ticket for it costs 8 euros. You'll take one of the elevators upstairs. They are located in tower with a height of 50 meters. Spectacular views of Las Arenas and Portugalete, Bilbao port and harbor El Abra will open from the footpath.
In Bilbao travelers are attracted not only by truly unique sights, but also by unforgettable national holidays, the most famous of which is certainly Semana Grande de Bilbao. The festival, …
Open
Fantastic River Paddle Surfing
Do you consider yourself a brave human, having a good physical shape? Then go to the center of Bilbao. You will rent a Board and paddle here. You can enjoy river paddle surfing. Such a "vehicle" is legal to move around the Nervión River. You will get a wetsuit, life jacket, and insurance. You will also be trained. The price for 60 minutes of paddle surfing is 12 euros. 120 minutes costs 20 euros. You will pay 25 euros for 180 minutes of paddle surfing.

This article about ideas on extraordinary weekend in Bilbao is protected by the copyright law. You can re-publish this content with mandatory attribution: direct and active hyperlink to
www.orangesmile.com
.
City tours, excursions and tickets in Bilbao and surroundings
Reference information
Michelin-starred restaurants in Bilbao
♥ Restaurant 'El Globo' Bilbao. Type - Traditional cuisine. 3.1 km from the center.
On the map
Photo
♥ Restaurant 'Serantes III' Bilbao. Type - Seafood. 3.1 km from the center.
On the map
Photo
♥ Restaurant 'Etxanobe' Bilbao. Type - Modern cuisine. 3.2 km from the center.
On the map
Photo
♥ Restaurant 'Nerua' Bilbao. Type - Creative. 3.3 km from the center.
On the map
Photo
♥ Restaurant 'Guetaria Asador' Bilbao. Type - Traditional cuisine. 3.3 km from the center.
On the map
Photo
Survived castles around Bilbao
♥ Castle 'Castle of Ocio' Araba, 33.6 km from the center.
On the map
Photo
♥ Castle 'Battery of San Martín' Cantabria, 44.1 km from the center.
On the map
Photo
♥ Castle 'Tower of Mendoza' Araba, 46.1 km from the center.
On the map
Photo
♥ Castle 'Tower of los Varona' Araba, 47.5 km from the center.
On the map
Photo
♥ Castle 'Walls of Vitoria-Gasteiz' Araba, 50.4 km from the center.
On the map
Photo
Art galleries in Bilbao and around
♥ Art museum 'Guggenheim Museum' Bilbao, 3.4 km from the center.
On the map
Photo
Bilbao by photo artists
Search for interesting places on Bilbao map
Visiting neighbours of Bilbao for exclusive entertainment
Walk through hidden local streets, sneak to a small cafe, breathe and enjoy Bilbao from inside. Stay out from the beaten track during your city weekend, discover the soul of Bilbao as a real travel gourment. Follow our guide, take one of the exclusive services and spend your time in Bilbao unforgettably and with a full passion!