City break in Bilbao. Active leisure ideas for Bilbao - attractions, recreation and nightlife
Bilbao never ceases to attract fans of beach rest, shopping and nightlife. Every day spent in this hospitable city will be truly unique and unforgettable. Playa de Azkorri remains the most popular beach of Bilbao. Remote areas of the beach are simply perfect for family holidays. They are always distinguished by peaceful atmosphere and harmony. The territory of Playa de Azkorri has everything you need for a comfortable stay – sports and beach equipment rental offices, volleyball courts and special play areas for children, several cafes and discos, which are always full of young people in the evening. There is even a riding school in Bilbao. The school is called Club Hipico Barakaldo. Within just a couple of days beginners will learn how to ride a horse, and experienced riders will be surely invited to make a fascinating walk in the picturesque suburban areas.
In Bilbao, travelers are offered many luxury and fashionable hotels. One of the city's most famous hotels is Silken Gran Hotel Domine Bilbao. The building occupied by the hotel was built …
Open
Fans of nightlife and the tourists, who are indifferent to the works of Elvis Presley, should definitely visit Club Rock Star. The club often hosts performances of famous rock musicians, but the venue will be also attractive for fans of national cuisine – the local bar is famous for delicious snacks and excellent cocktails. Fans of contemporary music and dancing will surely like Cotton club, which entertains guests until the morning. Hot and merry parties, a well-planned entertainment program and widest selection of snacks have made Cotton one of the most attractive and popular clubs in the city. If you prefer bars to night clubs, you will surely fall in love with Bar Juantxu, which also accepts visitors until late in the evening. This is the place where you can relax and have really great rest in a big company, enjoying entertainments and favorite music.
Club Caos is also worth mentioning. This club has become a permanent place of rest for fans of progressive music styles. The club is actually several entertaining facilities under the same roof as it consists of a stylish bar, an energetic disco and a prestigious club. Fans of shopping will be surely more than excited from visiting the local flea markets and large-scale shopping malls. Mercado Rural de Santo Tomas market is the best destination for tourists who want to purchase best gifts and souvenirs. The market is located just five minutes away from the city's center. Here visitors will be offered to select from a huge selection of souvenirs and interesting crafts. The market is one of the best places to purchase authentic national jewelry and even antiques. Feria del Libro market is, without a doubt, a no less interesting destination. In this market are sold clothing, footwear, and various accessories - Feria del Libro is included in the list of the most striking sights of Bilbao. Copyright www.orangesmile.com
Bilbao is not deprived of charming hotels, behind the walls of which is an amazing historic atmosphere. Fans of country holidays should pay attention to Hotel Artetxe housed in a restored …
Open
Cycling is especially popular in Bilbao, the "Gates of the Basque Country". That is hardly surprising, given how the locals are concerned about their health. However, since the local people have an amusing mind, some modes of transport can be considered a bit unusual and even interesting. Thus, if you have a good company, you can hire a bicycle from Party 7 Bike. Want to have fun while driving a small truck and observing city attractions? No problem! Bear in mind BiRick company. Of course, you can always ride a traditional bike using the services of Urban Bike.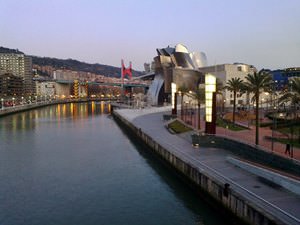 Popular water activities include cruises on small boats or yachts (RiverCheer, Nautic Gourmet, Bilboats, La Mar de Bien), as well as rafting (Bilbao Kayak). Outdoor recreation is equally popular - for this purposes, locals and tourists often go to Euskadi Trek or Camping BBK. To watch the favorite game of local people (of course, we're talking about football), it's worth to visit Estadio San Mames where many important matches are held. Feel like a driver of Formula 1 in Formula Racing, and if you want to fight with a virtual opponent, make a visit to in Virtual Bilbao. You can also try your hand at laser tag. Locals and tourists visit Lasergune or Happygune for this purpose. Bizkaia Frontoia is another good place for those who prefer active holidays.
In Bilbao, it is quite easy to find a hotel suitable for a romantic stay. For many years, designer Sercotel Hotel Gran Bilbao has been in demand among couples. Its rooms are decorated in a …
Open
Escape quests are extremely popular in the city, and their selection is really huge. Thus, lovers of spooky themes should go to Mad Mansion or El Sótano, fans of Indiana Jones and Lara Croft will like Escape Mania, those who is interested in dinosaurs will appreciate Dino Rising, and tourists who like solving puzzles connected with mystical India would certainly be enthusiastic about exploring The Lock. At the same time, fans of classical escape rooms are advised to visit The Roomhunter, The X-Door Bilbao or Juegos Maniacos; to feel like a doctor saving the world from a biological catastrophe, go to Eskapa2, and like an archaeologist deciphering ancient Egyptian hieroglyphs - to Atrampados Escape Room.
Visiting the local parks should also be included in your vacation program. This would allow you to relax from the ever-noisy crowds in Bilbao, as well as put your thoughts in order and find some peace. Doña Casilda Park, Etxebarria Park, El Balcon de Bizkaia and Parque Abusu are perfect for these purposes. To please small children, be sure to discover Tximipark. Those who like spending holidays in a cultural environment will appreciate local performances taking place in such institutions as Azkuna Zentroa, Tetro Arriaga, Haceria Aretoa.
In Bilbao, there is an appropriate shopping destination for everyone. Trendies will be interested in strolling around Plaza Moyúa Square. The most interesting designer shops and fashion …
Open
As for museums, it is hard to find those that are not worth visiting. The most famous cultural institution - the Guggenheim Museum - needs no introduction, its visiting is always on the list of must-haves. Euskal Museoa is just what you need to get acquainted with the history of Bilbao, Museo Maritimo Ria de Bilbao attracts those who like sea-related themes, Arkeologi Museoa is the place gathering those who consider Indiana Jones' profession the best in the world. Museo de Arte Sacro and Museo de Reproducciones de Bilbao are also worth a visit, not least due to the fact that they keep many unique exhibits.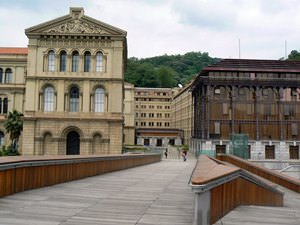 Not only bright impressions but also some souvenirs should be brought from the trip. The best places to look for memorable things are Lupita, Paragueria Leoz, Sorprendele Regalos para Hombre, Cookplay Onesima, and EspacioAerre. For sweets, go to Martina de Zuricalday, for wine and delicacies - to La Bendita La Queseria and La Delicada, for clothes - to Hitz, and for quality shoes and accessories - welcome to Trate and Persuade. To buy some fresh products, locals and travelers choose La Ribera Market. Rastro 2 de Mayo stands out among those local flea markets where you could find some really amusing and original stuff.
Discovering the architecture of Bilbao from bird's eye view! Basilica de Begona, Teatro Arriaga, Mercado de la Ribera, City Hall, Alhondiga Bilbao, Palacio Euskalduna Jauregia, all those monuments are defining the image of Bilbao …
Open
Nightlife in Bilbao flows like a stormy river. Everyone can pick up a facility to his/her liking: those who love jazz music - welcome to Trapi Bilbo, gamblers are invited to Casino Bilbao, and those who want to dance until they drop would not fail to visit Shake! Bilbao tonight! People who like choosing among a large choice of drinks will surely appreciate Sir Winston Churchill Pub, fans of live music are invited to Residence Cafe, and connoisseurs of excellent cocktails should not ignore Terraza Yandiola.

This guide on active recreation and leisure in Bilbao is protected by the copyright law. You can re-publish this content with mandatory attribution: direct and active hyperlink to
www.orangesmile.com
.
City tours, excursions and tickets in Bilbao and surroundings
Recommended places for active recreation and leisure in Bilbao
Café Bar Bilbao
Where: Plaza Nueva 6, Bilbao, Bilbao; Telephone: +34 944 151671;
K2
Where: Calle Somera 10, Bilbao, Bilbao; Telephone: +34 944 163 450;
La Granja
Where: Plaza Circular 3, Bilbao, Bilbao; Telephone: +34 944 230 813;
Taberna Taurina
Where: Calle Ledesma 5, Bilbao, Bilbao; Telephone: +34 944 013 452;
Dakar
Where: Heros 13, Bilbao, Bilbao; Telephone: +34 94-424-9756;
Otxoa
Where: Calle de los Heros 9, Bilbao, Bilbao; Telephone: + 34 94-424-1848;
Cotton Club
Where: Gregorio de la Revilla 25, Bilbao, Bilbao; Telephone: +34 94 410 4951;
Caos
Where: Calle Simon Bolívar 10, Bilbao, Bilbao; Telephone: +34 94 410 38 78;
Rock Star
Where: Gran Vía 89, Bilbao, Bilbao; Telephone: +34 944 45 92 95;
Distrito 9
Where: Alameda Recalde 18, Bilbao, Bilbao; Telephone: +34 94-423 0056;
Mao Mao Beach
Where: Calle Urazurrutia, Bilbao, Bilbao;
Reference information
National and city parks around Bilbao
♥ Natural Park 'Armañón' , 27.8 km from the center.
On the map
Photo
♥ Natural Park 'Gorbeia' , 28.3 km from the center.
On the map
Photo
♥ Natural Park 'Urkiola' , 30.9 km from the center.
On the map
Photo
♥ Natural Park 'Marismas de Santoña, Victoria y Joyel' , 46.8 km from the center.
On the map
Photo
♥ Natural Park 'Valderejo' , 46.9 km from the center.
On the map
Photo
Amusement parks near Bilbao
♥ Amusement park 'Karrantza Valley and Pozalagua Cave' Biscay, 33.9 km from the center.
On the map
Photo
♥ Amusement park 'Parque de Atracciones Monte Igueldo' San Sebastián, 77.8 km from the center.
On the map
Photo
Michelin-starred restaurants in Bilbao
♥ Restaurant 'Serantes II' Bilbao. Type - Seafood. 2.6 km from the center.
On the map
Photo
♥ Restaurant 'Serantes' Bilbao. Type - Seafood. 2.6 km from the center.
On the map
Photo
♥ Restaurant 'Aizian' Bilbao. Type - Traditional cuisine|Modern cuisine. 2.8 km from the center.
On the map
Photo
♥ Restaurant 'Colmado Ibérico' Bilbao. Type - Traditional cuisine. 2.9 km from the center.
On the map
Photo
♥ Restaurant 'La Viña del Ensanche' Bilbao. Type - Traditional cuisine. 3.1 km from the center.
On the map
Photo
Photogallery of picturesque Bilbao
Search for active leisure and attraction spots on Bilbao map
City break ideas for neighbours of Bilbao
Guide to your best city break in Bilbao - popular places for recreation and leisure. Things to do during the day in Bilbao - attractions, parks, beaches, aquaparks, racing tracks, biking trails or waterski. Recommendations (with addresses, phone numbers and links) where to spend your time in the evening (bars, discos, clubs, etc.). We share some good ideas and the question 'What to do in Bilbao?' disappears immediately.