Colors of Normandy - traditions, festivals, mentality and lifestyle
Normans are very patriotic people like all the French. Their love for the homeland is expressed in a sense of superiority over all who were born in other places. That is why locals don't like to communicate in English, although they spoke the language well. If you try to talk to a local resident in French, even if you do it not really skilful, locals will become friendlier towards you. Locals are sure that you need to take everything from life.
You should definitely bring something delicious from Normandy. Normans are true gourmets and there is an endless list of delicacies you should taste. The first thing every tourist should …
Open
A self-respecting Norman will never buy a Chinese counterfeit instead of Dior handbag or clothes of an unknown Taiwanese brand instead of expensive designer outfits. There are not many people in Normandy who come in time for meetings. Workaholism is not common here. On the contrary, the locals themselves are happy to leave work early or take their mind off their duties at every opportunity. The form is more important than the content here. You can notice it during a meal. A portion can be tiny, but it is always served incredibly beautiful. Everyone is perfectly polite here. «Thank you» and «please», compliments and constant words of gratitude are the norms of local residents' life. Moreover, if you step on someone's foot or decide to make noise in a residential area deep past midnight, you can hear a lot of new and interesting things about yourself, but in French.
Inhabitants of Lower Normandy pay a lot of attention to the rules of etiquette, whether they are at a business dinner or a meeting with friends. A man will never allow himself to remove the suit or loosen the tie during the meeting, and the woman will not correct makeup publicly. The locals love themselves and their freedom, so they can pass without waiting in line to the cash register or cross the road at a red light. The essential quality of any self-respecting person is the ability to defuse the situation with a nice joke. Copyright www.orangesmile.com
Basse-Normandie is the one of the most appealing tourist regions in France. Seaside resorts play big role in its popularity. Charming small resorts have turned this once lonesome region into …
Open
One more important thing about locals- their love for strikes. Normans are true French, so it is not surprising. They strike almost every month here. In general, this problem concerns large cities, but if you are going to travel to Lower Normandy or go beyond it, it is better to clarify whether there is a strike of transport workers, otherwise, you can find yourself in an unpleasant situation. Locals don't like to sit alone within four walls. They love to go out and visit restaurants, cinemas, theatres and spend time walking. Note that the Normans love to flirt with women, it's something like a national tradition or a habit. But despite all their romanticism and love for beautiful women, local men are very pragmatic and they always know what they want and how to achieve it.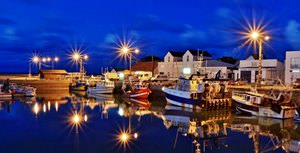 Lower Normandy was separated from France for several centuries. It became a part of it in the 13th century. Here was one of the main centres of Protestantism in Europe. In addition, a mutual cultural and economic exchange between the British and the French went through Lower Normandy for many years. So, the locals get along well with the neighbours –the Britons and they like to say that they do not consider themselves fully French. The local lands host the February Carnival in Granville, the festival of Saint Croix in Lissa, during which the locals lead their livestock through the streets of the city.
Normandy is one of the 18 regions of France where you can find everything to interest and entertain your child. Kilometres of amazing beaches, untouched nature, many attractions for those …
Open
The process of Gran Sakr is held in Villedieu-Les-poêles every four years. It is made in honour of the founding of the order of Malta. You can come here in April and see the European Le Mans Series championship or visit Jazz Festival. If you've decided to come to Normandy in May, be sure to visit Honfleur and take part in celebration the Blessing of the Sea on Sunday which is dedicated to local culture. Moreover, you can visit Cheese Festival or attend the ceremony «Day of memory of Joan of Arc». In July, Normandy hosts a jazz festival, a medieval festival, a balloon festival, and a Maritime festival. In August, there is an opportunity to see the knights and princesses in Le château de Crèvecoeur-en-Auge and visit the exhibition of horses. The fisherman's day and the European film festival are held in September, and in November you can visit the herring festival.

This guide to traditions and festivals in Normandy is protected by the copyright law. You can re-publish this content with mandatory attribution: direct and active hyperlink to
www.orangesmile.com
.
City tours, excursions and tickets in Normandy and surroundings
Reference information
Cathedrals and basilicas near Normandy
♥ Cathédrale Notre-Dame, Bayeux, 32.7 km from the center.
On the map
Photo
♥ Basilique Notre-Dame de la Délivrance, Douvres-la-Délivrande, 33.9 km from the center.
On the map
Photo
♥ Basilique Notre-Dame de l'Immaculée-Conception, Sées, 67.2 km from the center.
On the map
Photo
♥ Basilique-Cathédrale Notre-Dame, Sées, 67.5 km from the center.
On the map
Photo
♥ Cathédrale Notre-Dame du Havre, Le Havre, 69.9 km from the center.
On the map
Photo
♥ Basilique Notre-Dame de l'Espérance, Pontmain, 74.7 km from the center.
On the map
Photo
♥ Basilique Notre-Dame d'Alençon, Alençon, 78.2 km from the center.
On the map
Photo
Survived castles around Normandy
♥ Castle 'Château de Caen' Calvados, 22.8 km from the center.
On the map
Photo
♥ Castle 'Château de Falaise' Calvados, 26.3 km from the center.
On the map
Photo
♥ Castle 'Château de Sassy' Calvados, 27.9 km from the center.
On the map
Photo
♥ Castle 'Château de Creully' Calvados, 31 km from the center.
On the map
Photo
♥ Castle 'Château de Courcy' Calvados, 31.7 km from the center.
On the map
Photo
♥ Castle 'Château de Olivet' Calvados, 32.1 km from the center.
On the map
Photo
♥ Castle 'Château de Vire' Calvados, 33.8 km from the center.
On the map
Photo
National traditions of France
It is of fundamental importance for the French to be realized in society. To feel comfortable, they need to constantly share with others their worldview, thoughts and emotions. They do not like to stay at home so, they often go to visit each other. An invitation to lunch means that the guests will wait till 20.00 for dinner with several dishes and wine. The French love everything new and are not afraid to experiment; they are happy to visit unusual exhibitions, go to new restaurants. Another important feature of the national mentality is the love of the land. Many city dwellers abandon their lives in crowded cities and go to small settlements where they can spend the day outside in the open air. …
Open

Colors of Normandy in photos
Search for popular touristic sites on Normandy map
Traditions and festivals in cities around Normandy
Cityguide on traditions, mentality and lifestyle of people in Normandy. Learn the best periods to visit Normandy to discover its soul - authentic festivals, events and celebrations. We will also reveal the interesting habits, attitude towards the world and to tourists in Normandy.