Cuisine of Normandy for gourmets. Places for dinner - best restaurants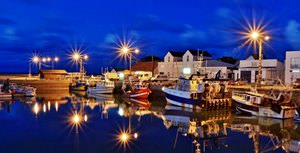 It should be noted that you can't become acquainted with the culture of Normandy without trying its cuisine. The thing is that the meal for Normands is a special important ritual with its own rules and traditions. Everything should be perfect here: from the appearance of the staff and serving of the dishes to the interior of the restaurant, music, and company you have dinner with. What's interesting, locals don't eat a lot in the morning. Despite the fact that nutritionists claim that it is important to eat plenty of food for breakfast, Normandy inhabitants don't find it important.
There are over 1.5 thousands of hotels and inns in Basse-Normandie; historical hotels are very popular among tourists. The unique Best Western Le Dauphin et Le Spa du Prieuré hotel is …
Open
A usual breakfast in Normandy includes a cup of coffee, a glass of juice and a croissant. One more traditional breakfast here is scrambled eggs with carp caviar or shrimps. Pancakes made on buckwheat flour are very delicious. Fast food is not popular in Normandy because locals have a different idea of what food and meal should be. The most important meal in Lower Normandy is a late dinner. So, local restaurants serve the main courses at about 9 PM. A traditional dinner starts with appetizers, then there will be a soup, main course, a salad and a dessert. When ordering your favourite dishes, remember that local chefs love to cook fatty food.
What's interesting, small portions are usually served at large feasts. It is a part of local tradition. There can be more than 10 different dishes during a banquette, so people should take small portions to taste all of the dishes and don't become full too early. Besides, locals don't eat oysters frog legs and foie gras here every day. All of the above can be found in local restaurants, but all of these dishes are the local exotic. However, crispy frog legs taste like chicken, you don't have to try them immediately. Don't pass by lobsters stewed in apple wine. This dish is called Mademoiselle de Cherbourg. Copyright www.orangesmile.com
You should definitely bring something delicious from Normandy. Normans are true gourmets and there is an endless list of delicacies you should taste. The first thing every tourist should …
Open
You should definitely try famous coq au vin or rooster with wine. It is a French dish of chicken braised with wine, lardons, mushrooms, and optionally garlic. Ratatouille is a famous dish originating in Nice. It is made of stewed pepper, eggplant and squash. This dish is perfect for vegetarians. However, there is no particular recipe of ratatouille, so you can try it in different restaurants and compare the taste. Don't pass by onion soup with cheese and croutons, which is quite simple, but very delicious and nutritious. Don't miss a chance to try veal in cream and oil, which is often served with mushrooms. Incredibly tasty raw oysters and Marmite dieppoise also deserve your attention. The second one is a seafood assortment served in pots.
Quiche is a savoury layered cake with different toppings. It is usually filled with eggs, milk or cream, and cheese, meat, seafood or vegetables. Quiche is well -known around the world and it is popular party food. Delicious omelettes with meat, ham or vegetables are popular in Lower Normandy. If you have visited Calvados, don't pass by local sea scallops, cider, camembert cheese, horse tripe and liverwurst. La Maison du Biscuit, Regional Museum of Cider, the Museum of apple and pear in Manche are unique places where you will know all of the culinary secrets and taste delicious dishes. The most delicious lamb is usually served here in spring. Several kinds of vegetables and salads are served with meat in Lower Normandy. Truffle dishes are popular here. Every restaurant will offer you a cheese plate.
Basse-Normandie is the one of the most appealing tourist regions in France. Seaside resorts play big role in its popularity. Charming small resorts have turned this once lonesome region into …
Open
Be sure to try famous profiterole with the filling of custard. Don't pass by a fondue. It is a melted cheese dish served in a communal pot (caquelon or fondue pot) over a portable stove heated with a candle or spirit lamp. You should definitely try meringue, petifur brittle and crème brûlée by local cooks. Pay your attention to canelé, a small French pastry flavoured with rum and vanilla with a soft and tender custard centre and a dark caramelized crust. Macaron is a sweet meringue-based confection made of egg white, sugar and ground almond. Apples with Camembert will please true gourmets. Local wine is perfect for all French dishes. You can ask a waiter which wine is better for a particular dish. In addition to the wine, you should try cider, cognac, apple brandy calvados and «Benedictine» liqueur.

This guide to cuisine and restauraunt in Normandy is protected by the copyright law. You can re-publish this content with mandatory attribution: direct and active hyperlink to
www.orangesmile.com
.
City tours, excursions and tickets in Normandy and surroundings
Reference information
Michelin-starred restaurants in Normandy
♥ Restaurant 'Auberge du Pont de Brie' Goupillières. Type - Traditional cuisine. 4.5 km from the center.
On the map
Photo
♥ Restaurant 'Au Site Normand' Clécy. Type - Modern cuisine. 10.5 km from the center.
On the map
Photo
♥ Restaurant 'Les Trois Rois' Villers-Bocage. Type - Modern cuisine. 13.1 km from the center.
On the map
Photo
♥ Restaurant 'Auberge de l'Île Enchantée' Fleury-sur-Orne. Type - Modern cuisine. 18.5 km from the center.
On the map
Photo
♥ Restaurant 'Ivan Vautier' Caen. Type - Modern cuisine. 20.6 km from the center.
On the map
Photo
♥ Restaurant 'Villa Eugène' Caen. Type - Modern cuisine. 20.8 km from the center.
On the map
Photo
♥ Restaurant 'La Manufacture' Caen. Type - Modern cuisine. 22.1 km from the center.
On the map
Photo
♥ Restaurant 'Le Chef et sa Femme' Caen. Type - Traditional cuisine. 22.1 km from the center.
On the map
Photo
♥ Restaurant 'Initial' Caen. Type - Creative. 22.1 km from the center.
On the map
Photo
♥ Restaurant 'Le Goût des Autres' Caen. Type - Modern cuisine. 22.4 km from the center.
On the map
Photo
National cuisine of France
Among the second dishes are very popular coq-au-vin, galantine, and ratatouille. Coq-au-vin means a cock in wine, often cooked in different regions, but the birthplace of the dish is traditionally considered to be Burgundy. Preparation of the dish is a real ritual; you need to use the whole cock body and wine which will be served at the table. The dish is served with French baguette. Galantine is a jellied dish made up of forcemeat and chicken minced meat with the addition of eggs and spices. Ratatouille is prepared from fresh squash, eggplants, and tomatoes and is seasoned with classic Provencal spices. Another famous French dish is foie-gras: pate made of goose's liver with spices, local truffles and cognac. The geese are fed exclusively with corn grains. …
Open

Normandy in photo set
Searching where to eat - restaurants and cafe on Normandy map
Cuisine and restaurants in the neighbours of Normandy
Travel notes on best cuisine and restaurants of Normandy (France) on OrangeSmile.com. Famous recipes and traditional dishes and courses in Normandy restaurants. Where to eat - our recommendations on popular places in Normandy, where you can taste delicious meal and also spend a good time with your friends.