Detailed hi-res maps of Val d Isere for download or print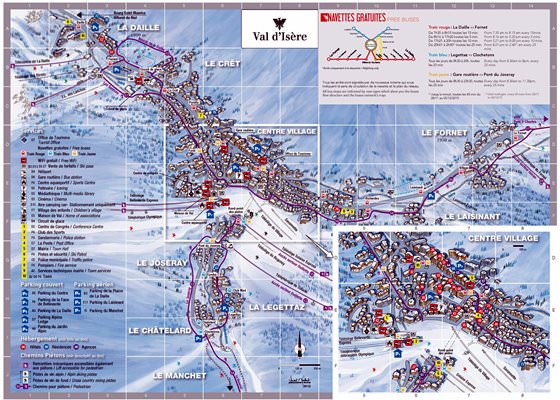 The actual dimensions of the Val d Isere map are 1500 X 1071 pixels, file size (in bytes) - 876384. You can open this downloadable and printable map of Val d Isere by clicking on the map itself or via this link:
Open the map
.
City tours, excursions and tickets in Val d Isere and surroundings
Moving around in France - transportation
Take into account that in the capital, there is a special form of underground transportation. The metro serves not only the capital, but also the nearby suburbs. So far, there are 17 regular subway lines in the city. It is especially useful for tourists that there are quite clear maps and schemes at each station which makes it easy to take one's bearing and get around. In addition to the main ones, there are five other regional branches in the metro that link the capital of France with the nearest cities. Trains also run strictly according to the schedule. During peak hours they run almost every fifteen minutes. However, the bus stops on their route are much less when compared to the underground intercity trains. …
Open

Economy roadmap of France
Industrial production in France gives at least 22% of the country's total GDP. Furthermore, about one third of the working-age population is employed in this exact industry. On the territory of France, mechanical engineering is particularly widespread, with the share of products more than 3% of that of the total world production. This is a sufficiently impressive figure, in comparison with the countries of the European Union. The Country also has a well-developed chemical and automobile industry. The most important firms which are noted for their automobile production around the world are Peugeot-citroen, and Renault, with the latter completely owned by the State. In terms of food exports, France ranks second place, behind only the food industry of the United States of America. …
Open

Car rental on OrangeSmile.com

Thailand Wants to Resume Tourism by July 1
If Thailand reopens its borders by July 1, it can overperform other popular Asian destinations. The petition underlines that tourism can speed up the economic growth of the country and suggests implementing potential requirements for international tourists, such as proof of vaccination, health insurance purchase, a negative COVID-19 test, and so on. In 2019, tourism in Thailand was an industry worth approximately US$96.5 billion. Almost 40 million tourists visited the country in 2019, providing over 8 million people with jobs. Between two and four million of these people already lost their jobs due to travel restrictions.
Read this
22.04.2021
Search for services, infrastructure and sights on map of Val d Isere
Photogallery of Val d Isere sightseeing
Our guide chapters over Val d Isere
Detailed maps of neighbouring cities to Val d Isere