Preparing your trip to Toulouse: advices & hints - things to do and to obey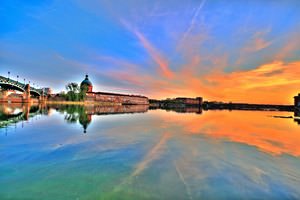 1. You can make a trip literally at any time of year, as Toulouse has a very mild and pleasant climate. The hottest months of the year are July and August, when the average daily temperature is around 26 degrees Celsius. In winter, the temperature rarely drops below 8 degrees Celsius.
2. It's better to walk around the historic district of the city on foot, as all important sights are within easy walking distance of each other. Public transport in Toulouse is represented by an extensive network of trams and buses; the city has two underground lines.
3. Shoppers should be aware that many urban markets and fairs are working exclusively on weekends. Visit them in the first half of the day, since the working day of local merchants ends early. On the contrary, it's better to visit shopping centers during a week.
4. Those who would like to bring a lot of beautiful photos from a trip are advised to go on an excursion in the early morning or at sunset. The fact is that many old buildings in Toulouse are made of special pink brick, which looks particularly impressive in morning and evening hours.
5. Local museums and cultural centers open no later than 10:00 am and run until 6:00-7:00 pm. Days off in museums often fall on weekdays, so tourists are advised to specify their working table in advance. In many cultural and entertainment centers there are favorable discounts for children. Copyright www.orangesmile.com
6. During the year, there is a large number of holidays in Toulouse that are always visited by foreign guests. Travelers who are used to save on hotel accommodation are recommended to book a room in advance.
7. Tourists who have sufficient time and plan to visit neighboring towns are advised to use services of high-speed TGV trains. In this case, the trip to Paris will take only 5 hours, to Bordeaux and Marseille - 2 and 4 hours, respectively.
There are over eight hundred different restaurants, cafes and bars in Toulouse; there are real gastronomic attractions among them. The luxury restaurant Michel SARRAN is known far beyond the …
Open
8. Experienced travelers are advised to purchase tickets for the above mentioned trains on a special iDTGV website, in this case, you can reckon on a substantial discount. Site users can purchase a ticket to Paris for about 20 euros.

Preparing your trip to Toulouse: advices & hints - things to do and to obey You can re-publish this content with mandatory attribution: direct and active hyperlink to
www.orangesmile.com
.
What to visit being in Toulouse - unique sights
Bruniquel Cave
From the series
"Famous Stables of Ancient People"
Check on the map:
Distance from Toulouse center - 52.8 km.
In 1992 the researchers have supposed that these circle structures could be something like Stonehenge and called it "The Cave Stonehenge". Some researchers reckon that these mysterious circles were used for cultic rituals. Numerous researchers have claimed that fact that fire regularly was in the cave. This unique archaeological place is situated not far from the small Bruniquel village, where two wonderful ancient castles have saved. In one of them was organized an archaeological museum. …
Read further

City tours, excursions and tickets in Toulouse and surroundings
Car rental on OrangeSmile.com

Saudi Arabia to Open 38 Hotels in Diriyah
Diriyah is one of the first mega projects in Saudi Arabia. Hotels and other infrastructure will start opening next year, and all works are expected to end in 2026. The first 18 restaurants in Bujairi Terrace will start operating already in early 2022.
Read this
28.11.2023
Photos of Toulouse
Services search (pharmacy, police, parking, banks) on Toulouse map
Tips for the cities around Toulouse
Travelling to Toulouse - advices and tips. What should be provisioned in advance, the rules you might want to follow, and the things you better avoid doing in Toulouse. We help you to make your trip smooth and easy, with no unexpected surprises.