Metro map of Toulouse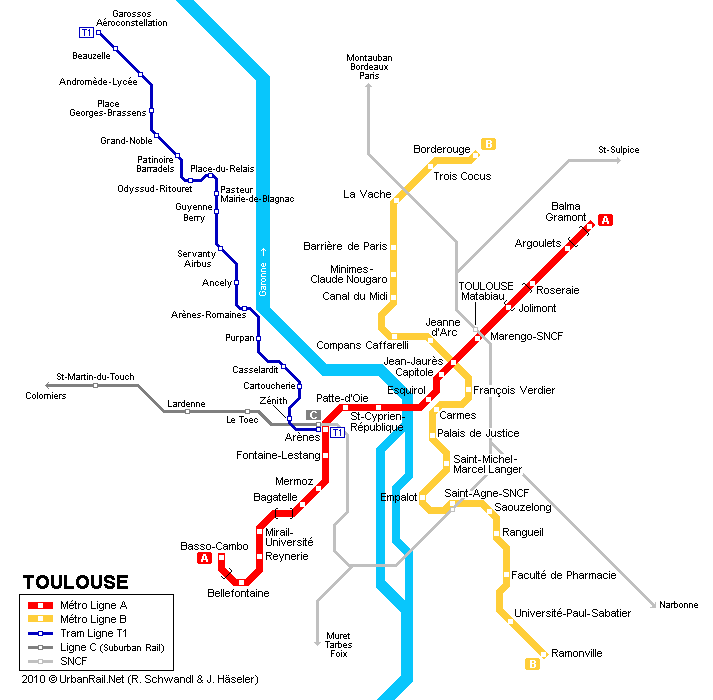 The actual dimensions of the Toulouse map are 713 X 700 pixels, file size (in bytes) - 22858. You can open, download and print this detailed map of Toulouse by clicking on the map itself or via this link:
Open the map
.
City tours, excursions and tickets in Toulouse and surroundings
Travelling inside France - transportation means
Yet another important airport is the airport of Bordeaux, which is located in the province of Bordeaux. There are two terminals in its territory. You can get to the city by bus, transfer, or taxi. Anyone can rent a car of famous international brands on the territory of the airport. The infrastructure of the airport includes a number of bars, shops and restaurants, as well as a tour desk, currency exchange offices, bank branches, and lounges. In Lyon, is situated a well-known international airport, called Lyon Saint Exupéry. Several years ago, a second terminal was opened on the territory of this airport. This has significantly led to an increase in the airport's capacity. The infrastructure of this air station also meets all the requirements and standards of European service. Here everyone will find places for a snack and a comfortable relaxation. You can hold an urgent business meeting or arrange a tourist tour in any direction. In addition, tourists can exchange money for euros and use the services offered by some bank branches. …
Open

Car rental on OrangeSmile.com

IHG Brings Its voco Brand to Scotland
In the UK, IHG opened voco hotels in Oxford, Reading, and Cardiff. Much attention is paid to sustainability. Guests of the voco hotels can be sure that all bedding is made from 100% recycled materials, and restaurants offer menus based on regionally sourced ingredients. To make sure guests enjoy a safe stay, IHG adopted Way of Clean procedures developed together with Cleveland Clinic, Diversey, and Ecolab.
Read this
17.04.2021
Metro, airports, railway and bus stations on Toulouse map
Toulouse in photostream
Our travel guides to Toulouse
Metro maps of cities around Toulouse