Detailed hi-res maps of Burgos for download or print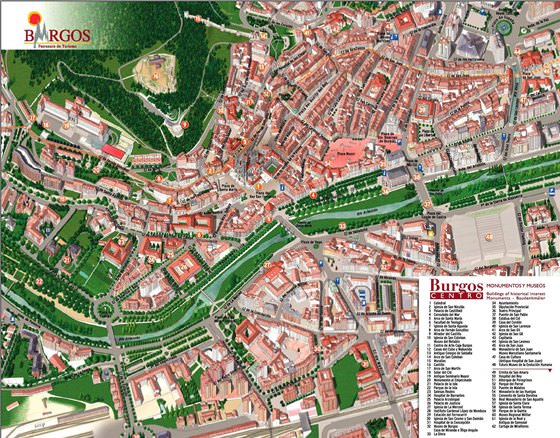 The actual dimensions of the Burgos map are 2852 X 2232 pixels, file size (in bytes) - 1872655. You can open this downloadable and printable map of Burgos by clicking on the map itself or via this link:
Open the map
.
The actual dimensions of the Burgos map are 816 X 1194 pixels, file size (in bytes) - 374240. You can open, download and print this detailed map of Burgos by clicking on the map itself or via this link:
Open the map
.
City tours, excursions and tickets in Burgos and surroundings
Moving around in Spain - transportation

In addition, traveling on a personal or rented car is also possible in Spain. Although the quality of roads here are not the best in Europe, it is quite acceptable for comfortable travel. The price of gasoline in Spain is quite expensive and there are a lot of toll roads. This should be taken into account in advance when planning your budget. There are also systems of strict fines, so it is advisable not to violate the traffic rules. The fine on an average car is about $ 40 per day. It is therefore not advisable to travel by cars in large cities, as it is very easy to get a fine of 85 Euros for incorrect parking. There is also the likelihood of traffic jams ruining your vacation plans. Bicycles which are available for hire are a good option in Madrid and other cities. There are chic bike trails in all regions. You can also rent a motorcycle or a scooter. Taxi in Spain is quite expensive. A ride on a taxi costs a minimum of 2 Euros. A kilometer costs around 1.2 Euros, excluding baggage fee. …
Open

Economy roadmap of Spain
Machine-tool construction in Spain also makes a significant contribution to the economy. Most of its production is geared towards exportation. Thus, Spanish machines and industrial equipment are supplied to more than a hundred countries around the world. Over a century ago, metallurgical activity began to develop in Spain. The main assets are located in the northern regions where there are large deposits of iron ore and coal. Non-ferrous metallurgy is focused on the extraction of lead and zinc. One third of the world's mercury is produced in Spain. Also, there is located the largest deposits of pyrite. The energy sector is directly dependent on imports. The amount of domestic oil can only meet 7% of the country's needs. At the same time, the majority of Fuel and Energy Complex works on oil and gas (approximately 68%). This state of affairs gave the country an impetus for the development of wind power. Spain's share of wind power is about 10% of the total world's volume. The state plans to build about two thousand mega watt of new wind farm. …
Open

Car rental on OrangeSmile.com

Saudi Arabia to Open 38 Hotels in Diriyah
Diriyah is one of the first mega projects in Saudi Arabia. Hotels and other infrastructure will start opening next year, and all works are expected to end in 2026. The first 18 restaurants in Bujairi Terrace will start operating already in early 2022.
Read this
02.10.2023
Search for services, infrastructure and sights on map of Burgos
Photogallery of Burgos sightseeing
Our guide chapters over Burgos
Nowadays, this graceful building is a prominent landmark of gothic style. The gothic church has coats of arms that belong to the founders of the shrine. Inside, visitors will find a beautiful wooden altar. Moreover, the monastery is famous for numerous tombs. This is where King John II of Castile and his daughter Isabel are buried. Burgos Airport accommodates flights from Barcelona. After that, you need to take …
Open
Detailed maps of neighbouring cities to Burgos