Culture of Albertville. Places to visit - old town, temples, theaters, museums and palaces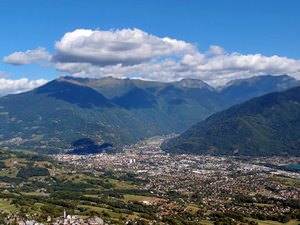 Albertville has become famous as a ski resort thanks to the Olympic Games that took place here in 1992. There are not so many historical sights in the city, its main attractions are numerous sports facilities and stadiums. Beautiful ski slopes, skating rinks, and slides from which you can go sledding - thousands of active tourists come to Albertville every year.
Travelers won't experience difficulties while choosing the suitable hotel for rest in Albertville. The most elegant and prestigious hotel in the city is Le Roma. It occupies a complex …
Open
Tourists who are visiting the popular resort with children should definitely think about visiting a local entertainment park. Although it is inferior to the famous Parisian Disneyland in terms of the number of rides, it is second to none when it comes to a festive atmosphere reigning in the park. After visitors to the park try out all the attractions, they can relax in one of the local cafes - each establishment offers a special children's menu.
A kind of city attraction is the numerous shopping centers of Albertville, which attracts not only athletes but also fans of shopping. The largest shopping complexes are Binatone, YSL, Zara, and Boucheron. Local supermarkets are no less popular than fashion boutiques and jewelry stores. The thing is that vacationers often buy local wines and cheeses as memorable gifts. Copyright www.orangesmile.com
Most attractions are situated in the neighborhood of Albertville. Subsequently, La Maison Penchée, which is located in Modane, is an important historical landmark. It was built in order to be able to defend and observe the entrance to the Mont-Cenis railway tunnel. The winding house was built in the year 1939. The building played an important role during World War II, when in 1944 during the German retreat he, explosives blew up re. However, the blockhouse was left undamaged.
Albertville is a small town located in mountains in the South-East of the country. This town is widely known as a high quality ski resort and a cultural center. It was founded by Charles …
Open
Fort De Tamié will be appreciated by those who are passionate about fortifications and military history. This is another important historical monument Combe de Savoie. Built in 1872 as a defense for the territory, it functioned faithfully and loyally as a fortification until it was bought in 1968. Note that entry into the open-air museum is free of charge. There is also an adventure park here, which children will definitely love – there is no way they can avoid enjoying those interesting attractions. Thus, you can combine business with pleasure.
Tamie Abbey is located relatively close by. In addition to the fact that the abbey is fascinating with its interesting views, while at the monastery, you can see how beautiful views of the surrounding territory open up from here. The extraordinary peace emitting from the place is simply amazing. There is a grocery store on the territory of the monastery (you should definitely buy local products here), as well as a gift shop. One of the things worth buying is the Abbaye de Tamie cheese. While here, you should not be afraid to ask the monks about what happened in any given year in the monastery, and they in turn will be happy to answer you and colorfully describe all the events that occurred.
In Albertville restaurants, guests are invited to enjoy the fantastic Savoyard cuisine. At the same time, fans of other gastronomic directions can easily find a suitable place to relax. …
Open
Another interesting fortification is called Fort du Mont. Beautiful views of the surroundings open up from here – that is to say, you can visit the place only for this reason. The fort was built at the end of the 19th century, in order to prevent the invasion of Italy, but it was needed a little later, during the Second World War. After the war, in 1967, the building suffered the same fate as Fort De Tamié – it was sold to the city. If we talk about the architecture of the building, then it is worth mentioning that the fort is simply fabulous, and the surrounding area is perfect for walking along with the whole family.
Among the museums in Albertville, there are several notable ones. Thus, visiting the Musee d'art et traditions is a great opportunity to get acquainted with local traditions and crafts. Among the exhibits here you can see costumes, weapons of different times, as well as household items and folk art such as kitchen utensils, metal products, wood, and leather. There is a patio on the territory where you can sit in silence, having good times in the shadowy places of the alley. But, of course, the most colorful museum is the Maison des Jeux Olympiques. It contains the history of the Olympic Games, a special place devoted to those that took place in Albertville.

In the section below, you can get one of our excursion, activities or city discovery tours over Albertville and surroundings. Our website offers 10-30% lower ticket prices, when compared to the offline purchase on the spot.
City tours, excursions and tickets in Albertville and surroundings
This guide to cultural sights Albertville is protected by the copyright law. You can re-publish this content with mandatory attribution: direct and active hyperlink to
www.orangesmile.com
.
Reference information
Public palaces near Albertville
♥ Palace 'Château des ducs de Savoie' , 38.5 km from the center.
On the map
Photo
Cathedrals and basilicas near Albertville
♥ Basilique Saint-Joseph des Fins, Annecy, 32.4 km from the center.
On the map
Photo
♥ Basilique-Cathédrale Saint-François-de-Sales, Chambéry, 38.1 km from the center.
On the map
Photo
♥ Cathédrale Saint-Jean-Baptiste, Saint-Jean-de-Maurienne, 45.3 km from the center.
On the map
Photo
♥ Cathédrale Saint-Jean-Baptiste, Belley, 54.5 km from the center.
On the map
Photo
♥ Cathédrale Saint-Pierre de Genève, Genève, 60.4 km from the center.
On the map
Photo
♥ Basilique Notre-Dame de Genève, Genève, 61.3 km from the center.
On the map
Photo
♥ Abbazia dei Ss. Pietro e Andrea di Novalesa, San Pietro, 74.3 km from the center.
On the map
Photo
Car rental on OrangeSmile.com

Cambodia Opens Its Borders for Tourists in November
Cambodia plans to remove its 14-day quarantine requirement for fully vaccinated travelers and replace it with a negative COVID test made within 72 hours before the arrival and one more negative COVID test made at Phnom Penh International Airport. Cambodia is quite a safe place for international guests – the country has vaccinated more than 60% of its 16.5-million population. This makes Cambodia the second most vaccinated country in Southeast Asia with only Singapore ahead. Cambodia plans to vaccinate three-fourths of its population by October. It also now vaccinates children over the age of 12.
Read this
20.10.2021
Photogallery of cultural heritage of Albertville
Landmarks of culture on Albertville map: art-galleries, monuments, palaces, etc
Excursions over cultural sights of neighbours of Albertville
Culture guide to Albertville. Which fascinating sights to visit once you are in Albertville: temples, churches, museums, theaters and castles. Recommendations (with addresses, phone numbers and links) on the places 'must visit' in Albertville. Plan your own city excursion by using this page info!