How to spend top weekend in Albertville - ideas on extraordinary attractions and sites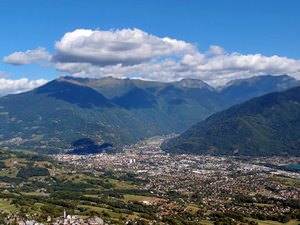 Alpine Skiing
The town of Albertville is located in a picturesque mountain area. If you choose to spend your vacation there, you will be able to admire a breath-taking landscape and enjoy active recreation and skiing. If you are yet a beginner, you will be pleased with a selection of flat trails. For professional skiers, the resort has special, black trails. There are also schools that offer training for skiers of all levels. The town hosted the 1992 Olympic Games, so tourists can ski on the same trail that professionals were competing on. The inclination of some parts of the trail is 63%, so only experienced alpine skiers are recommended to try it. The ski season starts in November and lasts will April, so you will have enough time to ski as much as you want.
Albertville is a small town located in mountains in the South-East of the country. This town is widely known as a high quality ski resort and a cultural center. It was founded by Charles …
Open
Cycling Excursion to Chateau de Miolans
If you are an experienced cyclist, you will enjoy an excursion to Chateau de Miolans. Your journey will start in Albertville. You will reach the nature park of the Bauges Mountains – this is where the castle is located. The gorgeous building on a rock was founded by the Miolan family in the 15th century. The chateau is conveniently located near the crossing of two rivers, Yser and Arc. Initially, the architectural landmark was an important fortress that protected the road from Savoy to the Mediterranean Sea.
In the 17th century, the building lost its protective function, and so it was turned into a prison. Political prisoners and the bourgeoisie made up the majority of people who served time there. Marquis de Sade himself was also imprisoned in Chateau de Miolans, but he managed to escape. The castle was almost abandoned during the French Revolution. Then it was put for sale, and the government became its owner. Copyright www.orangesmile.com
In Albertville restaurants, guests are invited to enjoy the fantastic Savoyard cuisine. At the same time, fans of other gastronomic directions can easily find a suitable place to relax. …
Open
Nowadays, the castle is an important historical landmark. Chateau de Miolans is open starting from the beginning of spring and up to the beginning of autumn. There are also a museum and a botanic garden with many medieval plants that were used in medicine and cooking centuries ago. During an excursion there, you will visit casemates and go up to the tower that offers a striking view of the mountains. You can return back to the city by bicycle or by car.
Fishing in the Arly River
Albertville stands on the Arly River not far away from the place where it joins the River Yser. If you are fond of fishing, you will like an idea of sitting with the rod on the bank of the river. Arly doesn't look deep or full-flowing, but there are many power plants built in the river. It is also rich in fish and looks simply fabulous, so you will enjoy not only awesome take but also silence and beauty of the local nature.
Albertville is a popular winter resort in France. It lies in the northern part of the Savoy department, at the confluence of the rivers Izer and Shez. In 1992, Albertville was the major …
Open
Observation Decks
Inside outer protective walls of Albertville, you will find two towers. If you are in a mood for watching the city from above, consider visiting observation decks of these towers. There are also some observation areas on the walls and one more deck in the garden famous for its vine. While visiting that place, you will not only admire Albertville and its neighborhoods but also treat yourself to fresh grapes.
Horse Riding
In Albertville, you can always "rent" a horse for several hours or even for a whole day in order to enjoy an unhurried adventure in a picturesque mountain area not far away from the town. While riding the gracious and smart animal, you will pass the chosen route in the French Alps. Mountains are great for bringing peace of mind, while active recreation will reveal your hidden energy.
Albertville has become famous as a ski resort thanks to the Olympic Games that took place here in 1992. There are not so many historical sights in the city, its main attractions are numerous …
Open
Rafting
When the snow starts melting in the Alps, it turns into streams and lakes suitable for rafting – sports activity in a small inflatable boat called raft. The season usually starts at the end of April and lasts until the beginning of October. However, all rivers and streams are the deepest in spring, so rafting during that season is the most exciting and pleasant. This active pastime doesn't need any special training, so you can try it virtually right away. Everyone fond of water sports will not be bored in Albertville as they will enjoy active recreation, rejuvenate, and get many sweet memories.

This article about ideas on extraordinary weekend in Albertville is protected by the copyright law. You can re-publish this content with mandatory attribution: direct and active hyperlink to
www.orangesmile.com
.
City tours, excursions and tickets in Albertville and surroundings
Reference information
Michelin-starred restaurants in Albertville
♥ Restaurant 'La Ferme du Chozal' Hauteluce. Type - Modern cuisine. 17.3 km from the center.
On the map
Photo
♥ Restaurant 'La Ferme de Victorine' Notre-Dame-de-Bellecombe. Type - Traditional cuisine|Regional cuisine. 18.7 km from the center.
On the map
Photo
♥ Restaurant 'Auberge Les Clarines' Le Châtelard. Type - Regional cuisine. 19.4 km from the center.
On the map
Photo
♥ Restaurant 'La Table de Marie-Ange' Manigod. Type - Traditional cuisine. 21 km from the center.
On the map
Photo
♥ Restaurant 'La Maison des Bois-Marc Veyrat' Manigod. Type - Creative. 21.4 km from the center.
On the map
Photo
Survived castles around Albertville
♥ Castle 'Château de Cornillon' Savoie, 4.4 km from the center.
On the map
Photo
♥ Castle 'Château de Chantemerle' Savoie, 5.3 km from the center.
On the map
Photo
♥ Castle 'Château de Montcharvin' Savoie, 10.1 km from the center.
On the map
Photo
♥ Castle 'Château de Beaufort' Savoie, 15 km from the center.
On the map
Photo
♥ Castle 'Château de Charbonnières' Savoie, 17 km from the center.
On the map
Photo
Car rental on OrangeSmile.com

Preferred to Open 9 New Hotels in 2022
In September 2022, the Sommerro hotel in Oslo will start operating in a carefully restored 1930s Art Deco building. This building is a true landmark of Frogner, a historic neighborhood of the Norwegian capital. A multi-million-dollar renovation carefully turned the largest preservation project in Norway into a modern hotel with 231 rooms, including 56 residences. Preferred will open five more hotels in 2022, namely, The Wall Street Hotel in New York, Amrit Ocean Resort & Residences on Singer Island (Florida, the US), TOA Hotel & Spa in Zanzibar, Pendry hotel in Washington, and Pendry Park City hotel in Utah.
Read this
25.03.2023
Albertville by photo artists
Search for interesting places on Albertville map
Visiting neighbours of Albertville for exclusive entertainment
Walk through hidden local streets, sneak to a small cafe, breathe and enjoy Albertville from inside. Stay out from the beaten track during your city weekend, discover the soul of Albertville as a real travel gourment. Follow our guide, take one of the exclusive services and spend your time in Albertville unforgettably and with a full passion!