Cuisine of Cannes for gourmets. Places for dinner - best restaurants
In Cannes tourists will find restaurants dedicated to various culinary trends and of various categories. The most elegant and prestigious dining facilities are located near the district of California, and budget restaurants and cafes are mostly found in Suquet and Forvil districts. The signature dish of Les Bons Enfants restaurant is braised rabbit with rosemary. In addition to the main course dish guests will be offered to try interesting pate and salads, vegetable side dishes and fine French wines. Fans of fish dishes should definitely try pickled herring.
Without a doubt, the Cannes Film Festival has remained the most important event in the cultural life of the city for many years. The internationally famous festival attracts visitors from …
Open
La Creperie is a cozy pancake bar that serves visitors every day starting from early in the morning. This place traditionally attracts fans of flavorful coffee and fresh pancakes. Fans of meat dishes will surely like pancake cake, and sweet tooth visitors should not forget to try amazing pancakes with fruit toppings. La Creperie is distinguished by attractive prices. A portion of pancakes will cost no more than 11 euros.
Cinquanta Caffe is considered one of the best Italian restaurants of the city, so there's no wonder why its menu contains various popular dishes. The restaurant has its own wine cellar, so it won't be difficult to find a quality drink for every meal. Le Farfalla pub is located not far away from Palais des Festivals. The restaurant has won respect and devotion of both local residents and tourists. This dining facility is a great place to try best sorts of German, Czech and Dutch beer. The choice of signature dishes is truly huge. By the way, visitors can get a portion of snacks absolutely free of charge just by ordering a glass of beer. Copyright www.orangesmile.com
Palais des Festivals and Avenue of Stars are considered the most popular tourist destinations of the city. For many years they have remained the main tourist attractions of Cannes. Tourists …
Open
French restaurant Le Brouette Des Artisans is distinguished not only by a rich variety of dishes, but also by original design of the interior. This is a great place for all kinds of celebrations. Thanks to very attentive staff and delicious food any banquet will be held here at the highest level. The design of La Cave restaurant resembles a classic Parisian bistro. This is the place where visitors will always find calm and relaxed atmosphere. Every day guests of the restaurant are provided with an original menu that contains many popular national dishes. La Cave also has a great wine bar, the choice of drinks in which will surprise even true connoisseurs of French wines.
The hall of A La Maree restaurant is decorated in the style of past centuries. Here visitors will see old paintings and antique furniture. The restaurant is very popular among fans of gourmet cuisine. A La Maree serves many delicacies, but its frequent customers usually recommend fried quail with a particular grape cream, stew in a pot and chicken stewed in beer sauce.
OrangeSmile.com recommends best hotels in Cannes
The total length of beachfront in Cannes is approximately eight kilometers. InterContinental Carlton Beach remains the most popular and crowded beach resort of the region. This picturesque …
Open
Many foodies wishing to try local delicacies head not to popular restaurants but straight to the main market of the city – Marche Forville. This historical roofed market sells products from all regions of the French Riviera. This is the only place where visitors can find rare types of cheese and meat delicacies, salted olives and fresh seasonal vegetables. Marche Forville is also a popular place to shop spices – it is simply impossible to imagine the national cuisine without certain herbs and such ingredients as fresh and dried basil, thyme, and verbena.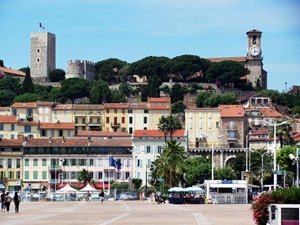 Visitors can also purchase magnificent freshly caught crayfish and dozens of fish types. Some stalls offer smoked and ready to eat fish and shellfish. Connoisseurs of French wine will also find it interesting to visit this market. Finally, Marche Forville is famous for its bakeries and confectioneries.
1. Almost all shops, restaurants and entertainment venues accept payments by plastic cards. Only tourists, who plan to make many purchases in open markets and small shops that are located …
Open
Seafood is the basis of the traditional cuisine in Cannes. It is better to try it at small family-owned restaurants. Shrimps are usually served together with incredibly delicious homemade mayonnaise. Oysters, lobsters, crabs, langoustes, and sea urchins are always present in the menus of local restaurants.
Local chefs also cook magnificent soups with seafood. For example, Soup de poisson is a true gastronomic masterpiece. A meal with this soup turns into an exciting entertainment because the dish is served with croutons and several types of sauce. Soup de poisson comes with a special sauce – orange-colored garlic mayonnaise with grated cheese. Internationally famous Bouillabaisse is also incredibly delicious in Cannes restaurants. Local chefs can use different types of fish, big shrimps, and other shellfish for this dish.
Tour de Suquet Tower is one of the main landmarks of Cannes. The majority of tourists prefer to visit it during the daytime. However, experienced travelers know that it is much more …
Open
Fans of fine cuisine should order Moules marinière, mussels stewed in wine sauce, in one of the local restaurants. The dish is cooked in special pots and then served in them. Moules marinière always looks very eye-catching and attractive.
Local bakeries and patisseries offer a range of buns and pastries, such as traditional croissants, magnificent pies with tender custard, and fruit cakes. Wine connoisseurs will be excited to participate in wine tours in Cannes, during which they can attend the most famous wineries of the region and make a stroll in old vineyards. Of course, no wine tour is possible without a visit to legendary wine cellars where visitors can sample the best French wine.
This guide to cuisine and restauraunt in Cannes is protected by the copyright law. You can re-publish this content with mandatory attribution: direct and active hyperlink to
www.orangesmile.com
.
City tours, excursions and tickets in Cannes and surroundings
Reference information
Michelin-starred restaurants in Cannes
♥ Restaurant 'Table 22 par Noël Mantel' Cannes. Type - Provençal. 0 km from the center.
On the map
Photo
♥ Restaurant 'Da Bouttau - Auberge Provençale' Cannes. Type - Traditional cuisine. 0 km from the center.
On the map
Photo
♥ Restaurant 'Relais des Semailles' Cannes. Type - Provençal. 0.1 km from the center.
On the map
Photo
♥ Restaurant 'La Toque d'Or' Cannes. Type - Creative. 0.2 km from the center.
On the map
Photo
♥ Restaurant 'Caveau 30' Cannes. Type - Traditional cuisine. 0.3 km from the center.
On the map
Photo
♥ Restaurant 'Le 360°' Cannes. Type - Modern cuisine. 0.4 km from the center.
On the map
Photo
♥ Restaurant 'SeaSens' Cannes. Type - Modern cuisine. 0.6 km from the center.
On the map
Photo
♥ Restaurant 'Da Laura' Cannes. Type - Italian. 0.7 km from the center.
On the map
Photo
♥ Restaurant 'La Petite Maison de Nicole' Cannes. Type - Provençal. 0.7 km from the center.
On the map
Photo
♥ Restaurant 'Yo'mo Lounge' Cannes. Type - Mediterranean cuisine. 0.8 km from the center.
On the map
Photo
Car rental on OrangeSmile.com
Cannes in photo set
Searching where to eat - restaurants and cafe on Cannes map
Cuisine and restaurants in the neighbours of Cannes
Travel notes on best cuisine and restaurants of Cannes (France) on OrangeSmile.com. Famous recipes and traditional dishes and courses in Cannes restaurants. Where to eat - our recommendations on popular places in Cannes, where you can taste delicious meal and also spend a good time with your friends.