City break in Saint-Tropez. Active leisure ideas for Saint-Tropez - attractions, recreation and nightlife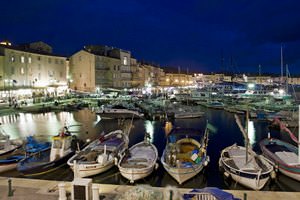 Scenic beach areas, wild pine forests, smart parks, gardens and alleys, plenty of elite boutiques, stores and restaurants make the resort city of Saint Tropez a unique destination meeting the most varied tastes and fancies of foreign guests. Sand beaches are excellent destinations of the resort for surfing and yachting admirers as well as for other water sports fans. The most buzzing and the largest beach of the resort is the Pampelonne beach. Its territory hosts popular rental centers offering all sorts of beach equipment and gears, popular night clubs and restaurants. Tourists tending to a serene atmosphere and private rest will better love to visit numerous wild beaches which are scattered all over the suburbs of the resort city.
Saint-Tropez is a popular holiday resort situated in the south of France. While mentioning this name the majority of people get an image of a beautiful harbor full of sailing ships of light, …
Open
Late in the evening the coastal area attracts night entertainment enthusiasts as the beach is an established place for holding of various theme parties and dancing shows. The Pampelonne beach hosts one of the most popular nightlife establishments of the city being the Maison Ocoa club offering an inimitable entertainment program. The Senequier café-bar serves its guests till late night. The eating establishment features rich and well planned entertainment program.
Those tourists wishing to enjoy live music should pay a visit to the Apero & Music Live Port club. The night establishment often engages globally known musicians. Exotic cocktails fans and spirits connoisseurs will better like to visit the Papagayo nightclub. Another remarkable entertainment establishment to visit in the evening is the Stefano Forever cabaret club. Copyright www.orangesmile.com
Saint Tropez is a genuine discovery for tourists admiring ethnic cuisine of Provence. The city features plenty of upscale gastronomy establishments meeting sophisticated tastes of the …
Open
Tourists planning a visit to Saint Tropez in summer will have a chance to visit an excellent amusement park offering various attractions and amusements meeting every taste and fancy. Many tourists are attracted to the city of Saint Tropez with numerous elite boutiques and shopping centers offering brand clothing, cosmetics and beauty products of leading brands. Several times per week the main square of the city invites city guests to visit a great market place named Place des Lices Market offering a vast choice of excellent goods, gifts and souvenir products.
A great choice of select vegetables and fruits are offered at the market at rather affordable prices. The choice of goods of the market is really great. Tourists will find original home decorations, clothes and other goods which are hard to find anywhere else. The main shopping street of the city starts next to the square connecting the square to the port area. Clothing shops, perfume boutiques and jewelry stores are located there right at every turn. Local boutiques and shopping centers often hold various sales. A true ritual and tradition for tourists visiting the city of Saint Tropez is visiting the Les Tropeziennes shopping center which offers nice shoes of local production. The matter is that the shoes feature the highest quality and are made of extra quality leather.
San Tropez is a city of splendid traditions which have been formed through many centuries. The city owes its name to a martyr Saint Torpes. Local residents treat their patron saint with …
Open
Visiting the waterpark Aqualand Sainte-Maxime will be no less interesting for tourists, especially for those who arrived in the city with their children, since all conditions are in place for a quality family vacation. There are various activities on ground for visitors: water slides, swimming pools for every taste and age, a bar, a playground. Among the water attractions, you can find some extreme ones, so every family member will find leisure here to their taste. Since the water park is outdoors, it is available for visits only in the summer.
Golf is one of the most popular amusements for locals, and the best centers for this kind of sport are the clubs Golf Club de Beauvallon and Golf Club Saint-Tropez. Tourists visiting the centers should expect excellent organization of the gameplay, picturesque open spaces of green landscapes and the opportunity to dine in a pleasant relaxing atmosphere. You should definitely go to the best spa in Saint-Tropez (and possibly on the entire Cote d'Azur) – Thalasso Spa Les Issambres. The thermal zone is designed as if it was built in Roman times. In addition to swimming pools, you can find a place for sunbathing and lounges here, as well as a variety of recreational procedures. One thing unites them all – they help you to relax properly.
Tourists are recommended to start their exploration of the city landmarks and sites with the l'Hôtel-de-Ville square. Close to the square tourists will discover a remarkable historical …
Open
Another popular activity in the pearl of the French Riviera is playing polo, while the best sports center is Polo Club Saint-Tropez. The city is also famous for its chic casinos that offer a lot of gambling entertainment for every taste. One of the best places for this kind of amusement is Casino Barrière, where, in addition, you can find a restaurant with excellent cuisine. Those who wish to watch any new movie will be interested to visit one of the best cinemas in the city. This is the Cinéma Le Pagnol. The harbor of Saint-Tropez is one of the most popular places to be in the evening – it is at this time that the best views open up on the Cote d'Azur. Tourists will find interesting a walk through the picturesque garden Jardin Botanique des Myrtes.
Those who want to ride karts, can feel all the power of the machines, while adrenaline is pulsing through their body in the wonderful center Grimaud Karting Loisir. The club Laser Forest is perfect for those who come with friends or family members – the fact is that playing laser tag is preferable as part of a team. Therefore, it is possible to not only spend your leisure time actively and pleasantly here, but also to increase the level of trust between team members. You should not pass by the beautiful cabaret Le Lezard, where theatrical performances often take place, as well as stand-up artists usually performs.

This guide on active recreation and leisure in Saint-Tropez is protected by the copyright law. You can re-publish this content with mandatory attribution: direct and active hyperlink to
www.orangesmile.com
.
City tours, excursions and tickets in Saint-Tropez and surroundings
Photogallery of picturesque Saint-Tropez
Search for active leisure and attraction spots on Saint-Tropez map
City break ideas for neighbours of Saint-Tropez
Guide to your best city break in Saint-Tropez - popular places for recreation and leisure. Things to do during the day in Saint-Tropez - attractions, parks, beaches, aquaparks, racing tracks, biking trails or waterski. Recommendations (with addresses, phone numbers and links) where to spend your time in the evening (bars, discos, clubs, etc.). We share some good ideas and the question 'What to do in Saint-Tropez?' disappears immediately.