Detailed hi-res maps of Honfleur for download or print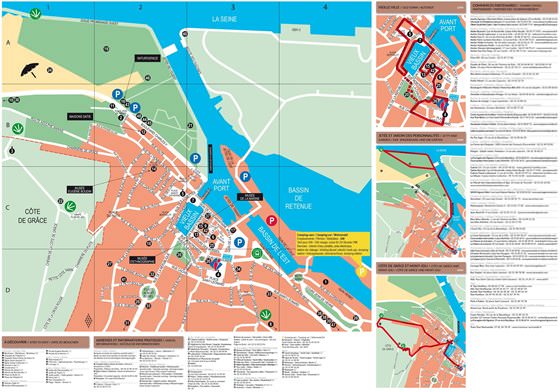 The actual dimensions of the Honfleur map are 2500 X 1749 pixels, file size (in bytes) - 933117. You can open this downloadable and printable map of Honfleur by clicking on the map itself or via this link:
Open the map
.
City tours, excursions and tickets in Honfleur and surroundings
Moving around in France - transportation
The country's road network is about 1,000,000 kilometers. It is worth noting that most of them have a good quality pavement. The road network is divided into motorways, national roads, and departmental roads. But, despite the fact that the quality of road in the country is at a very high level, it is often very difficult for tourists to travel by car, especially in large cities. This is due to the fact that in the country there is an acute shortage of parking spaces, and also during rush hour there are lots of unimaginable traffic jams. The country also has well-developed air transportation infrastructure. In Paris alone, there are two large airports operating simultaneously. They are located in the north and south of the city. The largest international airports operate in Bordeaux, Marseilles, Strasbourg, and Toulon. Nevertheless, there are some companies that conduct domestic flights. …
Open

Economy roadmap of France
Despite great achievements in the field of economics and the banking sector being regarded as most developed in the entire world, France still as of today records a huge public debt and has a deficit in the state budget. The ratings of GDP last year was about 1 trillion, 700 million Euros. GDP per capita of population is 41 000 dollars as of last year. Inflation is gradually decreasing, reaching an index of 1.7%. However, in spite of the successful economic structure, more than seven percent of the Country's population still lives below the poverty lines. Unemployment rate accounts for about 7% and this index is seen to be slightly on the rise yearly. …
Open

Car rental on OrangeSmile.com

Red Carnation Opens Its First Hotel in Scotland
The Edinburgh hotel scene is soon to have another prominent addition. Red Carnation is about to launch its first project in Scotland and make the Tollman's family wish to showcase the heritage and exquisite charm of the Scottish capital come true.
Read this
22.09.2021
Search for services, infrastructure and sights on map of Honfleur
Photogallery of Honfleur sightseeing
Our guide chapters over Honfleur
Besides historic and cultural landmarks, Honfleur can offer fabulous natural attractions to its guests. The city's name already sounds very "floral" because "fleur" means "a flower" in French. Tourists will find it very interesting to visit a small oasis with tropical plants and beautiful butterflies. This is Naturospace, a center recreating tropical forest in Honfleur. In Naturospace, visitors …
Open