How to spend top weekend in Ajaccio - ideas on extraordinary attractions and sites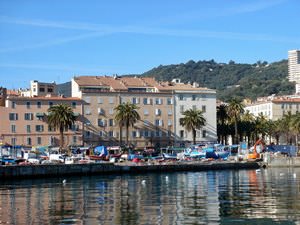 Fabulous Submarine Tour
If you want to see the marine life of Ajaccio, but do not want to scuba dive, then take a tour on a small submarine. Its thick portholes will allow you to admire the amazing scenery of the underwater world. They are formed by corals and algae. You will also have the opportunity to admire the inhabitants of the Mediterranean Sea, for example, fish, stingrays, dolphins, crabs, turtles, barracudas. You will dive to a depth of about 30 meters. You will have the impression that you are inside a large aquarium. This excursion is the most popular entertainment on the coast. You can go on such a tour at any time of the year.
Ajaccio has many luxury hotels that will surprise guests with various services and luxurious furnishings. Mercure Ajaccio situated close to the harbor is a true example of modern style and …
Open
Sea Fishing on a Yacht
There are many yacht clubs in Ajaccio. You can rent a yacht to go water walking and fishing here. This entertainment will allow you to relax from the bustle of the city, enjoy the silence and unity with nature. You can hire a skipper at the yacht club. You will drive the rented yacht on your own if you present a radio operator's certificate and a certificate that confirms the right to operate the vessel.
You will be able to try to fish in different ways while on the vessel board. It can be sheer trolling, spinning, drifting, or fly-fishing. You will also have the opportunity of bottom fishing on a vessel anchored. You will be happy with the catch. You will swim in the Mediterranean Sea, sunbathe and admire the beautiful scenery of the coast during the trip. Copyright www.orangesmile.com
It won't be difficult to find a perfect hotel for secluded romantic vacations in Ajaccio. Not far from the town center there is a charming hotel Palm Beach. It's located a few …
Open
Fascinating Scuba Diving
If you are an experienced diver, you will have the opportunity to do your favorite hobby in Ajaccio. Equipment rentals are available in the town. Therefore, you do not have to come on vacation with your scuba gear. You will see coral reefs and inhabitants of the underwater world immersed in the waters of the Mediterranean Sea near Cape Castagna. You will have the opportunity to see the warship La Meuliere. It has a length of 60 meters.
If you dream of scuba diving, then contact the dive-center Isula Plongee. It is located on the Plage de Cala di Sole. You will be able to discover the amazing sea world and an interesting way to spend time contacting this center. Experienced instructors work here. They will teach you diving. You will be able to dive both individually and as part of a group. The complexity and location of the dive will depend on your abilities, age, and preferences.
Ajaccio is a cozy and picturesque French town that is also known as the capital of Corsica. It is located in a small bay on the Mediterranean coast. This is not only a wonderful resort, but …
Open
The Isula Plongee staff will offer a variety of dive options. It can be a dive to a depth of 60 meters, at night, or during a visit to the Scandola Nature Reserve. If you want, you can go diving every day in a new place. The price of one dive is 40-60 euros. Note that the more dives you make, the less you will pay. There is another option. You can rent a boat for 1200 euros. You and three more tourists will be able to spend the whole day exploring the depths of the sea. You also will use the services of an instructor.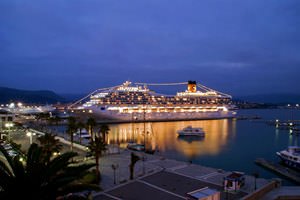 Get Adrenaline Rush during Parasail Flight
If you have long wanted to try something unusual during your holiday, you can float in the air on the parasail on the Agosta Plage near the Ajaccio bay. Parasailing is a modern extreme entertainment. It combines a boat ride and free flight. Such an active holiday will appeal to you. This entertainment is especially suitable for those who afraid to jump with a parachute but wants to see the surroundings of Ajaccio from a height of 150 meters.
The cuisine of Ajaccio is distinguished by many truly interesting features. The menus of the local restaurants will be surely liked by fans of meat delicacies. Here you will find high …
Open
You do not need special training before parasailing. You will pay about 50 euros for 5 minutes of air-water entertainment, pass a short briefing and start the flight. The organizers of the entertainment will steer the boat. You will only enjoy it. The level of adrenaline in your blood will increase several times. You can get unforgettable impressions and feel like a conqueror of heaven.

This article about ideas on extraordinary weekend in Ajaccio is protected by the copyright law. You can re-publish this content with mandatory attribution: direct and active hyperlink to
www.orangesmile.com
.
City tours, excursions and tickets in Ajaccio and surroundings
Reference information
Michelin-starred restaurants in Ajaccio
♥ Restaurant 'Chez Séraphin' Peri. Type - Traditional cuisine. 18.4 km from the center.
On the map
Photo
♥ Restaurant 'La Verrière' Olmeto. Type - Modern cuisine. 28.7 km from the center.
On the map
Photo
♥ Restaurant 'Le Lido' Propriano. Type - Corsican. 30 km from the center.
On the map
Photo
♥ Restaurant 'Terra Cotta' Propriano. Type - Seafood. 30.1 km from the center.
On the map
Photo
♥ Restaurant 'Chez Parenti' Propriano. Type - Seafood. 30.2 km from the center.
On the map
Photo
Ajaccio by photo artists
Search for interesting places on Ajaccio map
Visiting neighbours of Ajaccio for exclusive entertainment
Walk through hidden local streets, sneak to a small cafe, breathe and enjoy Ajaccio from inside. Stay out from the beaten track during your city weekend, discover the soul of Ajaccio as a real travel gourment. Follow our guide, take one of the exclusive services and spend your time in Ajaccio unforgettably and with a full passion!