Cuisine of Ajaccio for gourmets. Places for dinner - best restaurants
The cuisine of Ajaccio is distinguished by many truly interesting features. The menus of the local restaurants will be surely liked by fans of meat delicacies. Here you will find high quality wine, home-made cheese and olives. In order to prepare the meat dishes, the local chefs often use pork, homemade sausages and bacon, which are cooked in accordance with special recipes. A sausage made from liver is one of the main local delicacies. Some chefs fry small pieces of sausage on fire and put them on a platter with a vegetable garnish. Such dishes usually amaze visitors by their delicious taste. Gourmet travellers should definitely try roasted meat of wild pig. A stew of a young goat is also very popular.
Ajaccio is a cozy and picturesque French town that is also known as the capital of Corsica. It is located in a small bay on the Mediterranean coast. This is not only a wonderful resort, but …
Open
The local sorts of cheese produced here are also worth a separate discussion. As a rule, you can find more than twenty sorts of cheese on the local markets, each of which has its own unique taste. Gourmet visitors will surely fall in love with the goat cheese Brocciu, which can be purchased at any market of the city. Each restaurant of the national cuisine will offer its guests to try numerous delicious dishes made of seafood, which are prepared in a number of ways by skilled chefs. Stuffed sea bass with vegetables, fried trout and grilled salmon, salads with squid and mussels, lobsters and sea urchins – absolutely every visitor will find here a dish to suit own taste.
The local first course dishes are distinguished by their unbelievable taste and widest choice of ingredients. Soups here are usually prepared with special herbs and spices. Here is a nice suggestion – try an interesting soup that contains beans and dandelions. Among other popular first course dishes you will find a wonderful meat soup with wild herbs. Of course, large restaurants will offer to try even more original author dishes. Internationally famous dishes are also very popular in the local dining facilities. In the menus of local restaurants you will surely find ravioli, lasagna and pasta with various sauces - these delicious dishes have already become the real classic of the national cuisine. Copyright www.orangesmile.com
Ajaccio is the capital and the biggest port town of the Corsica island. Ajaccio's region consists of the seacoast and mountains that go deep into the island, where all together form a …
Open
When it's dessert time, the selection of wonderful dishes is also very large. Ajaccio is internationally known as a home of excellent honey. The local residents also sell very delicious fruit jam. L'Amuse Bouche is considered one of the best restaurants dedicated to national cuisine. At this dining facility guests are offered to try dried ham and numerous fish dishes. Besides the dishes that belong to the national cuisine, A Nepita restaurant offers its guests to try its signature dishes – every day the menu of the restaurant is updated with new delicacies you simply cannot find in any other restaurant of the city. The restaurant named Le 20123 is reminiscent of a cozy country inn. This quality dining facility serves the best homemade food in its classical performance.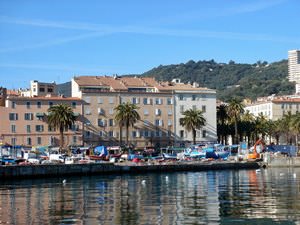 Restaurants serving classic French cuisine are the most widespread in Ajaccio, but there are certainly dining establishments that offer other cuisines of the world. For example, Casa Pasta restaurant specializes in Italian cuisine. It offers mostly simple and nutritious food. A rich choice of sandwiches with vegetables, meat, and various types of cheese, fresh salads and baked potatoes, authentic bread and various types of pizza – this restaurant has a suitable dish for everyone.
The Old Town part of the city has the greatest interest for tourists. Start your observation of the city's points of interest from visiting Foch Square. The square is surrounded by …
Open
Le Bistrot Gourmand restaurant is a great choice of all travelers interested in refined French cuisine. It offers excellent meat and fish that are usually served together with various interesting sauces and pastes. The choice of desserts is simply striking in this restaurant, from the all-time favorite tiramisu cooked in accordance with a signature recipe to unique desserts that amaze with their unforgettable artistic design.
The popular SeyM restaurant has a stylish and eye-catching design. It offers many dishes of different cuisines of the world. Chefs at SeyM are equally skilled in cooking Mediterranean delicacies and classic European food. The romantic atmosphere that reigns in the restaurant makes every meal even more pleasant. Many poultry and meat dishes are served together with the signature baked potato.
In Ajaccio every guest can easily find an entertainment to suit own taste. Here you will surely find elite restaurants, various shops and colorful markets that sell all kinds of goods, and, …
Open
O Mon Bato - Le Poseidon is a popular restaurant that is located at the coastline. The restaurant is open on a yacht and is recognized as one of the most unusual dining establishments in the city. The restaurant's tables are installed on the deck, so travelers can admire the gorgeous pier during a meal there. The menu of O Mon Bato - Le Poseidon includes many seafood dishes, the majority of which are cooked by signature chef's recipes. Despite the specifics of the restaurant, it offers a rich wine list. It is easy to find a suitable drink to absolutely any sea delicacy there.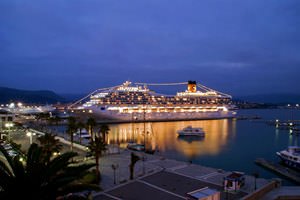 Le Petit Clos is a small restaurant that is a must-visit place for all travelers wishing to try the most exclusive Corsican delicacies. Le Petit Clos doesn't offer fancy food cooked by special chef's recipes. Instead of that, guests will find a fantastic choice of Bruschetta and various meat and cheese plates. Many types of bacon and cheese are served with sweet jam. The restaurant is perfectly suitable for a lunch or a dinner and offers a rich list of local wine. Fresh bread is another advantage of Le Petit Clos – all the bread is cooked in accordance with an unchanged old recipe.

This guide to cuisine and restauraunt in Ajaccio is protected by the copyright law. You can re-publish this content with mandatory attribution: direct and active hyperlink to
www.orangesmile.com
.
City tours, excursions and tickets in Ajaccio and surroundings
Reference information
Michelin-starred restaurants in Ajaccio
♥ Restaurant 'Mani' Ajaccio. Type - Corsican. 0.4 km from the center.
On the map
Photo
♥ Restaurant 'SeyM' Ajaccio. Type - Modern cuisine. 0.5 km from the center.
On the map
Photo
♥ Restaurant 'Le Bistrot Gourmand' Ajaccio. Type - Traditional cuisine. 0.7 km from the center.
On the map
Photo
♥ Restaurant 'A Nepita' Ajaccio. Type - Modern cuisine. 1 km from the center.
On the map
Photo
♥ Restaurant 'Palm Beach' Ajaccio. Type - Modern cuisine. 5.6 km from the center.
On the map
Photo
♥ Restaurant 'L'Arbousier' Porticcio. Type - Classic cuisine. 6.1 km from the center.
On the map
Photo
♥ Restaurant 'Auberge du Prunelli' Bastelicaccia. Type - Traditional cuisine. 8.5 km from the center.
On the map
Photo
♥ Restaurant 'U Licettu' Mezzavia. Type - Traditional cuisine. 11.3 km from the center.
On the map
Photo
♥ Restaurant 'Chez Séraphin' Peri. Type - Traditional cuisine. 18.4 km from the center.
On the map
Photo
♥ Restaurant 'La Verrière' Olmeto. Type - Modern cuisine. 28.7 km from the center.
On the map
Photo
Ajaccio in photo set
Searching where to eat - restaurants and cafe on Ajaccio map
Cuisine and restaurants in the neighbours of Ajaccio
Travel notes on best cuisine and restaurants of Ajaccio (France) on OrangeSmile.com. Famous recipes and traditional dishes and courses in Ajaccio restaurants. Where to eat - our recommendations on popular places in Ajaccio, where you can taste delicious meal and also spend a good time with your friends.