Cuisine of Dijon for gourmets. Places for dinner - best restaurants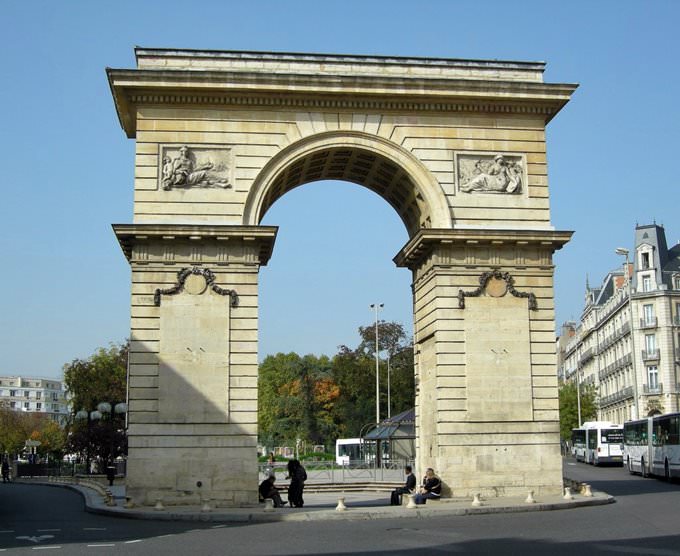 Dijon is a city with excellent gastronomic reputation. It will please fans of gourmet cuisine with fine dining restaurants that throw light upon peculiarities of the national cuisine. Such dishes as Burgundy beef, chicken stewed in red wine and traditional snails belong to truly national dishes of the region. They are very popular among fans of exotic food. The region is also very famous for its excellent wine and liqueurs which are used by local experts in the preparation of original cocktails. One of the most popular appetizers is called Kir. This is a cocktail that is made of currant liqueur and Aligote wine. In some cases wine is replaced with champagne, in this case the resulting cocktail is called "Kir Royal".
The capital of Burgundy impresses right from the first moment one sees it. The skyline of Dijon is the first thing that draws the attention of tourists, and it becomes clear why the city is …
Open
The city is home to hundreds of various restaurants the majority of which belong to the category of elite institutions. However, tourists will also easily find modest budget restaurants and cafes. Stephane Derbord is a perfect place to relax. The restaurant is dedicated to European cuisine and it will please its guests with original menu and high level of service. During the daytime the restaurant is distinguished by pleasant and peaceful setting. This is a perfect place for business meetings.
Chapeau Rouge Restaurant William Frachot restaurant is a great place to try national dishes and unique French delicacies. Tables in this restaurant must be booked in advance because there are usually many people who want to try signature delicacies of this dining facility. Le Sauvage is a no less attractive restaurant of the national cuisine. All dishes here are prepared in accordance with classic old recipes. Thanks to reasonable prices Le Sauvage has won recognition not only among citizens but also among budget tourists. Le petit roi de la lune will be a much better choice for special occasions and romantic dinners. This restaurant also specializes in preparation of national cuisine dishes. During warm months a part of the restaurant's tables is served on the terrace, which offers excellent views of the nearby attractions. Copyright www.orangesmile.com
Dijon is often called a city of art. This is a cultural and historical center of Burgundy, which will surprise its visitors with a rich choice of remarkable places. The city is home to a …
Open
Fans of vegetarian food simply cannot forget to visit Les Pieds Bleus restaurant. It's really hard to find such a choice of vegetable dishes and pastries in any other restaurant of the city. Les Pieds Bleus will be particularly liked by sweet tooth visitors who will certainly enjoy home-made pies with fruit fillings, airy pastries and aromatic coffee. If your aim is to visit Chinese food restaurants, then you may enjoy Le Canard Laque. This restaurant has gained much popularity among visitors thanks to high quality of food served in it. For a reasonable price guests of the restaurant will have an opportunity to try unique oriental delicacies and get acquainted with culinary traditions of the far country.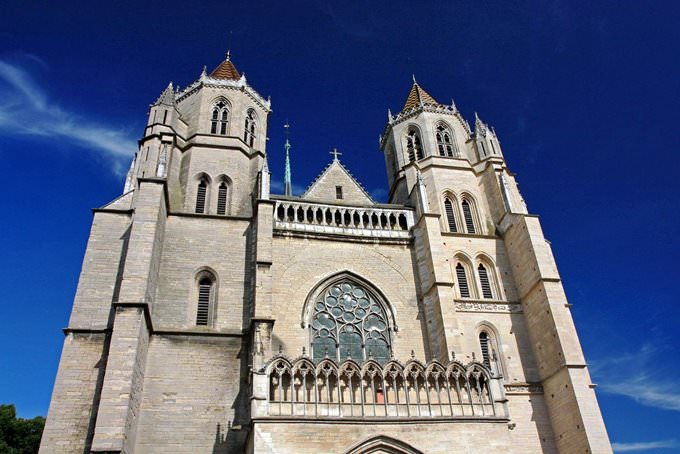 Tourists interested in traditional food of Dijon should definitely order one of the main local delicacies, snails, in one of the local restaurants. As a rule, snails are cooked in butter with garlic and greens in Dijon. That way, the snails become incredibly tender and have an absolutely unforgettable taste. Quite an interesting fact – local chefs cook snails without shells. They accurately take the snails out of their shells before cooking. When the meat is ready, it is put back to the shells, and then the snails are baked in an oven until they are ready. Such an unusual cooking method makes the dish not only very delicious but also eye-catching.
Dijon offers its guests to participate in a fascinating tour and visit various entertainment facilities. As a rule, travellers enjoy tours to local wineries during which they can not only …
Open
Tourists interested in more traditional food should try such local delicacy as Burgundy beef. For this dish, the meat is stewed with red wine. The nourishing meat dish is always present on festive tables during national holidays. Every housekeeper in Dijon, as well as every restaurant in the city, has their own way to cook this popular meat dish. Besides beef, the stew contains potato, onion, carrot, and garlic. The list of ingredients can vary significantly.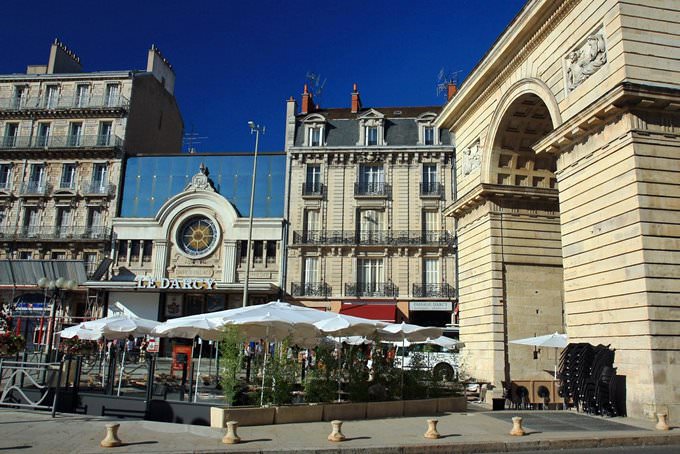 Peacock stewed in red wine is a no less interesting meat dish. According to Dijon residents, amazing Burgundy wine is the main secret of the inimitable taste of this local specialty. The wine adds a special taste and fragrance to the dish. As a rule, local chefs use Chambertin wine for this delicacy. Sweet tooths will find many interesting desserts at local restaurants. Besides that, they are recommended to take a look at candies sold in local grocery shops. These shops offer attractive boxes with the traditional anise candies that look like small white dragee. These candies have a long history as they were produced in Burgundy for the first time several centuries ago. Nowadays, the candies are very popular across France.
1. It's very simple to go to Paris, Lyon and Geneva from Dijon. A ride to the French capital will take approximately three hours by bus in case there are no traffic jams on the …
Open
In Dijon, tourists can also try a special kind of gingerbread, the main secret of which is in the use of a special type of wheat flour. The traditional gingerbread recipe is quite different in Dijon as the pastry contains no rye flour. That is the reason why local gingerbread has a truly inimitable taste. Grocery shops of Dijon also offer such interesting specialties as blackcurrant liqueur that is called Crème de Cassis. This fragrant liqueur has been made in accordance with an unchanged recipe for centuries.
This guide to cuisine and restauraunt in Dijon is protected by the copyright law. You can re-publish this content with mandatory attribution: direct and active hyperlink to
www.orangesmile.com
.
City tours, excursions and tickets in Dijon and surroundings
Reference information
Michelin-starred restaurants in Dijon
♥ Restaurant 'William Frachot' Dijon. Type - Creative. 1.5 km from the center.
On the map
Photo
♥ Restaurant 'Porte Guillaume' Dijon. Type - Traditional cuisine. 1.5 km from the center.
On the map
Photo
♥ Restaurant 'La Dame d'Aquitaine' Dijon. Type - Modern cuisine. 1.6 km from the center.
On the map
Photo
♥ Restaurant 'So' Dijon. Type - Modern cuisine. 1.9 km from the center.
On the map
Photo
♥ Restaurant 'DZ'envies' Dijon. Type - Modern cuisine. 1.9 km from the center.
On the map
Photo
♥ Restaurant 'Loiseau des Ducs' Dijon. Type - Modern cuisine|Burgundian. 1.9 km from the center.
On the map
Photo
♥ Restaurant 'Le Pré aux Clercs' Dijon. Type - Classic cuisine. 1.9 km from the center.
On the map
Photo
♥ Restaurant 'L'Impressionniste' Dijon. Type - Traditional cuisine. 1.9 km from the center.
On the map
Photo
♥ Restaurant 'Stéphane Derbord' Dijon. Type - Modern cuisine. 2 km from the center.
On the map
Photo
♥ Restaurant 'La Maison des Cariatides' Dijon. Type - Modern cuisine. 2.2 km from the center.
On the map
Photo
Car rental on OrangeSmile.com
Dijon in photo set
Searching where to eat - restaurants and cafe on Dijon map
Cuisine and restaurants in the neighbours of Dijon
Travel notes on best cuisine and restaurants of Dijon (France) on OrangeSmile.com. Famous recipes and traditional dishes and courses in Dijon restaurants. Where to eat - our recommendations on popular places in Dijon, where you can taste delicious meal and also spend a good time with your friends.