Cuisine of Milwaukee for gourmets. Places for dinner - best restaurants
Food traditions in Milwaukee, Wisconsin, are some of the most diverse and most interesting in the country. There are a lot of farms where meat and dairy products are produced. As for specialties the guests of Milwaukee can taste, special farm cheeses should be mentioned. City restaurants will delight visitors with a wide choice of meat dishes of American cuisine. In the region, over 600 kinds of cheese are produced. This product has become of the main symbols here.
Miluoki is an unbelievably wonderful tourist city with a variety of attractions and entertainment centers. One of the most swarmed and fascinating spots for a vacation with children is the …
Open
You can buy various dairy products in local food markets. Restaurants in Milwaukee offer interesting dishes with cheese. The most popular snack here is fried slices of cheese that you can buy in multiple market stalls in city streets.
The traditional cuisine of Milwaukee is the most "European" in the USA as European immigrants contributed much to the development of food traditions. In local cafes, you can taste different kinds of kringle pie that is very popular in Europe. It is filled with fruit and nuts. A lot of German migrants live in Milwaukee and its neighborhood, so traditional German sausages are a typical dish here. Dutch migrants instilled love of marinated herring. One of the most popular drinks here is beer. Copyright www.orangesmile.com
Milwaukee is often called "the city of festivals". During the year, a lot of themed festivals, most of which are world-famous, are held. One of the major and most interesting cultural …
Open
Those travelers who want to taste the most unusual local dishes here should order soup with cheddar cheese at local restaurants. Along with savory cheese, beer is added to this soup and gives it inimitable taste and flavor. In the neighborhood of Milwaukee, there are a lot of lakes and rivers, so fish dishes are very popular here too. Fish is usually grilled, fried and added to delicious soups. Fans of food tourism can take an interesting themed tour and visit famous farms and creameries.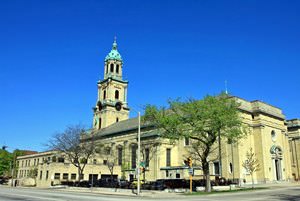 One of the best restaurants in the city is Sanford that specializes in classical American and international dishes. Its visitors can taste here grilled meat and dishes of lake and freshwater fish. This restaurant is one of the most prestigious in Milwaukee and distinguished by reasonable prices, which doesn't prevent it from being one of the most visited and busiest in the city.
The picturesque port city will impress visitors with its architectural attractions and museums. One of the most visited cultural centers in the city is the Milwaukee Art Museum located in a …
Open
Blue's Egg specializes in modern international and American cuisine. It is a perfect place for family recreation. Its specialties are cooked of healthy regional products, so the restaurant is very popular with adherents of healthy eating. Here, you can taste delicious vegetable salads and meat and fish dishes, as well as wonderful fruit desserts and cocktails. The restaurant is also distinguished by reasonable prices.
Mo's A Place For Steaks will delight those who prefer exquisite meat dishes. Here, you can taste American bloody steaks and grilled ribs. At the restaurant, many dishes are cooked over an open fire and served with special sauces. Besides delicious dishes, visitors have a wide choice of drinks here.
In the city, there is an excellent zoo named Milwaukee County that will impress all nature admirers and tourists with children. It covers a large area. There are spacious enclosures for …
Open
One of the most unusual restaurants in the city is Lakefront Brewery Beer Hall that is very popular with connoisseurs of beer and German cuisine. Here, you can taste grilled German sausages, stewed cabbage with meat, and unusual American dishes. The main advantages of the restaurant are a wide choice of beers delivered from famous German breweries.
In the center of Milwaukee, there is a famous restaurant named Mader's. It specializes in European cuisine. It is located in a spectacular historical building that resembles an old castle. The restaurant offers popular European dishes. All culinary masterpieces are served in a unique way. The restaurant also features a rich wine list so you will certainly find here a drink to taste.

This guide to cuisine and restauraunt in Milwaukee is protected by the copyright law. You can re-publish this content with mandatory attribution: direct and active hyperlink to
www.orangesmile.com
.
City tours, excursions and tickets in Milwaukee and surroundings
Milwaukee in photo set
Searching where to eat - restaurants and cafe on Milwaukee map
Cuisine and restaurants in the neighbours of Milwaukee
Travel notes on best cuisine and restaurants of Milwaukee (USA) on OrangeSmile.com. Famous recipes and traditional dishes and courses in Milwaukee restaurants. Where to eat - our recommendations on popular places in Milwaukee, where you can taste delicious meal and also spend a good time with your friends.