Family trip to Milwaukee with children. Ideas on where to go with your child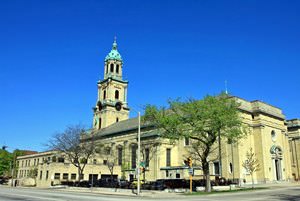 Miluoki is an unbelievably wonderful tourist city with a variety of attractions and entertainment centers. One of the most swarmed and fascinating spots for a vacation with children is the Henry Maier Festival Park. This modern amusement park is located on the shores of Lake Michigan. This center has colorful merry go rounds and playgrounds for young children, and several attractions for fans of extreme sports. One of the most unusual attractions in the park is the cable car. It is also worth noting that during the year there are many interesting celebrations in the park.
In the city, there is an excellent zoo named Milwaukee County that will impress all nature admirers and tourists with children. It covers a large area. There are spacious enclosures for …
Open
The oceanarium Oceans of Fun will be an ideal place for amusement with children. This center looks more like an original amusement park. The principle inhabitants of this oceanarium are dolphins and seals, with which intriguing performances are conducted every day. For an additional fee, visitors to the center can swim in the same pool with the friendliest marine inhabitants and take a great deal of spectacular photos. The aquarium is located on the territory of a picturesque park, along which you can walk and admire the big trees.
There is an incredible place in the city for fans of water entertainment – the Schulz Aquatic Center. This water park is quite small, but has on its territory a special pool for children with small slides, and a beautiful lazy river. The territory of the water park is well equipped for comfortable entertainment; umbrellas that shade from the sun and fountains are all over the place. It will be an awesome place to relax on a scorching summer day. Copyright www.orangesmile.com
1. In Milwaukee, two big international airports accommodate flights from over a hundred cities. There is also railway service between Milwaukee and cities of other American states. 2. …
Open
Among the entertainment centers of Milwaukee, it is worth highlighting Bounce Milwaukee. This is one of the most recent and colorful centers. It will be interesting to spend time here with children of all ages. For young visitors, there are a lot of trampolines, inflatable attractions and playgrounds in the center. There is even a climbing wall for young children and a playground with table games which older children will like. The center is perfect for individuals who are in search of a place for a children's or family holiday.
For persons who prefer to relax outdoors, it is worth going with the children to the Swing Park. This park is quite small. It is located in one of the busiest regions of the city. The existence of this park is not known to all tourists whereas it is exceedingly popular among locals. Among the primary attractive features of this park are playgrounds for kids. Numerous striking trees also grow in the park. One of Milwaukee's most famous kids' attractions is the Milwaukee County Zoo. This is an extensive and wonderful zoo in which creatures from all over the world are represented. Here you can see large brown bears, giraffes and large turtles. Also among the inhabitants of the zoo, there are very rare ones including snow leopards. On the territory of the zoo, there is an aquarium where enchanting performances with the participation of trained fur seals take place day after day.
In Milwaukee, there are a lot of shopping places. You can buy many interesting things and popular products on the Milwaukee Public Market. It offers a wide range of cheeses, dairy products, …
Open
There is an interesting children's museum in the city – Betty Brinn Children's Museum. This is a place where children are offered to turn into researchers and testers. All excursions held for kids are in a playful form. Children are offered the opportunity to perform intriguing scientific experiments, try out interactive exhibits and relax on colorful playgrounds. This museum is centered on young children more.

This guide to family holidays in Milwaukee is protected by the copyright law. You can re-publish this content with mandatory attribution: direct and active hyperlink to
www.orangesmile.com
.
City tours, excursions and tickets in Milwaukee and surroundings
Reference information
Amusement parks near Milwaukee
♥ Amusement park 'Six Flags Hurricane Harbor' Gurnee, 74.6 km from the center.
On the map
Photo
♥ Amusement park 'Six Flags Great America' Gurnee, 74.7 km from the center.
On the map
Photo
♥ Amusement park 'Little Amerricka' Marshall, 94.6 km from the center.
On the map
Photo
♥ Amusement park 'Donley's Wild West Town' Union, 106.5 km from the center.
On the map
Photo
♥ Amusement park 'Santa's Village AZoosment Park' Dundee, 109.3 km from the center.
On the map
Photo
Water attractions around Milwaukee
♥ Water park 'Country Springs Hotel Waukesha' , 30.1 km from the center.
On the map
Photo
♥ Water park 'Timber Ridge Lodge' Lake Geneva, 63.4 km from the center.
On the map
Photo
♥ Water park 'Key Lime Cove Resort' Gurnee, 73 km from the center.
On the map
Photo
♥ Water park 'Six Flags Hurricane Harbor' Gurnee, 74.6 km from the center.
On the map
Photo
♥ Water park 'Blue Harbor Resort' Sheboygan, 80.3 km from the center.
On the map
Photo
Aquariums in Milwaukee and nearby
♥ Aquarium 'Shedd Aquarium' Chicago, 132.4 km from the center.
On the map
Photo
Famous sights of Milwaukee
100 East Wisconsin
From the series
"Famous buildings of Postmodern architecture"
Check on the map:
Distance from Milwaukee center - 0.4 km.
Construction of the 100 East Wisconsin building took more than two years. Office space and private apartments are located in it today. Panoramic glazing is the main feature of the interior. It makes it easy to enjoy the view of the central streets of Milwaukee. The spectacular skyscraper is considered one of the main architectural attractions of the city today. It is also one of the most photographed objects on its territory. …
Read further

Photogallery of best places of Milwaukee
Children attractions (aquaparks, zoos, amusement parks) on the map of Milwaukee
Interesting places to visit with children around Milwaukee
Guide to sightseeing and entertainment for children in Milwaukee - parks, attractions, museums, zoos, water-parks. All fascinating and educational sites of Milwaukee, which are must visit and see for your child. Find out the best discovery routes and places for kids (local theaters, exhibitions and museums), where you can spend quality time together. Milwaukee for families with children.