Colors of Kiev - traditions, festivals, mentality and lifestyle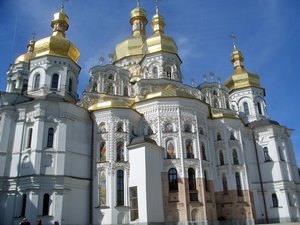 Travelers wishing to get acquainted with Kyiv's beautiful national traditions should visit the city during one of the major holidays. One of the favorite holidays among local residents is the City Day, which is traditionally celebrated on the last weekend of May. The tradition of celebrating this day appeared in 1982 and in recent years Kyiv Day has gained incredible scale. Sports competitions, the traditional balloons parade and concerts of popular performers are always held in Kyiv on holiday days.
In addition to the variety of attractions, Kiev can offer hundreds of entertainment venues and night clubs, discos and sports complexes. City Entertainment center is located at the downtown. …
Open
No less interesting is the entertainment dedicated to arts and creativity. More than 30 years ago, the city began holding the so-called "vernissages" - art exhibitions, which have been held on Kyiv Day to this day. The best masters of the city present their masterpieces, any of which can be bought. Hand-embroidered aprons and colorful bedspreads, original handmade hats and jewelry, magnificent paintings and traditional costumes are just a small part of what Kyiv masters present for sale.
Local residents also celebrate numerous religious holidays, and the most famous one is St. Michael's Day. Celebrated on November 21, many customs associated with this holiday have remained unchanged over several hundred years. The holiday is dedicated to the main patron saint of Kyiv - Saint Michael the Archangel. Copyright www.orangesmile.com
1. The most profitable way is to pay for goods and services with national currency; you can use an exchange in any bank of the city. Most banks are open 5 days a week; Saturday and Sunday …
Open
On this day, people avoid doing hard physical work and lay the table to spend the day with loved ones. On this holiday, it is also customary to please the "Dvorovoi", a spirit who is responsible for the courtyard and domestic order. To do this, one needs to leave it a glass of milk and a treat. Many of those who observe this ritual today note that by the morning the amount of milk in the glass is significantly reduced, which is a good sign.
Some of the most splendid celebrations and interesting entertainment are traditionally held in Kyiv on the days of Maslenitsa (Butter Week). The main symbol of this holiday is pancakes, which embody the sun and the long-awaited advent of spring. A large part of Maslenitsa's entertainment programs takes place in the open air.
Already had a chance to explore spectacular architectural sights of Kiev and wonder about diversifying leisure with something else? It's time to go underground and see the unique underground …
Open
Gastronomic festivals are organized on the squares, artists and musicians wearing beautiful national costumes perform on the streets, and the main final stage is the burning of Lady Maslenitsa. Besides public festivities, it is customary to observe some spiritual traditions on this day. On a holiday, people ask for forgiveness from loved ones, as well as clean away all bad thoughts.
Local residents are characterized by a very reverent and respectable attitude towards historical traditions. Beautiful national costumes, culinary specialties, traditional dances, and music are all mandatory attributes of any holiday. Among other typical traits of local people are thoroughness and deliberateness.
Kyiv has a lot of interesting shopping malls. Dozens of product categories are presented in Globus Shopping Center. It houses clothing and footwear stores of various price categories, elite …
Open
Whatever they need to do, locals will do everything without haste and very carefully. In many respects, Kyiv residents owe this national peculiarity to their beautiful national costumes. Their preparation for holidays begins long in advance; all national costumes are decorated with skillful handmade embroidery.
The pursuit of competition and leadership is another important trait of local people. This is the reason why hundreds of years ago all kinds of competitions have always been held in Kyiv on big holidays. Men could compete in fights and women in the art of cooking and needlework. Thus, all sorts of sports competitions are mandatory attributes of the holiday even today.
Discovering the architecture of Kiev from bird's eye view! Kiev Pechersk Lavra, St. Andrew Church, Monument of Independence , St. Michael Golden-Domed Monastery, Kiev Fortress, Church of the Saviour at Berestove, all those monuments are defining the image of Kiev …
Open
A striking character trait that is often perceived with misunderstanding is thrift and a negative attitude towards wastefulness. Such special features are perceived by many as greed, whereas in fact, it's just a manifestation of a caring attitude towards fruits of labor. Love for tasty and hearty food has always been an important component of the character of Kyivans. Here it is customary to set a rich table on any given holiday. However, even on a typical day, having a rich table is considered one of the main signs of wealth and well-being. One of the main ways of hospitality manifestation in Kyiv is an invitation to lunch or dinner. Refusing such offers may offend your hospitable Ukrainian friends. Kyivans respect and cherish their historical traditions and are always willing to let travelers from other cities and countries in on them.

This guide to traditions and festivals in Kiev is protected by the copyright law. You can re-publish this content with mandatory attribution: direct and active hyperlink to
www.orangesmile.com
.
City tours, excursions and tickets in Kiev and surroundings
Reference information
Cathedrals and basilicas near Kiev
♥ Co-Cathedral of St. Alexander, Kyiv (Київ), 2.3 km from the center.
On the map
Photo
♥ Church of St. Nicholas, Kyiv (Київ), 2.7 km from the center.
On the map
Photo
♥ Patriarchal Cathedral of the Resurrection of Christ, Kyiv (Київ), 5.4 km from the center.
On the map
Photo
Colors of Kiev in photos
Search for popular touristic sites on Kiev map
Traditions and festivals in cities around Kiev
Cityguide on traditions, mentality and lifestyle of people in Kiev. Learn the best periods to visit Kiev to discover its soul - authentic festivals, events and celebrations. We will also reveal the interesting habits, attitude towards the world and to tourists in Kiev.