Cuisine of Kiev for gourmets. Places for dinner - best restaurants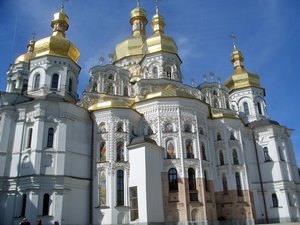 It's not easy to choose the best one among hundreds of Kiev restaurants. Let's start the story about most attractive gastronomic points of interest with the review of national cuisine restaurants. The attractive Varenichnaya #1 restaurant is decorated in the style of past centuries. The specialty of this place is vareniki (kind of dumplings). This popular national dish here is prepared in twenty variations. In addition to the favorite kind of dumplings, visitors can try interesting vegetable dishes and drinks.
Kyiv has a lot of interesting shopping malls. Dozens of product categories are presented in Globus Shopping Center. It houses clothing and footwear stores of various price categories, elite …
Open
A wide range of dishes of national cuisine are offered by O'Panas restaurant. Its present menu includes popular soups, meat dishes, and a variety of desserts. The Panska Vtiha restaurant will delight guests not only with a rich menu, but also with an interesting entertainment program. It has the unusual status of "folk restaurant" – that's because regular entertainment program features the best dance and music groups from Kiev.
In Kiev, there are restaurants of different styles. The French Gorchitsa restaurant is popular among foreign visitors and locals. It has won recognition from loyal customers due to the excellent quality of food and reasonable prices. Fans of Italian cuisine are fond of another restaurant, Walter Rossit; there are many celebrities among its regular customers. Here you can try excellent risotto and pasta with seafood specialties and delicious desserts. Dishes are accompanied by popular Italian wines. Copyright www.orangesmile.com
Discovering the architecture of Kiev from bird's eye view! Kiev Pechersk Lavra, St. Andrew Church, Monument of Independence , St. Michael Golden-Domed Monastery, Kiev Fortress, Church of the Saviour at Berestove, all those monuments are defining the image of Kiev …
Open
For those who want to taste the real Italian pizza, we can recommend the Napule restaurant. Pizza is the brand dish here. There are dozens of varieties of pizza in menu. Advocates a vegetarian diet, fans of meat dishes, and seafood lovers – all of them would find something suitable. Napule would be great for families as it provides visitors with a special kids menu.
Marrakesh restaurant offers Moroccan cuisine to its guests. Space there is decorated with original oriental style; you can see gold-embroidered cushions and carpets everywhere. Such an atmosphere would be a nice addition to the meal and would distract from the everyday hustle and bustle. Among Asian restaurants it's worth to mention Grill Asia; the basis of its menu consists of dishes cooked on the grill. Visitors strongly admire restaurant's meat treats.
Saint Sophia Cathedral, St. Volodymyr Cathedral, Golden Gate, Olimpiyskiy Sports Complex, as well as many others, they all become the world's cultural heritage objects and remain as iconic monuments for Kiev …
Open
In Kyiv restaurants, it's worth trying popular traditional Ukrainian dishes. They serve delicious borsch with garlic donuts (pampushkas) as well as dumplings (varenyky), which is an indispensable dish on the menu of regional restaurants. Their diversity is simply amazing, dumplings are cooked with dozens of different fillings. There are very hearty varenyky with mushrooms, meat, and potatoes, while dessert options may include various fruits and berries. Before serving at the table, unsweetened dumplings are usually decorated with fried onions, sour cream or fresh herbs. For sweet dumplings, there is a special sugar syrup making the dish even sweeter.
Everyday dish for locals is jellied meat (kholodets), once it was cooked for the sole purpose of using up leftover meat. Today, the best meat products are selected for cooking kholodets. It is usually made from beef or pork legs. It is always customary to serve jellied meat with fresh bread and a special sauce from fresh horseradish or mustard.
In order to get acquainted with all notable places of Kiev you will need more than one day of long walks. However, you will not need any transport as all main sights of this city are located …
Open
Regional cuisine restaurants presented in Kyiv will certainly appeal to all fans of meat dishes. They prepare dozens of hearty meals of beef and pork, while poultry meat is much less frequently used in national cooking. A special menu item is local sausages, which can be tasted not only in local restaurants but also in local markets. Homemade sausages are most often prepared from pork. During the cooking, various spices are added to the mince to make the taste of sausages very rich.
Residents of Kiev are big fans of salo (cured slabs of fatback), which may serve as an independent product or a complement to various dishes. It can be stewed, fried, and even boiled. Salo is also used for the preparation of traditional garlic roll. Fans of unusual soups must try "Kulesh" in local restaurants. Many years ago, this original soup was cooked by the Zaporozhian Cossacks. Now its various recipes are popular in many regions of Ukraine. Compulsory components are cereals and salo, which are added to the soup just before serving. In addition to these components, various types of meat, seasonal vegetables and greens can also be used. Fans of desserts should pay special attention to sweet pastries in Kyiv restaurants.

This guide to cuisine and restauraunt in Kiev is protected by the copyright law. You can re-publish this content with mandatory attribution: direct and active hyperlink to
www.orangesmile.com
.
City tours, excursions and tickets in Kiev and surroundings
Where to go for dinner in Kiev: recommended cafe and restaurants
Empire
Where: 8th fl, Premier Palace Hotel, 5-7/29 T. Shevchenka Blvd. / Pushkinska St., Kiev; Telephone: +380 44 537 4535; Metro: Lva Tolstovo;
Mandarin
Where: Naberezhno-Khreschatytska Berth no 6, Kiev; Telephone: +380 44 599 0877/44 428 7380; Metro: Kontraktova Ploscha;
Da Vinci Fish Club
Where: Volodymyrska 12, Kiev; Telephone: +380 44 490 3434; Metro: Zoloti Vorota;
L'Amour
Where: Naberezhno-Kreschatytskaya 17/18, Kiev; Telephone: +041 44 467 7897; Metro: Kontraktova Ploscha;
Asakhi
Where: Saksahanskoho 1, Kiev; Telephone: +380 44 244 2237; Metro: Palats Sportu;
Mimino
Where: Spasska 10A, Kiev; Telephone: +380 44 417 3545; Metro: Kontraktova Ploscha;
Marrakesh
Where: Sahaidachnoho 24, Kiev; Telephone: +380 44 494 0494; Metro: Kontraktova Ploscha;
Il Patio
Where: Bessarabska Ploscha 5A, Kiev; Telephone: +380 44 246 4327/44 235 4446; Metro: Lva Tolstovo;
Pechersky Dvoryk
Where: Kriposny Perulok 6, Kiev; Telephone: +380 44 253 2667; Metro: Arsenalna;
Kiev in photo set
Searching where to eat - restaurants and cafe on Kiev map
Cuisine and restaurants in the neighbours of Kiev
Travel notes on best cuisine and restaurants of Kiev (Ukraine) on OrangeSmile.com. Famous recipes and traditional dishes and courses in Kiev restaurants. Where to eat - our recommendations on popular places in Kiev, where you can taste delicious meal and also spend a good time with your friends.