Shopping in Glasgow - authentic goods, best outlets, malls and boutiques
Silverburn is the city's most popular shopping and entertainment center. Among its many shops, there are pavilions of famous European brands, as well as stores that offer clothes and shoes produced in England. There are many shops offering household goods, large pavilions of cosmetics and jewelry. After shopping, visitors can relax in one of the cozy restaurants or go to a modern cinema.
Discovering the architecture of Glasgow from bird's eye view! Glasgow University, Glasgow City Chambers, Clyde Arc Bridge, Ibrox Stadium, Provand Lordship, all those monuments are defining the image of Glasgow …
Open
In the historic center of Glasgow you'll find St Enoch trading complex. It occupies a spectacular modern building with a glass roof. You can stroll around the complex in search of beautiful clothes of European brands and lovely souvenirs from local producers. There are several grocery stores there, as well, where you can purchase goods of local production.
The most busy shopping area in Glasgow is Golden Z. It unites several streets, which are a series of trendy boutiques and specialty shops. In this area, there are many jewelry shops that wealthy tourists will especially like, and there are also shops with Celtic jewelry, where you can buy great ornaments for only 6 - 8 euros. Here you'll find specialized shops offering Scotch whiskey, chocolate from local factories and popular souvenirs. Copyright www.orangesmile.com
Glasgow Cathedral, Mitchell Library, Hampden Park, as well as many others, they all become the world's cultural heritage objects and remain as iconic monuments for Glasgow …
Open
Bat Street and Hope Street are the focus of the most popular fashion boutiques. A lot of original designer pavilions with clothes, shoes, and accessories can be found there. It is here that you should look for unique items of wardrobe, unusual handmade ornaments and designer presents.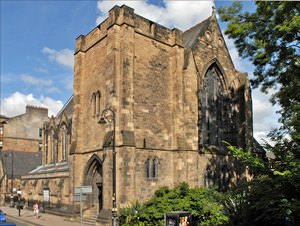 The coming weekend is the best time to go to The Barras market, which is right in the heart of the city. At this place the market has been operating since 1920. The most popular national products and delicacies, nice handicrafts and antiquities are available here. They sell a lot of high quality farm products at attractive prices. During the warm season, a huge choice of fresh flowers and seeds is offered.
Glasgow is a city located 35 kilometers away from the mouth of the Clyde River on the middle-Scottish lowland on the north-west of the Great Britain. Glasgow is the third largest city in the …
Open
Glasgow has a lot of shops focused on amateurs of high fashion. Cruise store offers its customers a decent choice of men's and women's clothing from famous fashion houses. The price level in this store is quite high, but the quality and exclusivity of the goods fully compensate for the high price.
Ladies who prefer appropriate attire will surely like Karen Millen store. It always presents a lot of elegant blouses, skirts, and trousers, you can always choose an excellent business suit here. All the things are made entirely of natural materials. Despite the strict style, they look very spectacular.
Glasgow has so many interesting sights, some of which is definitely worthwhile to visit with children. One of the best entertainment complexes in the city is Wonder World Soft Play Glasgow. …
Open
Mr. Ben can safely be called one of the most unusual designer stores in the city. The store sells spectacular American-style clothes that were in style in the middle of the past century. Here, you can pick up many interesting things, the likes of which you won't find in other stores.
In Glasgow, you should pay attention to gastronomic shopping. Ian Mellis store is especially popular with gourmets. It was opened in 1995. The owner of this store is a real expert in the field of artisanal cheese. He offers customers cheeses from local farms. Each kind has its own unique features. A visit to the store will be no less interesting than a visit to the museum. Visitors are invited to try all kinds of cheese before purchasing.
Glasgow is famous not only for its unique attractions, but also for a rich choice of attractive gastronomic establishments. Local restaurants will definitely delight fans of classical …
Open
Those who want to bring a real Scotch whiskey from their trip should come by Robert Graham store, whose choice of elite drinks is simply enormous. You can choose varieties at affordable prices, as well as a real elite decoration for a home bar. Besides whiskey, they sell a lot of necessary accessories, including beautiful glasses. There are also cigars, so men will surely appreciate this store.

This guide to shopping in Glasgow is protected by the copyright law. You can re-publish this content with mandatory attribution: direct and active hyperlink to
www.orangesmile.com
.
City tours, excursions and tickets in Glasgow and surroundings
Reference information
Shopping streets in Glasgow
♥ Shopping area ' Buchanan Street' Glasgow, 0.5 km from the center.
On the map
Photo
♥ Shopping area ' Princes Square' Glasgow, 0.7 km from the center.
On the map
Photo
♥ Shopping area ' Sauchiehall Street' Glasgow, 0.9 km from the center.
On the map
Photo
♥ Shopping area ' Argyle Street' Glasgow, 1.1 km from the center.
On the map
Photo
Designer outlets in Glasgow and nearby
♥ Outlet 'LIVINGSTON DESIGNER OUTLET' Almondvale Avenue, Livingston, EH54 6QX, United Kingdom, 46.1 km from Glasgow.
On the map
Photogallery of Glasgow best places
Search for shopping areas, streets, boutiques and supermarkeets on Glasgow map
Shopping advices for the whole region around Glasgow
Shopping advices for Glasgow. The best spots for buying designer clothes and local delicacies from Great Britain - shops, galleries, boutiques and outlets. We provide you with the shopping streets map, so you can plan your efficient shopping routes, while hunting for authentic souvenirs, goods, drinks, shoes and clothes in Glasgow.