Cuisine of Lviv for gourmets. Places for dinner - best restaurants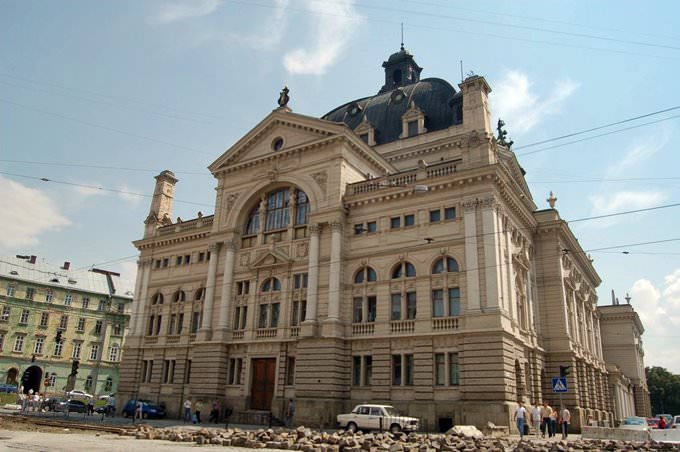 Travelers wishing to try the dishes of Ukrainian cuisine in their genuine design and recipe should set off to the Veronika restaurant. This is a romantic and cozy inn featuring its own sweetshop. Daily the Veronika restaurant is visited by sweets' addicts as this is the only place where one can try chef's desserts.
Lvov is an ancient city of unique cultural traditions and of unspeakable charming beauty. Annually the local people enjoy numerous exciting events and fests. The Annual City Beer Festival, …
Open
A rich selection of European cuisine dishes is presented in the Culinary Studio Kryva Lypa. Guests will be stunned with the vast choice of salads, fish and meat dishes, refreshing drinks and delicious desserts. This budgetary inn will be a perfect place for a family visit. A full diner of three courses will cost about 15 Euro. One of the most romantic eating places of Lvov is considered to be Bianco Rosso Pasteria. The Italian cuisine is in the heart of its menu, however the chef's specialities are of immense popularity among the guests of the house too. The restaurant will be a perfect place as for a romantic date and so for festive events.
Those wishing to enjoy the casual atmosphere and the delicious local cuisine treats will better like the Kryjivka restaurant. Perfect cheap dinners at attractive prices, spacious and fine decorated hall, an impressive selection of ethnic dishes and high quality service are the main advantages of the popular eating place. The Kryjivka restaurant serves the visitors till the late night, tables for dinner are recommended to reserve in advance. Copyright www.orangesmile.com
The best part of city sights is concentrated in the central district of the city. Rambling is the best way for tourists to explore the historic area of the city of Lvov. Tourists should …
Open
Another gastronomy landmark of Lvov being of immense popularity among city guests is the Kumpel restaurant which is set not fat from the city center. Its speciality is considered to be pelmeni (or meat pockets) which are traditionally added with special sauces with spice. The Amadeus restaurant serves the dishes of ethnic cuisine. Its interior is beset in historical style. In the daytime the main visitors of the place are the employees of the neighboring offices and tourists. To find a free table in the evening is a real challenge. Svit kavy is the best place to have a cup of savory coffee and to try some hot pastry. In the warm season the visitors can set on the spacious terrace. In cool weather the tables are served in a cozy hall.
This guide to cuisine and restauraunt in Lviv is protected by the copyright law. You can re-publish this content with mandatory attribution: direct and active hyperlink to
www.orangesmile.com
.
City tours, excursions and tickets in Lviv and surroundings
National cuisine of Ukraine
Hombovci is buns in the form of balls, which are made of dough, cottage cheese or potatoes, often breaded. Hombovci is tasty on its own, but is even more delicious with a filling. Cherries, plums, any jam, chocolate or halva are often used as a filling. Berries, sliced ​​fruits, jam and sweet cottage cheese wrapped in dessert pancakes are called "nalistniki". The Ukrainian version of the famous strudel, sweet roll cake, is prepared with apples, nuts and poppy seeds. Dessert dumplings with cherries are popular too. A wonderful refined cake called "flodni" was borrowed by Ukraine from Hungary. It has several fillings at once: apple, poppy and walnut. …
Open
Car rental on OrangeSmile.com
Lviv in photo set
Searching where to eat - restaurants and cafe on Lviv map
Cuisine and restaurants in the neighbours of Lviv
Travel notes on best cuisine and restaurants of Lviv (Ukraine) on OrangeSmile.com. Famous recipes and traditional dishes and courses in Lviv restaurants. Where to eat - our recommendations on popular places in Lviv, where you can taste delicious meal and also spend a good time with your friends.