Colors of New York - traditions, festivals, mentality and lifestyle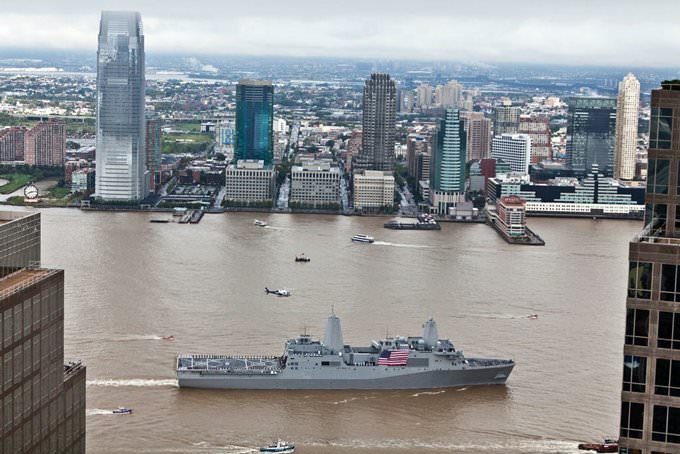 While walking around the city, travelers will surely notice various interesting features, many of which may seem to be rather peculiar and unexpected. Thus, an ordinary bus stop here is a usual metal pole, on which is fixed a round road sign with a picture of a bus. Here you can see the schedule and the routes of buses. This is quite convenient for tourists who plan to travel around the city.
Travelers, who want to spend a romantic holiday in lively and crowded New York, are recommended to pay attention to 6 Columbus - A SIXTY. Besides romantic décor of guest rooms, this hotel …
Open
Local drugstores are no less surprising. In addition to medicines you can buy literally everything there, including household appliances. During a rest in one of the parks of the city visitors are literally attacked by flocks of squirrels. Little animals are absolutely not afraid of people and have even become the symbol of the city. Feeding tamed squirrels has become of the most popular entertainments for travellers. This exciting and interesting entertainment is enjoyed not only people but also by nice fluffy creatures. Bikes are very popular among the local people. However, this type of transport is more a way to deal with huge traffic jams, rather than the expression of care about environment. In New York you can see bicyclists on all roads of the city and in any weather.
However, local residents are distinguished by love to sport and care about their health. Simply every part of the city is equipped with special roads for runners. On mornings people of all ages go out to make a morning workout. Many people come with their families. The New Yorkers have quite a peculiar attitude towards alcohol. Drinking it on the streets is strictly prohibited. If you go to a supermarket, you'll notice that there only beer on the shelves. In order to buy other liquors, you will need to go to a specialty store. When buying liquor, a salesman will certainly ask you to show a proof of identity – any sale of alcohol to persons under 21 is prohibited. Copyright www.orangesmile.com
Discovering the architecture of New York from bird's eye view! Empire State Building, American Museum of Natural History, Woolworth Building, The Metropolitan Museum of Art, The Cloisters, Manhattan Municipal Building, all those monuments are defining the image of New York …
Open
Fastfood Stands - steel trays with food – have become a unique tourist attraction. No need to say that the choice of food in all of them is not limited to hamburgers and hot dogs only. Many tents offer such dishes as roasted meat, vegetable salads, and fresh pastries.
This guide to traditions and festivals in New York is protected by the copyright law. You can re-publish this content with mandatory attribution: direct and active hyperlink to
www.orangesmile.com
.
Reference information
Cathedrals and basilicas near New York
♥ National Shrine of St. Gennaro, New York City, 0.8 km from the center.
On the map
Photo
♥ Basilica of St. Patrick's Old Cathedral, New York City, 1.4 km from the center.
On the map
Photo
♥ National Shrine of St. Anthony, New York City, 1.5 km from the center.
On the map
Photo
♥ Our Lady of Lebanon Maronite Cathedral, Brooklyn, 2.5 km from the center.
On the map
Photo
♥ Cathedral Basilica of St. James, Brooklyn, 2.6 km from the center.
On the map
Photo
♥ Co-Cathedral of St. Joseph, St. Joseph, 5.1 km from the center.
On the map
Photo
♥ St. Patrick's Cathedral, New York City, 5.6 km from the center.
On the map
Photo
City tours, excursions and tickets in New York and surroundings
Unique landmarks in New York and around
Freedom Tower
From the series
"The highest buildings in the world"
Check on the map:
Distance from New York center - 0 km.
The building is very unusual, it resembles a slightly tilted cube with cut edges. The building seems to be slowly rotated due to its unusual shape. Facade of the skyscraper is decorated with special glass prisms of various thickness; reflective panels shine like a huge crystal. Skyscraper was built on the site of the Twin Towers destroyed September 2001. It's home to many offices and business centers. …
Read further
Hudson River Park
From the series
"Fancy houses and hotels located on water or under water"
Check on the map:
Distance from New York center - 1 km.
For many years now, one of the damaged berths is idle, which will form the basis of the park's design. A huge plarform, supported by several hundred pillars, will be built above the water. On the platform, a layer of soil is planned to be laid, a lot of trees and plants are also in the project. In the park there will be several cozy cafes. Recreation areas will be equipped for visitors among this natural splendour, playgrounds are planned for the youngest guests. …
Read further
Crocodile and Capitalist Monument
From the series
"The most unusual statues and monuments"
Check on the map:
Distance from New York center - 2 km.
The unusual monument still has a hidden meaning. It serves as a reminder of the terrible legend, which has been told for more than 50 years among the city dwellers. Many locals believe that the alligators live in the old urban sewage system. The author of this fantastic legend is the writer Robert Daily, who wrote the novel 'World under the City' in the fifties of the last century, whose content impressed the inhabitants of New York. …
Read further
Colors of New York in photos
Search for popular touristic sites on New York map
Traditions and festivals in cities around New York
Cityguide on traditions, mentality and lifestyle of people in New York. Learn the best periods to visit New York to discover its soul - authentic festivals, events and celebrations. We will also reveal the interesting habits, attitude towards the world and to tourists in New York.