Sightseeing in Anaheim - what to see. Complete travel guide
Anaheim is known as one of the top 10 cities of California. This is a well-known resort, which is famous for its entertaining centers and sport complexes. Within the latest several decades several large attraction parks, sport playgrounds, and entertainment complexes were built in the city. Anaheim will be genuinely attractive to people who enjoy active rest.
Rest in Anaheim will be genuinely liked by fans of sport and fans of clubs, and even by those who simply want to walk in beautiful natural places and rest from the never-ending noise of the …
Open
Probably, Disneyland in California is one of the most famous attraction parks in the world. It consists of 2 big projects – Disneyland Park and Disneys California Adventure Park. Here you will find several hundreds of attractions, thematic areas, and playing rooms. In Downtown Disney District you can also visit amazing shops, restaurants, and participate in engaging performances, or even dine with your favorite fairytale heroes! Disneyland Park is divided into 8 entertainment zones: Main Street, Adventureland, Fantasyland, Tomorrowland, New Orleans Square, Critter Country, Mickey's Toontown, and Frontierland. Many names of these lands give you the idea of their main theme. The total number of attractions in these zones exceeds 100, and each one of them will deliver tons of entertainment to both children and their parents.
Several years ago Disney started the building of another entertainment park named Disney's California Adventure Park. It contains numerous attractions and its gaming zones are devoted to the adventures of Tarzan, Indiana Jones, the Pirates of Caribbean, and much more. Here you will also find a cartoon city of Roger Rabbit and endless fancy shows and parades that take place here every day. After you have watched these entertainment complexes, it's high time to move your feet to one of sports arenas, visit tennis courts, golf fields, hippodromes, or simply rent a bicycle or roller stakes and have a ride on beautiful surroundings. Copyright www.orangesmile.com
Anaheim has original themed hotels featuring amazing design and a variety of relevant services. The guest house Castle House 7 is dedicated to famous Disney characters. The hotel is aimed at …
Open
The city has several museums, which will be interesting to visit with the whole family. In Muzeo museum there is a diverse collection of exhibits devoted to the history of the city. Here you can see unusual historical artefacts, observe the collection of old photographs, as well as enjoy unique works of art. 
In one of the quietest and peaceful areas of the city is a charming Yorba Regional Park - an ideal place for nature enthusiasts. This park has many trees and greenery, and is equipped with many user-friendly tracks for walking. Many people come here specifically to go rollerblading. There are several playgrounds for children in this park, it is perfect to relax away from the busy crowded places. 
The most prestigious and upscale hotel in Anaheim is known far beyond the United States. Design of Castle House - Wonderland House is based on the famous tale, Alice in Wonderland. The lodge …
Open
One of the most favourite places of rest for the guests is Anaheim Hills Golf Course. It is a modern golf course that will surprise with its size and comfortable conditions. On the territory of the golf centre operates the hotel, so you can stay for a few days. The golf school also offers its services to the visitors of the club, including coaches for not only adults but also children. On the territory of the centre sports' equipment rentals are present, and there are specialty stores and several attractive restaurants and cafes nearby.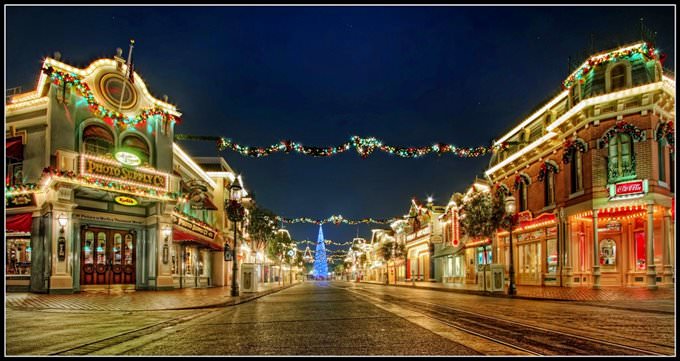 For those who can not leave without a theatre, be sure to visit the largest and most beautiful one - Grove of Anaheim. It regularly hosts interesting shows; the theatre has become a regular venue for music concerts and other cultural events. One of the main attractions of the modern city is the Honda Centre. To many it is known as an ultra-modern sports complex, which hosts major basketball and hockey competitions. This centre also often organizes various other cultural events, it has a gorgeous concert hall, that can accommodate up to 18 900 spectators. The opening of this large modern arena took place in 1993, and since then the centre regularly hosts large-scale world-class sporting events.
This guide to iconic landmarks and sights of Anaheim is protected by the copyright law. You can re-publish this content with mandatory attribution: direct and active hyperlink to
www.orangesmile.com
.
City tours, excursions and tickets in Anaheim and surroundings
Reference information
Survived castles around Anaheim
♥ Castle 'Battery of Santa Ana' Almería, 13.9 km from the center.
On the map
Photo
National and city parks around Anaheim
♥ State Park 'Boysen' , 2.5 km from the center.
On the map
Photo
♥ State Park 'Gaviota' , 17.7 km from the center.
On the map
Photo
♥ State Park 'French Hill' , 22.8 km from the center.
On the map
Photo
♥ State Park 'Newport' , 23.4 km from the center.
On the map
Photo
♥ State Park 'Chino Hills' , 23.6 km from the center.
On the map
Photo
Art galleries in Anaheim and around
♥ Art museum 'Huntington Library' San Marino, 37.5 km from the center.
On the map
Photo
Car rental on OrangeSmile.com
Search touristic sites on the map of Anaheim
Sightseeing in regions nearby Anaheim
All about Anaheim, USA - sightseeings, attractions, touristic spots, architecture, history, culture and cuisine. Prepare your trip together with OrangeSmile.com - find out the 'must see' things in Anaheim, which places to visit, which excursions to take, where the breathtaking views are waiting for you. Planning your trip with this travel guide will help your to get the most out of Anaheim in few days.