Colors of Las Vegas - traditions, festivals, mentality and lifestyle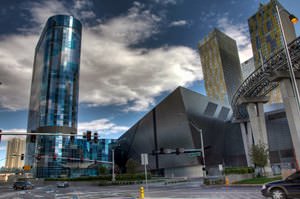 Las Vegas is the city of kitsch and glitter, slot machines, booze and loud music. People come here not to improve their health, to replenish the wardrobe or to join the high culture. Here, your main intention must be throwing the money on every step and enjoy it to its fullest! In Nevada, everything that is forbidden or restricted in other states like prostitution, gambling, alcoholic beverages - is permitted here. Dozens of brothels work on the territory of the state, and it is very likely that you will receive the first business card of one of these establishments from the taxi driver on the way from the airport to the hotel. Remember, casinos always win. You can have your first game already at the airport - even here all sorts of "one-armed bandits" are installed. Do not be in hurry - you will see them in the hotel lobbies, and, of course, actually in the casino.
Many high-class hotels in the city are located on Las Vegas Strip, and the luxurious Bally's Las Vegas Hotel & Casino is one of them. During years of work, this hotel has won international …
Open
Local people of Las Vegas are always smiling. This polite habit of American people is not surprising anymore, but why do they smile to strangers? It turns out that it's an embarrassing situation to make an eye contact with a stranger, and to smooth this moment - people smile. Another unspoken rule of Las Vegas residents is about the personal space. For example, do not get close to people in the queue. Everybody obeys the rules! There is no point in getting nervous and thinking about how to get to work, or somewhere, to exceed the speed. Everyone knows that you have the right to go that way here. Locals also possess one anti-manner habit: they have some strange way of licking their fingers in public places, and home, without any embarrassment at the end of a meal.
The New Year is a wonderful occasion to visit Las Vegas. Imagine a party of 6.5 kilometers long that spills out of the casino and hotels and occupies the entire famous Strip from Mandalay Bay in the south and to the Stratosphere in the north. The movement begins to overlap somewhere around 6 p.m. and people are gradually sliding down, hurrying to take strategically important points near the places where you can get cocktails and occupy the place to enjoy the shows, which are shown by different casinos. Tens of thousands of visitors dressed in clown hats, with slick adjusters, sequins, and other New Year's tinsel settle on Fremont Street, which is located not far from the famous casinos - a couple of miles to the north on the Strip. Fremont Street or Fremont Street Experience - one of the oldest streets in Las Vegas, where the first casino was opened that is now called the Golden Gate Hotel & Casino. A huge screen arch covers the whole street. Eating out on New Year's Eve in Las Vegas is a topic for a separate story, but all you should know is without booking a table in advance it is almost impossible to find anything - everything is just overcrowded. The best places for New Year's celebrations are the restaurant "Top of the World" and, a restaurant on the top of the Stratosphere Tower. Copyright www.orangesmile.com
Many hotels in Las Vegas are a regular venue for various music concerts and entertaining show programs. Fans of rock music unchangingly like Hard Rock Hotel and Casino. A giant model of …
Open
As far as we live in the 21 century, it's quite hard for us not to follow the latest trends in the techno spheres. Moreover, if you're the fan of the latest technological developments, follow each and one novelty - then you must visit Las Vegas in the first weeks of January to enjoy the CES event. The Consumer Electronics Show is an annual exhibition traditionally held in Las Vegas since 1967. At this exhibition, manufacturers of custom electronics come here from around the world, "show themselves" and "look at other". Initially, CES until 1990 presented mainly video tape recorders, optical discs, video cameras and sound cards, but over time the arsenal of technical innovations has grown significantly. Now at the most advanced exhibition for fans of technical devices show everything from smartphones to televisions, from smart shoes to autonomous single-seat flying taxi-drone.
In June, the largest EDM-festival of the USA turns, for a couple of days, the American capital of gambling to the capital of club music. Electric Daisy Carnival regularly takes the highest places in the ratings of the world's leading dance electronic music events in the US. The festival, which received from critics the flattering epithet "American Ibiza", not only gathers the best artists in its genres such as the house, techno, trance, hardstyle, and dubstep. Here, the most incredible fantasies about the perfect space for unrestrained dances that unite thousands of fans of electronic rhythms come true. The first EDC festival was held in Los Angeles in 1997. Since then, this event has become a true international franchise that has spread to major US cities, as well as to Mexico, England, Brazil, and Japan. The central and largest "carnival" opens annually in Las Vegas. For three days, the Las Vegas Motor Speedway is transformed into an iridescent island of music and entertainment. Each visitor becomes a participant of a grandiose costume performance under the shadow of giant fire-breathing sculptures and rotating Ferris wheels in a place of festive lights. Every day more than 130,000 people become guests of the light and sound extravaganza in Las Vegas. The price of tickets for Electric Daisy Carnival starts from 95 dollars.

This guide to traditions and festivals in Las Vegas is protected by the copyright law. You can re-publish this content with mandatory attribution: direct and active hyperlink to
www.orangesmile.com
.
City tours, excursions and tickets in Las Vegas and surroundings
Reference information
Cathedrals and basilicas near Las Vegas
♥ Guardian Angel Cathedral, Las Vegas, 1.4 km from the center.
On the map
Photo
Unique landmarks in Las Vegas and around
Liberace Museum
From the series
"Famous Museums of World Celebrities"
Check on the map:
Distance from Las Vegas center - 4 km.
The piano collection of the museum is worth noting too. It embraces more than 40 items; the most unusual among them is a piano made of rock crystal. For forty years, Wladziu Valentino Liberace has remained an icon of Las Vegas. Today, fans from around the world come to see his smart clothes and personal belongings. In addition to the stationary museum in Las Vegas, there are plenty of traveling exhibitions that can be seen in other cities. …
Read further

Neon Museum Boneyard
From the series
"15 Unofficial Man-Made Wonders of the World"
Check on the map:
Distance from Las Vegas center - 7 km.
The original museum, which has no analogues in any other city in the world, was founded in 1996. Today, it can boast with about 150 old neon signs. In addition, the museum staff is actively involved in the design of urban parks and streets. People care about neon signs in a number of urban institutions. …
Read further

Colors of Las Vegas in photos
Search for popular touristic sites on Las Vegas map
Traditions and festivals in cities around Las Vegas
Cityguide on traditions, mentality and lifestyle of people in Las Vegas. Learn the best periods to visit Las Vegas to discover its soul - authentic festivals, events and celebrations. We will also reveal the interesting habits, attitude towards the world and to tourists in Las Vegas.