City break in Las Vegas. Active leisure ideas for Las Vegas - attractions, recreation and nightlife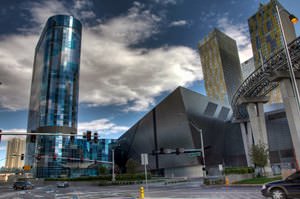 Of course, numerous casinos remain the main entertainment of Las Vegas. Most often they are located near major hotels and look like large and prominent buildings. Thus, a walk through casino and gambling can be successfully combined with attending all most popular and modern attractions of this city. The most famous casinos are Caesar's Palace, New York, New York Hotel & Casino, Mirage and Monte Carlo.
1. Local casinos can be attended only by people aged 21 or older. 2. During their stay in gambling establishments guests are prohibited from using cell phones and other means of …
Open
Every casino is different and offers unique design and rich entertainment program. Thus, visitors of Treasure Island Casino may become the witnesses of spectacular "pirate show". It should be noted that the casinos present in the city are designed not only for professionals. Beginners, who are known to be lucky, will also find a lot of interesting here. A visit to Bellagio casino will become a real pleasure as this place combines several entertainment options. In Bellagio you can be a witness of a unique show of dancing fountains. The restaurant also has its own conservatory, an art gallery and botanical gardens. It's really hard to find a better place for fun and romantic evening. When it comes to the arsenal of games, there are no restrictions at all here – in this place you will find a full specter of games from classic roulette and card games to modern gaming machines.
It is also worth noting large number of nightclubs, which will please fans of contemporary music and dancing. Pure Club features a large dance floor and a stylish bar with a large selection of drinks, as well as a nice lounge for VIP-guests. The famous Pussycat Dolls bar is located just a few steps away from the club. This place is always crowded and there are always so many visitors here. LAX club is one of the most prestigious entertaining facilities in the city. Here you can often see celebrities of the international level. Among frequent visitors of the club are numerous famous actors and musicians. LAX often becomes the venue for various ceremonies, fashion shows and concerts. The interior of TAO nightclub is made in the oriental style. Here you will always find festive and friendly atmosphere - guests enjoy their favorite music and delicacies served in a local bar. Copyright www.orangesmile.com
Do you think that the only reason to visit the world's capital of gambling is to take much money, go to one of the local casinos, and hope for a lump sum? Such a purpose for the …
Open
Located in the Nevada Desert, Las Vegas is the world's largest entertainment center, the dream of players and fans of vivid impressions. Local casinos compete with each other in an excellent level of service. Located here, the Stratosphere Las Vegas hotel-casino is famous for its tallest Observation tower in the US and adrenaline attractions situated on its summit. If you are looking for bright emotions, and want to spend active time - you must come here. Stratosphere Las Vegas casino achieved its fame thanks to the viewing tower built 350 meters apart from the ground. You will enjoy the stunning city's panorama, especially at night time, from its top. Moreover, it also serves as the place for rotating restaurant "Top of the World" and unique attractions for the most intrepid tourists - the Stratosphere Thrill Rides.
The first thrilling attraction, X-Scream, locates at an altitude of 264 meters. It is an open, moving off the tower trailer, which creates the illusion of falling into the abyss. Insanity the Ride attraction - a remote carousel at an altitude of 274 meters. It circulates hovering at a distance of 20 meters from the tower of tourists at a speed of 40 miles per hour. Interestingly, the highest attraction in the world is located at 329 meters above the ground - The Big Shot. Mounted on the spire of the Stratosphere Las Vegas platform several times "shoots" the brave ones up, imitating a free fall down. Even with a brief description of the attractions offered by the Stratosphere Hotel Casino, it becomes clear that these entertainments are not for the faint of heart.
Guests of Las Vegas have an opportunity to live in a real castle if they decide to stay at Excalibur resort hotel. The building of the hotel looks more like a castle from some fairytale. …
Open
Looking for more vivid and thrilling impressions? Then take your partner or friends and cause adrenaline rush in your veins by skydiving. You do not any specific knowledge, skills or experience in parachuting. Vegas Extreme Skydiving club offers its customers a full package of services, including the certified instructor. Non-certified instructors can not be admitted to jumping. This popular skydiving company in Las Vegas, offering all those who love the skies and skydiving, feel an unforgettable experience of free fall. The jump will go with four kilometers and with a fall speed of two hundred kilometers per hour. Before the jump, you will have a briefing about safety and correct behavior in the air. The jump will go with four kilometers and with a fall speed of two hundred kilometers per hour. All the jumpers must be reliably attached to the instructors. Moreover, during the jump, you will experience three stages of free fall: exit, piloting, and landing. Extreme skydiving in Las Vegas will cost $ 250. You can get to the Vegas Extreme Skydiving club by a free shuttle bus from the MGM Grand Hotel, located on Strip.
Las Vegas is not the best city for kids, nevertheless, here you can find numerous attraction and theme parks for children. Go to the Shark Reef Aquarium, visit various thematic zones and enjoy the beauty of sea world and its inhabitants: stingrays, jellyfish, sea turtles, sharks, fish-saw, and "golden" crocodile. In addition, visitors are invited to go through a glass underwater tunnel, which can be an unforgettable adventure for you and your child. It should be noted that all divers can dive underwater with scuba diving - you can swim side by side with stingrays and fish. Take your offspring to the habitat of the Lion in MGM Grand. If your child has long dreamed of seeing lions and their young, make sure to plan a trip to this nursery. Here you can experience incredible sensations, walking through the territory of the nursery, because guests and wild animals are separated by a glass wall.

This guide on active recreation and leisure in Las Vegas is protected by the copyright law. You can re-publish this content with mandatory attribution: direct and active hyperlink to
www.orangesmile.com
.
City tours, excursions and tickets in Las Vegas and surroundings
Recommended places for active recreation and leisure in Las Vegas
Voodoo Lounge
Where: 3700 W. Flamingo Road, Las Vegas;
Cleopatra's Barge
Where: 3570 S. Las Vegas Blvd, Las Vegas;
Studio 54
Where: 3799 S. Las Vegas Blvd, Las Vegas;
Reference information
National and city parks around Las Vegas
♥ Recreation Area 'Lee Canyon Ski Area' , 50.3 km from the center.
On the map
Photo
♥ Recreation Area 'Fischer Creek' , 79 km from the center.
On the map
Photo
Amusement parks near Las Vegas
♥ Amusement park 'New York-New York Hotel & Casino' Las Vegas, 2 km from the center.
On the map
Photo
♥ Amusement park 'Adventuredome' Las Vegas, 2.1 km from the center.
On the map
Photo
♥ Amusement park 'Stratosphere Las Vegas' Las Vegas, 3.3 km from the center.
On the map
Photo
♥ Amusement park 'Greenland' Suwon, 6.7 km from the center.
On the map
Photo
♥ Amusement park 'Las Vegas Mini Gran Prix' Las Vegas, 10.2 km from the center.
On the map
Photo
Water attractions around Las Vegas
♥ Water park 'Wet n Wild Las Vegas' Spring Valley, 13.6 km from the center.
On the map
Photo
♥ Water park 'Cowabunga Bay' Henderson, 13.8 km from the center.
On the map
Photo
Photogallery of picturesque Las Vegas
Search for active leisure and attraction spots on Las Vegas map
City break ideas for neighbours of Las Vegas
Guide to your best city break in Las Vegas - popular places for recreation and leisure. Things to do during the day in Las Vegas - attractions, parks, beaches, aquaparks, racing tracks, biking trails or waterski. Recommendations (with addresses, phone numbers and links) where to spend your time in the evening (bars, discos, clubs, etc.). We share some good ideas and the question 'What to do in Las Vegas?' disappears immediately.