Shopping in Hvar Island - authentic goods, best outlets, malls and boutiques
The first and most popular purchase in Hvar is a bag of lavender. Perhaps, the island is one of the largest suppliers of lavender not only in Croatia but all over the world. The linen bags are multifunctional. Put under the pillow, they improve the quality of sleep and reduce the irritability, if left among the linens – they give a soft fresh fragrance to the clothes. Herbal collections with lavender and lavender oil, widely used in cosmetology, are also popular. Many believe that oil from lavender can help with a number of diseases. Lavender soap will become a good souvenir, which will remind you of a trip to the island.
According to the archeologists, Hvar was inhabited three thousand years before our era. If you do not believe it, then go to the Grapceva cave. This was the place where the remains of a …
Open
Such island souvenirs, as flavored sea salt in a beautiful package and all sorts of crafts from the corals, are very popular among the tourists. A very authentic, truly Croatian souvenir is the Morčić jewelry. They are sold in large quantities in the form of pendants, trinkets, earrings. Unchanged is only the form – the head of the Moor in the turban. Previously, such decorations were made from wood and presented to sailors and fishermen as a symbol of luck. Now also precious metals, semiprecious stones, and ceramics can be used.
Another truly Croatian souvenir is the Vuchedol pigeon. This is an unusual form of a cult vessel, associated with a large number of local rituals and traditions, many of which have already become history. A miniature copy of the Istarski kažun also refers to the past. Kazun was called a shed, built right in the field, where the farmers kept inventory and waited until the rain would stop. A product from white limestone from the neighboring Brac island can also become a good souvenir. The local people believe that the things made of it can protect the owner from the evil spirits. Copyright www.orangesmile.com
Hvar ranks first among the Croatian islands in terms of the number of sunny days per year. The island is ideal for the fans of calm hiking, bicycle tours, and for divers. Those, who like to …
Open
The fountain pen "Nalivpero" can be considered another truly Croatian thing. It was invented by an engineer from Zagreb – Slavoljub Penkala. Such a thing can be presented to anyone! You can find a fountain pen in any souvenir shop. If you want to buy a souvenir for your friend or a loved one, then take a closer look at the local ties. A tie is an unchanged part of the national costume for the Croats. Previously, this accessory was even a part of the military uniform. Local lace will be a great gift for a woman. Local paintings can become an interesting souvenir for the art connoisseurs.
If you want to do something nice for your loved one, then get them a Licitar heart. A cake, very similar in composition to honey gingerbread, has a heart shape for a reason. Traditionally, the Croats give it to the one they propose to become their wife. Other local sweets are not less tasty – gingerbread, chocolate with chili, and jam from dry figs. Not sweet delicacies, which you should bring from the island, are prsut, kulen, and local cheese.
Most beaches of Hvar are pebble-stone and every resort of the island is full of charm and unique features. Milna is one of the most popular resort towns offering its guests four excellent …
Open
Among alcoholic beverages, first of all, it is worth paying attention to wine. Here it is sold in abundance, and when choosing, you should be guided only by your own taste. Many people advise buying Croatian light beer. From strong drinks, do not bypass the Maraschino liquor and Lozovac vodka. Slivovica and Travarica, infused on herbs, are also very nice.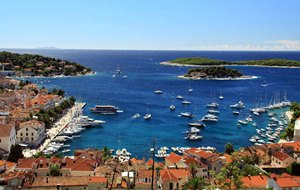 There are no large shopping centers on the island. It is better to buy clothes and accessories from the world's leading brands in the mainland of Croatia. Moreover, if you want to arrange a day of real shopping, then the journey won't take much time, while the prices on the mainland are lower and the choice is much greater. Hvar is famous for its own craftsmen and local goods. For example, wine from the winery Zlatan Otok. Remember that here in any souvenir shops and small stores you can and should bargain.

This guide to shopping in Hvar Island is protected by the copyright law. You can re-publish this content with mandatory attribution: direct and active hyperlink to
www.orangesmile.com
.
City tours, excursions and tickets in Hvar Island and surroundings
Car rental on OrangeSmile.com

Expo 2020 in Dubai Was Visited by More Than 7 Million Visitors
If you haven't visited this event yet, there is still time to book a hotel in Dubai because Expo 2020 Dubai runs until 31 March 2022. People who are unable to visit the emirate can make a virtual tour on the Expo 2020 website. By the way, the virtual visitation has already reached 31.6 million by the end of December.
Read this
01.06.2023
Photogallery of Hvar Island best places
Search for shopping areas, streets, boutiques and supermarkeets on Hvar Island map
Shopping advices for the whole region around Hvar Island
Shopping advices for Hvar Island. The best spots for buying designer clothes and local delicacies from Croatia - shops, galleries, boutiques and outlets. We provide you with the shopping streets map, so you can plan your efficient shopping routes, while hunting for authentic souvenirs, goods, drinks, shoes and clothes in Hvar Island.