Sightseeing in Hvar Island - what to see. Complete travel guide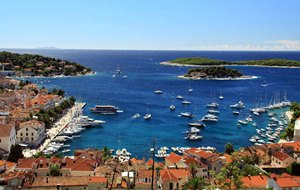 Island of Hvar is widely regarded as the sunniest island of Adriatic. This beautiful and charming place has lots of wonderful features. Unique climate, abundance of beach leisure places, rich historical heritage and unspeakable atmosphere of the past are only few features of Hvar, which helped it to conquer thousands of tourists.
Island of Hvar offers its guests more than 200 accommodation places, including amazing historical hotels and luxurious resort complexes. The most interesting historical hotels can be found …
Open
For many years, Hvar has being among the most popular resorts of Croatia. According to archeologists, it was first inhabited about 4,000 years ago; there are lots of important archeological areas on the island. Hvar has been a part of Venetian Empire for a very long time and only became independent part of Croatia in 1990. There are lots of historical landmarks of different ages on the island, including unique Classic buildings. The biggest public theater of entire Europe is also found on Hvar. Built back in 17th century, it still works for its intended purpose and regularly hosts amazing events during national holidays.
Those fond of history should visit the main religious landmark of Hvar, the amazing Cathedral of St.Stephen. Located in the very heart of island's capital, it's an impressive Renaissance landmark. Its bell tower is the main decoration of the cathedral, while inside it's decorated with art works of local painters. The cathedral has been built back in 16th century, but its bell tower was only added a hundred years later. It's open for public access now. There's an excellent viewing point on top of the bell tower. Copyright www.orangesmile.com
The first and most popular purchase in Hvar is a bag of lavender. Perhaps, the island is one of the largest suppliers of lavender not only in Croatia but all over the world. The linen bags …
Open
Hvar central square located in front of the cathedral is worth extra attention. Here is one of the oldest wells in town that is an honored historical landmark for local citizens. That's because once the island had fresh water shortage, thus citizens paid deference to wells.
Another important historical landmark is the old fortress located on top of Saint Nikolai hill. It has been used to protect city in 18th and 19th centuries; the fortress lost its strategic value by now, but still attracts lots of attention. Saint Nikolai hill is regarded as one of the best viewpoints of the island. Franciscan monastery at scenic Bay of Kriza can be a very educational place to visit. It's a very formidable building, despite of its age. Monastery walls house one of the most interesting museums of the island. It retains a priceless collection of ancient books, coins, local artists' paintings and other objects of arts.
Kilometers of clean beaches, a measured flow of time and many historical monuments of different epochs – that's how you can briefly characterize the island of Hvar. If you want to spend …
Open
Walking around historical area of the capital, be sure to pay attention to the old arsenal. Built back in 16th century, this unique architectural landmark differs with massive, but also very harmonious front side. Old town of Sucuraj is another place for amazing excursions. There are lots of landmarks of Venetian age in town, including the beautiful castle, magnificent palaces and charming old streets retaining their original appearance for hundreds of years.
The picturesque island has many interesting symbols, and lavender is, without a doubt, one of them. Numerous travelers try to visit the island during the blooming period in order to admire giant fields of gorgeous flowers. Lavender is used to make various cosmetics and perfumes that are ever popular with guests of the island. On Hvar Island, there are numerous resorts of different types. Besides cities with a rich excursion program, there are gorgeous beach resorts, some of which are extremely popular, such as Elsa.
On the island, you can taste all the best Croatian dishes. Due to the proximity of the sea, the seafood courses are also very popular and varied here. However, the most significant dish for …
Open
This port town is famous because of one interesting thing – one of the few nudist beaches in the country is open there. Not far away from the resort, there are picturesque sandy bays that are perfect for all tourists who seek privacy and solitude away from the city stress. There are also several unique thermal springs on the island. Some modern wellness centers are built close to the springs. These centers are very popular with travelers, with the wellness center on Glavica Peninsula being one of the most famous ones. Hvar has always been a wonderful place for family holidaymakers. There are many shallow and warm beaches, gorgeous sports centers, and outstanding natural landmarks in the open air.

This guide to iconic landmarks and sights of Hvar Island is protected by the copyright law. You can re-publish this content with mandatory attribution: direct and active hyperlink to
www.orangesmile.com
.
City tours, excursions and tickets in Hvar Island and surroundings
Reference information
Survived castles around Hvar Island
♥ Castle 'Tvrdalj Castle' , 3.4 km from the center.
On the map
Photo
♥ Castle 'Hvar Fortress' , 10.4 km from the center.
On the map
Photo
♥ Castle 'Mirabella Fortress' , 33.2 km from the center.
On the map
Photo
♥ Castle 'Starigrad Fortress' , 33.4 km from the center.
On the map
Photo
♥ Castle 'Klis Fortress' , 44.6 km from the center.
On the map
Photo
National and city parks around Hvar Island
♥ Forest Park 'Ošjak (Vela Luka)' , 24.1 km from the center.
On the map
Photo
♥ Forest Park 'Marjan' , 41.4 km from the center.
On the map
Photo
♥ Nature Park 'Biokovo' , 43.1 km from the center.
On the map
Photo
♥ National Park 'Mljet' , 80.8 km from the center.
On the map
Photo
♥ National Park 'Krka' , 92 km from the center.
On the map
Photo
Sights around Hvar Island from our guide 'Extreme places on Earth'
Stadion Gospin Dolac
From the series
"Top 14 Sport Stadiums with Impressive Design"
Check on the map:
Distance from Hvar Island center - 61.4 km.
Gospin Dolac is the home stadium for the Imotski football club and can accommodate 4,000 spectators, although the number of curious tourists visiting the stadium is much bigger. The trip to the strange stadium will be an unforgettable excursion, during which you can see the interesting historical and natural sights. Within easy reach of the stadium are the ruins of the old town. The tower visible from the grandstands is only a part of the buildings hidden behind the rocks. …
Read further

Car rental on OrangeSmile.com

Iceland Wants to Open Its Doors for Vaccinated Tourists
Have you ever dreamt of enjoying an unforgettable holiday in Iceland? If yes, an anti-COVID-19 vaccine is your ticket to this northern country. The country's government decided to allow fully vaccinated tourists to enter without any need for quarantine or testing. The new rules have become valid starting from March 18. This means that everyone with proof of certified vaccination is welcome in Iceland. No PCR testing or self-isolation is mandatory for such tourists.
Read this
23.04.2021
Search touristic sites on the map of Hvar Island
Sightseeing in regions nearby Hvar Island
All about Hvar Island, Croatia - sightseeings, attractions, touristic spots, architecture, history, culture and cuisine. Prepare your trip together with OrangeSmile.com - find out the 'must see' things in Hvar Island, which places to visit, which excursions to take, where the breathtaking views are waiting for you. Planning your trip with this travel guide will help your to get the most out of Hvar Island in few days.