How to spend top weekend in Zadar - ideas on extraordinary attractions and sites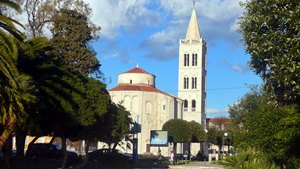 Cruise to the Islands
If you want to see the beauty of the nature of the islands closest to Zadar, you can rent a boat in the city port. After that, you will go on a cruise on the Adriatic Sea to Kornati National Park. About 150 islands are included in it. You will dock at several of them. You will take a walk exploring the area, look at the rocks and lakes, soak up the sand and swim in the clear seawater. If you decide to relax on one of 50 the most beautiful beaches on the planet, you need to overcome a long way by boat in the north direction. You will reach Dugi Otok Island and relax at Sharon Beach.
Travelers with children who plan to spend a few days in Zadar will not be bored for sure. There are a lot of interesting entertainment centers and attractions here. With children of school …
Open
Beach Entertainment Options
You can swim in the waves of the Adriatic Sea in the waters of Zadar from the beginning of May to the end of October due to the warm climate. The city is famous for its picturesque beaches. They have special coastline and numerous tourists. However, they are united by the fact that you will enjoy both a quiet and active holiday on each of them. Boric beach is located in the north of the city.
If you arrive here, you will walk along a pebble beach, visit a small sandy bay and sunbathe on a concrete platform. You can also sail on a boat or catamaran, take a ride on water skiing, and do paragliding, windsurfing or kite-surfing. Kolovare beach is similar to Boric beach with its coastline, concrete slabs, and outdoor activities. However, you can contact the diving center here. You will learn the basics of scuba diving, rent equipment and go to explore the underwater world. Copyright www.orangesmile.com
Speaking of the best restaurants of Zadar, we simply cannot fail to mention Albin. It is located in the center of the city and is very popular among followers of a healthy diet. The …
Open
If you walk within 5 minutes from the city center, you will reach a small pebble beach among the pines. Its length is 400 meters. You will rent a scooter or bike here. You will make a descent from the water slides. If you want to surf, you can't find a better place than Zlatna luka beach. It is located 12 kilometers north of Zadar.
Visit National Parks
The Velebit mountain range is the largest in the country. Sjeverni Velebit National Park is located on its northern slope. There is a Nation Park Paklenica on the southern slope of the mountain range. If you come from Zadar to one of them, you will have an interesting time enjoying an active holiday here. Paklenica Park is located 46 kilometers north of the city. You can ride a mountain bike on the equipped paths or do mountain climbing on the rock Anića Kuk.
Travelers are usually attracted not only by numerous places of interest of Zadar, but also by its rich calendar of cultural events. Throughout a year the city hosts many interesting …
Open
If you are interested in speleology, then visit the Manita pef cave. It has a depth of 500 meters. An experienced guide will accompany you. There are also caves in the southern part of Sjeverni Velebit National Park. You will be able to view them. However, you will need warm clothing, headdress, and comfortable shoes. The air temperature doesn't rise above 8 °C here. The path that you have to pass has a length of 7 kilometers.
Have Fun in the Kozino Rope Park
Kasino Park is located 7 kilometers from Zadar. It is open to the public from 9 am to 5 pm every day from early July to August 20. You can visit the park at the same time from Wednesday to Sunday in the periods from May 20 to the end of June and from August 21 to September 20. The entrance ticket costs 45 Kuna. Rope trails are waiting for you here. They are stretched at a height of 5 meters between the trees. They have different levels of difficulty. Their total length is 4 kilometers. You will be instructed and put on your helmet and equipment. It is similar to the equipment that climbers wear. After that, you will go on an adventure.
Among the attractions of Zadar you will find beautiful historical sites, unique architectural complexes, as well as a large number of original objects, the like of which simply cannot be …
Open
View of Zadar from the Captain's Tower
There is a pentagonal Captain's Tower in Zadar. It has served for defensive purposes in the past. Artists exhibit their paintings here today. If you visit it, you will not only look at the paintings but also go up to the observation deck. You can see the Adriatic Sea and the city's sights from a great height here. If you climb to the top of the tower at sunset, you will see Zadar in the red glow. It is created by the sun's rays and the scarlet roofs of houses.

This article about ideas on extraordinary weekend in Zadar is protected by the copyright law. You can re-publish this content with mandatory attribution: direct and active hyperlink to
www.orangesmile.com
.
City tours, excursions and tickets in Zadar and surroundings
Reference information
Survived castles around Zadar
♥ Castle 'St. Nicholas Fortress' , 66.1 km from the center.
On the map
Photo
Zadar by photo artists
Search for interesting places on Zadar map
Visiting neighbours of Zadar for exclusive entertainment
Walk through hidden local streets, sneak to a small cafe, breathe and enjoy Zadar from inside. Stay out from the beaten track during your city weekend, discover the soul of Zadar as a real travel gourment. Follow our guide, take one of the exclusive services and spend your time in Zadar unforgettably and with a full passion!