City break in Zadar. Active leisure ideas for Zadar - attractions, recreation and nightlife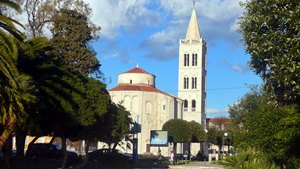 Zadar is widely known among travelers as a popular beach resort. This is a place where you can find beaches for every taste. In the territory of the city visitors will find pebbly, sandy and rocky sections of the coast, and even picturesque coves. It should be noted that the coast here is considered one of the cleanest in Europe. Thanks to highest environmental standards the local beaches have repeatedly received various awards. Divers are usually offered to go to one of the nearby islands. This area is a perfect choice for diving. The city will be also liked by tourists who care about numerous natural attractions - Zadar suburbs are the location of three major national parks.
1. The city is very convenient to travel by car that you can easily rent in one of numerous rental offices. For this purpose you will need a driver's license of the international standard. …
Open
Kornati Park is located in the archipelago of the same name. This area looks quite dull and lifeless, but only at the first glance. In fact, the world of its inhabitants is very diverse. The parks of Sjeverni Velebit and Paklenica are located in the scenic mountain regions. Everyone who is interested in visiting them is invited to go camping and appreciate the beauty and diversity of the landscape. The park is home to beautiful forests and caves, and mountain streams. There are even special cycle paths laid there, so the choice of entertainment is very diverse.
Fans of rafting should definitely make a rafting in the Zrmanja River, and fans of equestrian sports will be interested in visiting the local hippodrome located in the village of Zaton. Here beginners will learn how to stay in the saddle, and experienced riders can polish their skills and watch the performance of professional athletes. Zadar suburbs are also the location of a small town of Zadar Kožino, which is very well-known among tourists. The town is the location of an amusement park with lots of rides and play areas. Visitors are welcome to have fun and enjoy various attractions all day long. This is a great place for family rest. Copyright www.orangesmile.com
Besides rafting, such activities as kayaking, SUP boarding, diving, and all kinds of cruises are very popular in Zadar. Don't forget to try all these after the arrival to the resort as a vacation in Zadar will be incomplete without these mesmerizing entertainments. Gamblers will also be not disappointed in the resort. In Zadar, there are very interesting venues worth visiting, such as Admiral casino and bar. The casino has a range of slot machines, as well as tables for different games. Fans of slot machines will also be pleased with Arena Club.
City Galleria shopping center is the most popular shopping place in Zadar. It is located near the bus station. The shopping complex is focused on customers with varying levels of income. It …
Open
Local entertainments will surely not leave vacationers and all fans of active recreation indifferent. For example, a paintball game is a great way to forget about boredom and have fun (Paintball Green Adventure offers this entertainment). Besides the fact that such games connect people, the paintball area is located in a picturesque park, and that fact only adds to cheerful mood and excitement of all participants. In order to relax and learn something new at the same time, consider playing a very interesting game called City Game Zadar. It is a fun way to get acquainted with Zadar and enjoy unforgettable moments. All participants will need to solve some puzzles that are scattered on the main streets of the city (all major landmarks of Zadar are also located there). It is a great way to feel like Professor Langdon and learn the city in an interactive way.
Vacationers interested in exciting water-based activities will be very pleased with FlipSea Aqua Park Kolovare. It is a kind of water park that has water trampolines and obstacles that visitors need to jump over. It is important to mention that not only children but also adults are in love with this entertainment. Moreover, the city has everything for great fishing. All that vacationers need to do is to book a fishing tour. Travelers wishing to burst their adrenaline level will be super excited to try various air tours (Air Action) and bungee jumping (Maslenica Bridge Bungee Jumping).
Zadar is a legendary impregnable fortress that was made by the Venetians over three hundred years ago to resist the invasion of the Turkish troops. Today well preserved fort walls, giant …
Open
Zadar is not deprived of nighttime entertainment. For instance, young people like to visit Chewbacca Pub Crawl. Music never stops at this pub, and the atmosphere of everlasting fun makes everyone feel great and enjoy their time spent there. Outstanding Lounge & Bar Ledana is a true paradise for all fans of cocktails and loud parties. By the way, it is also a fantastic place to listen to live music by DJs. Needless to say, it is hard to stand still as the venue is great for dancing. The amazing design of the bar will please even most discerning guests. Posh Pub is one more amazing place perfectly suitable for everyone who wants to spend some great time with friends. Vacationers wishing to relax in a calm atmosphere will hardly find a better place than Hitch Bar that enjoys an incredible location close to the waterfront. Thanks to that, it has an incredibly peaceful and relaxing atmosphere.

This guide on active recreation and leisure in Zadar is protected by the copyright law. You can re-publish this content with mandatory attribution: direct and active hyperlink to
www.orangesmile.com
.
City tours, excursions and tickets in Zadar and surroundings
Recommended places for active recreation and leisure in Zadar
Private
Where: Kresimirova Obala 80, Zadar; Telephone: + 385 (0) 23 222 321; Metro: On foot, bus or car to Kresimirova Obala;
Barbara Bar
Where: Majestora Radovana 7, Zadar; Metro: On foot, bus or car to Borik;
Maya Pub
Where: Liburnska Obala 6, Zadar; Telephone: +385 (0) 23 251 716; Metro: On foot, bus or car to Liburnska Obala on the quayside;
Casino Zadar
Where: Ivana Mazuranica bb, Zadar; Telephone: +385 (0) 23 239 400; Metro: On foot, bus or car to the marina, off Rudera Boškovica;
City Club Forum
Where: Marka Marulica bb, Zadar; Metro: On foot, bus or car to Marka Marulica;
Gotham
Where: Marka Oreskovica 1, Zadar; Telephone: +385 (0) 23 200 289; Metro: On foot, bus or car to Marka Oreskovica;
Reference information
National and city parks around Zadar
♥ Nature Park 'Telašćica' , 26.4 km from the center.
On the map
Photo
♥ National Park 'Kornati' , 27.7 km from the center.
On the map
Photo
♥ National Park 'Paklenica' , 31.5 km from the center.
On the map
Photo
♥ Nature Park 'Vransko jezero' , 32 km from the center.
On the map
Photo
♥ National Park 'Krka' , 64.8 km from the center.
On the map
Photo
Amusement parks near Zadar
♥ Amusement park 'Glavani Park' Barban, 143 km from the center.
On the map
Photo
Photogallery of picturesque Zadar
Search for active leisure and attraction spots on Zadar map
City break ideas for neighbours of Zadar
Guide to your best city break in Zadar - popular places for recreation and leisure. Things to do during the day in Zadar - attractions, parks, beaches, aquaparks, racing tracks, biking trails or waterski. Recommendations (with addresses, phone numbers and links) where to spend your time in the evening (bars, discos, clubs, etc.). We share some good ideas and the question 'What to do in Zadar?' disappears immediately.