Shopping in Lisbon - authentic goods, best outlets, malls and boutiques
Lisbon is famous for its modern shopping centers, including Armazens do Chiado located on one of the main streets of the historic district. It is attractive for its designer and jewelry stores, as well as interesting homeware departments. Here, customers can buy superb watches in the style of past years, original wood crafts and vintage accessories, as well as lots of other original souvenirs. On the top floor of the shopping center, there is a restaurant area offering a wonderful panoramic view of the roofs of old houses and famous attractions.
Local people are rather hot tempered and thus their behavior may seem rather strange to foreign visitors. Peculiar to city folks deliberateness in everything is often approached by visitors …
Open
The largest shopping and entertainment center in town is Centro Colombo, which is one of the largest shopping malls in Europe. Within its walls, there are about 450 stores of various formats where you can buy literally everything, from cheap souvenirs to luxury jewelry. The mall houses about 60 restaurants and cafes, as well as a modern cinema with ten halls.
In terms of design, Centro Vasco da Gama is considered the most beautiful in town. Many people come here just to admire extraordinary designer installations. On the ground floor, customers will find is a popular supermarket, next to which there is a food court. This shopping center is dominated by shops of inexpensive brands so even thrifty visitors will enjoy shopping here. Copyright www.orangesmile.com
Lisbon presents a great variety of sights of tourist interest among which one will find as ancient so architectonic constructions of modern art, picturesque squares and parks, established …
Open
Wealthy travelers who prefer the most prestigious and famous brands should pay attention to Stivali Shopping Center. This one presents the world's most luxurious brands such as Gucci, Chanel, Elie Saab, and Donna Karan. Despite a high level of prices, Stivali is always full of customers. Many stores hold year-round sales, during which last season's items can be bought at a discount of up to 50%.
For the best Portuguese souvenirs, go to A Vida Portuguesa. Even the Queen of the United Kingdom makes purchases here. This shopping center occupies a spectacular historic building. Since its opening in the 19th century, it has been selling chic caring cosmetics made from organic components, the quality of which deserves the highest praise. A huge selection of creams, toothpaste, organic soap, cologne, and other cosmetics are available to customers. Many cosmetic items are prepared according to old recipes. For example, a toothpaste recipe has never been changed since 1932.
Lisbon presents to its visitors fantastic Aquarium which is annually visited by thousands of admiring tourists. The Aquarium presents a great variety of sea world inhabitant. Captivating …
Open
Among Lisbon's antique shops, Solar Antiques opened in 1956 stands out. It specializes in traditional azulejo ceramic tilework. Its owners are true fans of their craft - they've gathered a unique collection of over half a million tiles over the years. Among them, there are also ancient ones, the cost of which exceeds 20,000 euros. The average cost of tiles made in the 15th century is about 450 euros, while modern products are much cheaper.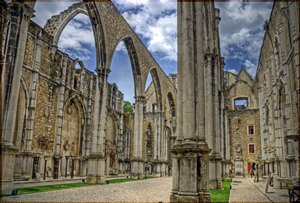 Conserveira de Lisboa is among the top gastronomic shops selling traditional Portuguese canned food prepared according to old recipes. The latter serve as popular souvenirs as well. For 1.50 euros, you can choose excellent canned fish. Experienced customers claim that the most unique product in this store is canned sardines.
1. Setting out to Lisbon you should be surely backed up with a pair of comfortable shoes. The reason is that the city is placed on seven hills that is why hiking through the wind streets is …
Open
Many rare local products can be found in Alfama Gourmet. It always presents a rich selection of Portuguese wines delivered from various regions of the country, homemade biscuits, various balsams, and canned products. In addition to delicious gifts, visitors are always offered a wide range of beautiful magnets and other popular souvenirs.

This guide to shopping in Lisbon is protected by the copyright law. You can re-publish this content with mandatory attribution: direct and active hyperlink to
www.orangesmile.com
.
City tours, excursions and tickets in Lisbon and surroundings
Reference information
Shopping streets in Lisbon
♥ Shopping area ' Rossio' Lisbon, 0.6 km from the center.
On the map
Photo
♥ Shopping area ' Baixa Pombalina' Lisbon, 0.7 km from the center.
On the map
Photo
♥ Shopping area ' Rua do Carmo' Lisbon, 0.8 km from the center.
On the map
Photo
♥ Shopping area ' Rua Augusta' Lisbon, 0.8 km from the center.
On the map
Photo
♥ Shopping area ' Rua Garrett' Lisbon, 0.9 km from the center.
On the map
Photo
♥ Shopping area ' Rua do Ouro' Lisbon, 1 km from the center.
On the map
Photo
♥ Shopping area ' Avenida da Liberdade' Lisbon, 1.2 km from the center.
On the map
Photo
Designer outlets in Lisbon and nearby
♥ Outlet 'Freeport Outlet' Avenida Euro 2004, Alcochete, 2890-154, PORTUGAL, 17.3 km from Lisbon.
On the map
♥ Outlet 'Campera Outlet Shopping' EN 3, Km 0.149, Carregado, 2580-491, PORTUGAL, 37.5 km from Lisbon.
On the map
Photogallery of Lisbon best places
Search for shopping areas, streets, boutiques and supermarkeets on Lisbon map
Shopping advices for the whole region around Lisbon
Shopping advices for Lisbon. The best spots for buying designer clothes and local delicacies from Portugal - shops, galleries, boutiques and outlets. We provide you with the shopping streets map, so you can plan your efficient shopping routes, while hunting for authentic souvenirs, goods, drinks, shoes and clothes in Lisbon.