City break in Lisbon. Active leisure ideas for Lisbon - attractions, recreation and nightlife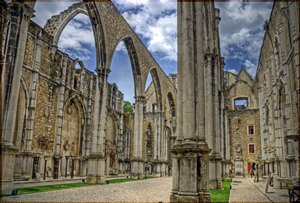 Lisbon presents to its visitors fantastic Aquarium which is annually visited by thousands of admiring tourists. The Aquarium presents a great variety of sea world inhabitant. Captivating excursions are held for the visitors. The Aquarium features unique appearance which turns the excursions even more engaging. Those who are more interested in local fauna representatives may visit the Lisbon Zoo. The fine decorated zoological park with a variety of picturesque aviaries and enclosures will surely be of great interest for the youngest travelers and their parents. One will have a nice day hiking at a leisurely pace through the huge territory. The zoological park is equipped with the rest area with benches and pavilions.
Lisbon is famous for its modern shopping centers, including Armazens do Chiado located on one of the main streets of the historic district. It is attractive for its designer and jewelry …
Open
There is a great planetarium in Lisbon named Planetario Calouste Gulbenkian. Its visitors have the opportunity not only to enjoy the sky of stars but also listen to interesting lectures. Special excursions are held for children. Botanical garden of Lisbon is placed next to the Natural History Museum. One can hardly find such a great variety of exotic plants and flowers in any other city of the country.
Lisbon meets the visitors with great variety of picturesque parks and gardens. Visitors mostly give preference to Estufa Fria and Miradouro Sao Pedro de Alcantara gardens among them. Edward VII Park is considered to be the best place in Lisbon for family leisure. Kids will love a great variety of playing and sport grounds meanwhile the parents will enjoy perfect recreation area. The park also has a special area for picnics. Lisbon Sports is considered to be one of the best golf clubs in the city. It has an excellent golf course, a great rental center of golf equipment and a nice café – the area has everything for comfy leisure. Copyright www.orangesmile.com
Discovering the architecture of Lisbon from bird's eye view! Jeronimos Monastery, Castle of Sao Jorge, Santo Antonio Church, Lisbon Oceanarium, Santa Justa Lift, Triumphal Arch, all those monuments are defining the image of Lisbon …
Open
Bowling enthusiasts should surely visit the entertaining center of Bowling Playcenter and those who have dreamt to master horse riding will love the riding school Escola de Equitac-o da Quinta da Marinha. Lisbon will stun the nightlife enthusiasts with more than one hundred of night clubs and dancing floors. The Pavilh-o Chines club will treat the guests not only with superb music for all night through dancing but also with a great menu of exotic drinks in the bar. Amazing Chapito club is famous for its engaging prime time programs with famous music bands engaged in the show. Matiz Pombalina Club offers exciting bar menu and cozy parlors featuring cushioned furniture and great dancing floor being the best club in the city.
In addition to the above-mentioned entertainment, in Lisbon, you can fly in a balloon or a lift, and thus satisfy the two needs - for aesthetic pleasure and adrenaline. The country is famous for its fishery, and in its capital provides excellent opportunities for trying out fishing as part of a tour and learning how to fish like a true local. Cruises and boating are pretty popular as well, and eco-tours of the city's picturesque surroundings are among above-ground activities. Here, in the vicinity, there is a large number of beaches with a relaxed atmosphere for enjoying a serene rest or endless opportunities for active recreation - that is, for every taste.
National Pantheon, Belem Tower, Monastery of Sao Vicente de Fora, Lisbon Cathedral, Estrela Basilica, MEO Arena, as well as many others, they all become the world's cultural heritage objects and remain as iconic monuments for Lisbon …
Open
In Adventure Park, visitors can have a great time passing rope obstacle courses and doing zip-lines. And all this happens in a picturesque place whose atmosphere is ideal for rest. A wonderful experience awaits those who decide to take a swim right by the Tagus River at the outdoor swimming center Piscina Oceanica de Oeiras. By the way, the water here is not artificial but oceanic - of course, it is heated since, as is known, oceanic water is cold. Here you can have a good time not only in the pool but also in a bar located on the grounds of the swimming complex. Getting back to active entertainment, visitors are provided with all the opportunities for diving. Tourists with children will not be bored either - a beautiful "paddling pool" and a pool with a playground are equipped here for the latter.
Quinta Pedagógica dos Olivais is perfect for those who wish to spend time in a serene atmosphere watching domestic animals and finding out how locals care for them. A cafe operating here serves traditional Portuguese dishes. Paço do Lumiar Golf Club is an excellent leisure facility where visitors can play the "Game of Billionaires" in a carefree atmosphere among the picturesque green landscapes. Those who'd rather prefer another noble game - billiards - head to ALAB Center, and if you want to watch some cultural performances, don't pass by Fado in Chiado. As the name implies, the main emphasis is put on traditional Portuguese fado music.
Lisbon is the main port of Portugal, which is located at the mouth of the Tagus River. This city is located in the picturesque place with numerous hills. That's why Lisbon is also …
Open
A visit to Casino Lisboa awaits those who wish to try their luck. It is worth noting that its guests are presented not only with roulette, bingo, and slot machines but also with a concert hall hosting interesting performances, not to mention a bar serving wonderful dishes. The most popular cinema in the capital of Portugal is Cine Society. This is definitely the best place to enjoy the latest movies. At popular local spa centers, any visitor can have a good time in a sauna or under the skillful hands of a massage therapist. The best spas in town, Float in Spa and Terra Heal, deserve special mention.
While in Lisbon, be sure to visit a few workshops where one can obtain different skills: for example, in cooking - at Cooking Lisbon or Lisbon Cooking Academy, in art - at Lisbon Mosaic Studio (by creating a unique mosaic product). At Caulino Ceramics, they will teach you how to create crockery utensils. Want to have a fun and playful time with friends or the whole family? Welcome to Beat Balls, which offers such a popular sport as "bubble football". Another club suitable for active leisure is Emboscada Parque Aventura where you can play paintball. Of course, it's best to gather a team of friends or family members.
The choice of entertainment for vacationers with children in Lisbon is very large. Many of them prefer to start the recreation program with a visit to the Lisbon Oceanarium. It is considered …
Open
The Escape Hunt Experience is the most popular escape room club in the Portuguese capital. Visitors can choose from rooms with a mystical focus or historic decoration. The center owes its popularity to the excellent organization of quests and non-trivial plots. No less remarkable is another escape club - Mission to Escape where visitors can reveal the secret of the Templars, try on the role of James Bond or even rob the bank. And this is only a small part of all plots available to tourists - the center is famous for its wide selection of well-designed rooms. If the two centers are not enough, be sure to explore one more - Puzzle Room bringing no less exciting experience of the game.

This guide on active recreation and leisure in Lisbon is protected by the copyright law. You can re-publish this content with mandatory attribution: direct and active hyperlink to
www.orangesmile.com
.
City tours, excursions and tickets in Lisbon and surroundings
Recommended places for active recreation and leisure in Lisbon
Enoteca/chafariz Do Vinho
Where: Rua da Mãe de Água à Praça da Alegria, Lisbon; Telephone: +351 213 422 079;
Pavilhão Chinés
Where: Rua Dom Pedro V 89, Lisbon;
Lux
Where: Avenida Infante Dom Henrique, Lisbon;
Reference information
National and city parks around Lisbon
♥ Nature Park 'Sintra-Cascais' , 27.4 km from the center.
On the map
Photo
♥ Nature Park 'Arrábida' , 28.1 km from the center.
On the map
Photo
♥ Nature Park 'Serras de Aire e Candeeiros' , 91.7 km from the center.
On the map
Photo
♥ Nature Park 'Sudoeste Alentejano e Costa Vicentina' , 143.3 km from the center.
On the map
Photo
Amusement parks near Lisbon
♥ Amusement park 'Norpark' Nazaré, 99.8 km from the center.
On the map
Photo
Michelin-starred restaurants in Lisbon
♥ Restaurant 'Alma' Lisboa. Type - Creative. 1 km from the center.
On the map
Photo
♥ Restaurant '100 Maneiras' Lisboa. Type - Creative. 1 km from the center.
On the map
Photo
♥ Restaurant 'Ad Lib' Lisboa. Type - Modern cuisine. 1 km from the center.
On the map
Photo
♥ Restaurant 'Belcanto' Lisboa. Type - Creative. 1 km from the center.
On the map
Photo
♥ Restaurant 'Chefe Cordeiro' Lisboa. Type - Portuguese. 1.1 km from the center.
On the map
Photo
Photogallery of picturesque Lisbon
Search for active leisure and attraction spots on Lisbon map
City break ideas for neighbours of Lisbon
Guide to your best city break in Lisbon - popular places for recreation and leisure. Things to do during the day in Lisbon - attractions, parks, beaches, aquaparks, racing tracks, biking trails or waterski. Recommendations (with addresses, phone numbers and links) where to spend your time in the evening (bars, discos, clubs, etc.). We share some good ideas and the question 'What to do in Lisbon?' disappears immediately.