Sightseeing in Albufeira - what to see. Complete travel guide
Albufeira is a large port, an old city and one of the most popular Portuguese resorts. Here you will find everything you need for interesting and comfortable rest – clean beaches, large selection of sights and excursions, modern shops and restaurants, rich nightlife and local color that is hard to transmit unless you visit this wonderful place.
Albufeira boasts a decent choice of luxury spa hotels and resorts. Sao Rafael Atlantic Hotel offers customers chic rooms and a private beach on the coast of San Rafael. There are exclusive …
Open
The Old City is the most notable and recommended place for visiting as the majority of 18th century buildings have remained here. Each monument is connected with some important event in the history of the city and the country. The earthquake of 1755 was very hazardous and ruined biggest part of Albufeira, but several churches, villas and houses managed to survive until now. The main religious sight of the city is the Church of St. Anna, which was built in the 18th century. The main decoration of the church is an altar that is made solely of wood. This altar was created by famous Portuguese masters Zhou Baptista and Francisco Javier. The church also has several fantastic wooden sculptures, amazing icons and frescos.
Local Archeological Museum remains the most important historic object. It has been opened in the building of the local municipality. Here visitors of the museum will find a unique collection of archeological artifacts, manuscripts and other exhibitions that illustrate the history of Portugal starting from prehistoric times and up to our days. Copyright www.orangesmile.com
Some of the popular hotels feature original interior in the style of the past. One of the most attractive Albufeira hotels is Vila Branca. This beautiful lodge is designed in Mediterranean …
Open
Albufeira restaurants can be also called a sight as here you will find absolutely everything. Fuji restaurant is considered the most "multi-functional" and universal as here you will see dishes from Japanese cuisine, vegetarian menu, a menu for kids, rich wine selection and fantastic choice of desserts. Another popular restaurant is Casa da Fonte that is opened in one of the medieval castles. This place is filled with romantic atmosphere and here you can taste dishes of local traditional cuisine. Finally, if you prefer Thai and Indian cuisine above all, Monsoon restaurant will fit your requirements the most.
In the old town there is a very interesting historical object - the Clock Tower. This ancient tower can serve as an excellent guide during the walks, as it is visible from almost all parts of the city. At the top, the tower is equipped with a great viewing platform, which can be accessed for free; though you may need to climb a little. It is most exciting to admire the ancient tower in the day of a national holiday. It is crowned by an unusual "crown", in which a bell is fixed, and during public holidays it is illuminated beautifully. 
It would be easy to find a hotel for an unforgettable romantic holiday in Albufeira. Very harmonious and relaxing atmosphere is a feature of Colina do Mar hotel. Its cozy rooms are painted …
Open
One of the most interesting religious objects is considered to be the church of St. Sebastian. It is a vivid example of Manueline - national architectural style, however, the church is notable not only for its unique architectural outlines. It features a fascinating museum, which presents the works of art, all of which were made by local priests. The most valuable exhibit is a large wooden panel, on which the images of saints are carved.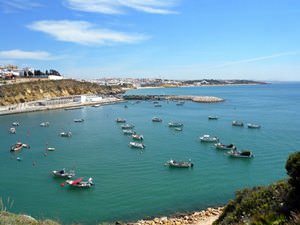 Within the half-hour drive from Albufeira is a charming ancient village of Paderne, which also offers a variety of attractions. Here you can take a stroll for free on the territory of the ancient church, which was built in the 12th century. In the village there are lots of beautiful old houses. Today those houses are handicraft shops, which the tourists always find fascinating, as well as small national restaurants. 
Largo Eng Duarte Pacheco central square is the seat of the most popular shops of the city. Nearby, are shops of popular brands.There is a large Zara Boutique store, as well as dozens of …
Open
The usual beach holiday in Albufeira can also be entertaining. Many tourists go to the coast during low tide, when the absence of water presents some very beautiful coastal areas with a lot of stones covered with algae. For the curious tourists this coast - the real find. They can observe the small fish and crabs, which are left in the puddles of water, and even go to gather some beautiful shells. During low tide not only tourists hurry to the beach, but also local housewifes. Here they gather some species of crabs and snails to cook them later for a good dinner.

This guide to iconic landmarks and sights of Albufeira is protected by the copyright law. You can re-publish this content with mandatory attribution: direct and active hyperlink to
www.orangesmile.com
.
City tours, excursions and tickets in Albufeira and surroundings
Reference information
Survived castles around Albufeira
♥ Castle 'Paderne Castle' , 8.8 km from the center.
On the map
Photo
♥ Castle 'Castle of Ayamonte' Huelva, 73.1 km from the center.
On the map
Photo
♥ Castle 'Tower de Isla Canela' Huelva, 77.6 km from the center.
On the map
Photo
♥ Castle 'Castle of Sanlúcar de Guadiana' Huelva, 81.9 km from the center.
On the map
Photo
National and city parks around Albufeira
♥ Nature Park 'Ria Formosa' , 41.3 km from the center.
On the map
Photo
♥ Nature Park 'Sudoeste Alentejano e Costa Vicentina' , 62.8 km from the center.
On the map
Photo
♥ Nature Park 'Vale do Guadiana' , 84.9 km from the center.
On the map
Photo
Sights around Albufeira from our guide 'Extreme places on Earth'
Carrapateira Beach
From the series
"Top Beaches for Surfing on Huge Waves"
Check on the map:
Distance from Albufeira center - 60.1 km.
The period from April to June is considered the best time to relax on this stretch of coast. The number of tourists is still relatively small at this time of year. But the conditions for sports are optimal. Most tourists visit the coast in July and August. Students from local surf schools regularly train here at this time of year. Carrapateira is crowded during the second half of the summer. Even experienced surfers will be uncomfortable relaxing here at this time of year. …
Read further

Car rental on OrangeSmile.com

Saudi Arabia to Open 38 Hotels in Diriyah
Diriyah is one of the first mega projects in Saudi Arabia. Hotels and other infrastructure will start opening next year, and all works are expected to end in 2026. The first 18 restaurants in Bujairi Terrace will start operating already in early 2022.
Read this
31.05.2023
Search touristic sites on the map of Albufeira
Sightseeing in regions nearby Albufeira
All about Albufeira, Portugal - sightseeings, attractions, touristic spots, architecture, history, culture and cuisine. Prepare your trip together with OrangeSmile.com - find out the 'must see' things in Albufeira, which places to visit, which excursions to take, where the breathtaking views are waiting for you. Planning your trip with this travel guide will help your to get the most out of Albufeira in few days.