Cuisine of Houston for gourmets. Places for dinner - best restaurants
The large-scale modern city has a truly huge selection of different dining places. It is safe to say that you could choose a place for every taste and budget among local restaurants, cafes and bars, as there are about three thousands of them. Local restaurants are very different; those are exotic, budget and upscale able to satisfy the most demanding gourmets.
Museum of Natural Science, St. Paul Church, Houston City Hall, Heritage Plaza, University of Hyyuston-Downtown, as well as many others, they all become the world's cultural heritage objects and remain as iconic monuments for Houston …
Open
Fans of Thai food are certainly recommended to have a dinner at the Thai Spice Asian bistro; it has begun serving visitors quite recently, about three years ago. The restaurant serves excellent Thai dishes cooked following classic recipes. Visitors would be pleasantly surprised by the quality of treats and speed of service.
You can spend an unforgettable evening in the Vida Loca Mexican Bar and Grill. In warmer months, visitors can accommodate themselves on open terraces, next to which there is a great play area for children. In the evening, visitors can listen to live music; the restaurant has become a permanent place for performances by popular artists. Copyright www.orangesmile.com
Houston is not widely known among vacationers as one of main cultural and tourist centers in the USA. However, the city occupies the second place in the United States in terms of the number …
Open
The real attraction is the Chinese restaurant Yao Restaurant & Bar. It is kept by Yao Ming being the world- famous athlete and the tallest player of NBA. Not only basketball fans would be interested in visiting this place, but also those who are fond of fine Chinese feasts. The Pappas Bros. Steakhouse specializes in local cuisine. You can taste interesting salads and traditional burgers, grilled vegetables and fish dishes. In the evening, the restaurant is always full of visitors, so it is better to book a table in advance.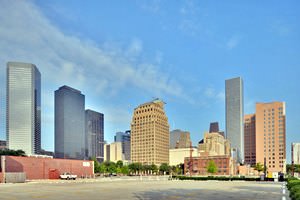 Travelers accustomed to rest in relaxed and lively atmosphere would enjoy the Chama Gaucha Brazillian Steakhouse. It serves excellent meat dishes and a lot of interesting exotic salads. The restaurant also has a decent wine list. Those who can't imagine a meal without their favorite sushi are recommended to dine in the Uchi restaurant specializing in Japanese cuisine. Regulars call it the best in its category. The restaurant has become popular thanks to the impeccable quality of food and attractive prices.

This guide to cuisine and restauraunt in Houston is protected by the copyright law. You can re-publish this content with mandatory attribution: direct and active hyperlink to
www.orangesmile.com
.
City tours, excursions and tickets in Houston and surroundings
Where to go for dinner in Houston: recommended cafe and restaurants
Mark's American Cuisine
Where: 1658 Westheimer Rd, Houston; Telephone: +1 713-523-3800;
Taste of Texas
Where: 10505 Katy Freeway, Houston; Telephone: +1 713-932-6901;
Américas River Oaks
Where: 2040 West Gray, Houston; Telephone: +1 713-200-1492;
Guadalajara del Centro
Where: 1201 San Jacinto, Space 141, Houston; Telephone: +1 713-650-0101;
Gigi's Asian Bistro and Dumpling Bar
Where: 5085 Westheimer, Suite B2515, Houston; Telephone: +1 713-629-8889;
Goode Company Texas Bar-B-Q
Where: 5109 Kirby, Houston; Telephone: +1 713-522-2530;
Treebeard's
Where: 315 Travis St., Houston; Telephone: +1 713-228-2622;
Goode Company Hamburgers and Taqueria
Where: 4902 Kirby, Houston; Telephone: +1 713-520-9153;
The Breakfast Klub
Where: 3711 Travis, Houston; Telephone: +1 713-528-8561;
Houston in photo set
Searching where to eat - restaurants and cafe on Houston map
Cuisine and restaurants in the neighbours of Houston
Travel notes on best cuisine and restaurants of Houston (USA) on OrangeSmile.com. Famous recipes and traditional dishes and courses in Houston restaurants. Where to eat - our recommendations on popular places in Houston, where you can taste delicious meal and also spend a good time with your friends.