Detailed hi-res maps of Graciosa for download or print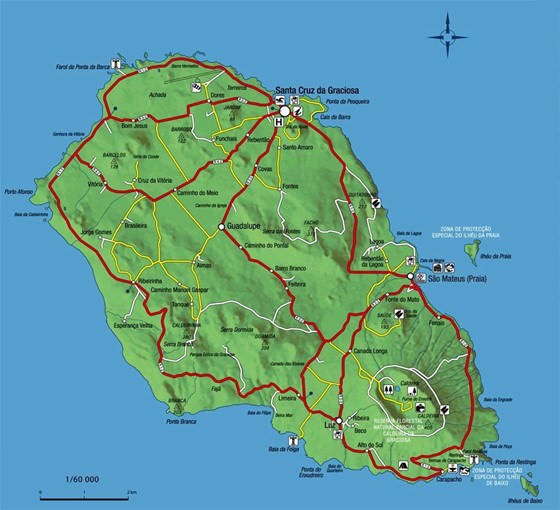 The actual dimensions of the Graciosa map are 930 X 847 pixels, file size (in bytes) - 123131. You can open this downloadable and printable map of Graciosa by clicking on the map itself or via this link:
Open the map
.
City tours, excursions and tickets in Graciosa and surroundings
Moving around in Portugal - transportation

Trams and lifts are equally popular in Lisbon. There is a metro in the capital. At the moment, there are only four subways that connect the city center with the most significant areas. The country's air transportation is also developed at a high level. There are several major international airports which operate in the country, but the internal displacement is poorly developed. The most popular flights are the ones which connects the mainland of Portugal with the island part of the country. …
Open

Economy roadmap of Portugal
In terms of fuel and energy index in Portugal, there are no problems. The average consumption of primary energy resources is about 30 million tons of oil equivalents. A large energy input is made by hydroelectric power stations. According to data of last year, the country produces more than 47 billion kilowatts per hour. Today, the standard of living in Portugal allows it to occupy a worthy 23rd place in the world ranking. Despite this, the wages here on average, are lower than in other countries of the European Union; about 650 Euros. The GDP growth is 2.6%, while the private incomes of citizens have grown by about 1.5%. Unemployment in the country is one of the lowest among the countries of the European Union and is about 4%. Inflation according to last year's data is 3.6%. The largest contribution to the GDP of the country is income from the services sector; more than 66%. About 30% comes from industry and about 3% from agriculture. …
Open

Car rental on OrangeSmile.com

The Demand for Travel with Bikes May Spike in Switzerland This Summer
Last summer, approximately 80,000 Bike Day Passes were sold in July, reaching an increase of 45% compared to 2019. For 2021, additional 15,000 bikes were brought to such popular routes as Bern to Brig and Zurich to Chur. The strong demand in 2021 is higher than supply which is still quite low. Moreover, bicycle traveling is a sustainable and eco-friendly way of exploring Switzerland, and this fact has brought the Swizz Transport and Environment Association together with Pro Velo on board.
Read this
19.04.2021
Search for services, infrastructure and sights on map of Graciosa
Photogallery of Graciosa sightseeing
Our guide chapters over Graciosa
Detailed maps of neighbouring cities to Graciosa