Detailed hi-res maps of Graciosa for download or print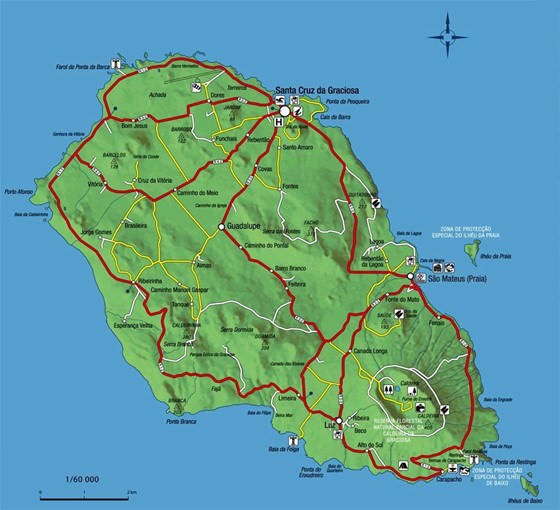 The actual dimensions of the Graciosa map are 930 X 847 pixels, file size (in bytes) - 123131. You can open this downloadable and printable map of Graciosa by clicking on the map itself or via this link:
Open the map
.
City tours, excursions and tickets in Graciosa and surroundings
Moving around in Portugal - transportation

Trams and lifts are equally popular in Lisbon. There is a metro in the capital. At the moment, there are only four subways that connect the city center with the most significant areas. The country's air transportation is also developed at a high level. There are several major international airports which operate in the country, but the internal displacement is poorly developed. The most popular flights are the ones which connects the mainland of Portugal with the island part of the country. …
Open

Economy roadmap of Portugal
In terms of fuel and energy index in Portugal, there are no problems. The average consumption of primary energy resources is about 30 million tons of oil equivalents. A large energy input is made by hydroelectric power stations. According to data of last year, the country produces more than 47 billion kilowatts per hour. Today, the standard of living in Portugal allows it to occupy a worthy 23rd place in the world ranking. Despite this, the wages here on average, are lower than in other countries of the European Union; about 650 Euros. The GDP growth is 2.6%, while the private incomes of citizens have grown by about 1.5%. Unemployment in the country is one of the lowest among the countries of the European Union and is about 4%. Inflation according to last year's data is 3.6%. The largest contribution to the GDP of the country is income from the services sector; more than 66%. About 30% comes from industry and about 3% from agriculture. …
Open

Car rental on OrangeSmile.com

Thailand Relaxes Its COVID-19 Policy
New Year events in Thailand are likely to bring more people this year because everyone is tired of lockdowns and craving normal life. Many tourists, who book hotels in Pattaya, Krabi, or Phuket for the holiday season, also want to participate. As champagne has become an essential drink for New Year celebrations, the question regarding alcohol consumption comes to mind. The government allowed serving alcoholic drinks during the New Year countdown but only open-air cafes and restaurants with good ventilation will be permitted to do this until 1 am on 1 January 2022. This rule is nationwide.
Read this
25.03.2023
Search for services, infrastructure and sights on map of Graciosa
Photogallery of Graciosa sightseeing
Our guide chapters over Graciosa
Detailed maps of neighbouring cities to Graciosa