How to spend top weekend in Amsterdam - ideas on extraordinary attractions and sites
Always crowded and popular with tourists, Amsterdam has many interesting and unusual places. One of them can be found in Hortus Botanicus
. This botanic garden was established yet in the first part of the 17th century and is known as one of the most famous and beautiful gardens in whole Europe. It is so big that not all visitors have enough stamina to see all interesting places of the garden during an excursion. When visiting it, don't forget to attend the magnificent "subtropical greenhouse". There is a fancy bridge in the greenhouse, from which visitors will enjoy an adorable view of ferns and blooming trees.
Amsterdam is not a kind of city that is full of various places of interest, which are well known all over the world. However, the city itself is actually one huge place of interest - its …
Open
Travellers, who are interested not only in sightseeing, but also in tasting local cuisine, should not limit themselves to eating in restaurants only. Pannenkoeken have become one of gastronomic symbols of the Netherlands. These delicious pancakes are served with different fillings and are distinguished not only by an original way of cooking, but also by quite an unusual way of serving. Experienced foodies know that the best place to taste this national dish is to visit The Pancake Bakery
that is located not far away from the Anne Frank Museum. Here visitors can choose from 70 different types of the popular national dish. The bakery will also please with its affordable prices.
Red Light District has been known as one of the most famous symbols of Amsterdam. Besides sex shops and various entertaining venues, the area has some interesting landmarks. One of the most extravagant monuments in the city is also located here. This is a bronze relief depicting a hand caressing a female breast. The monument is installed right in the ground and that makes it even more unusual. There are many legends connected with that monument. It is believed that it is particularly beneficial for men as those men who touch it are guaranteed to have male power and rich sexual life. Copyright www.orangesmile.com
Amsterdam is one of the best destinations among European cities for travelers with kids. Pleasant surprises and interesting entertainment await visitors simply everywhere, starting from the …
Open
Those, who are tired of visiting classical museums, are recommended to head to Amsterdam Tattoo Museum
. This museum was founded by Henk Schiffmacher, famous tattoo master. The opening of the museum took place in Amsterdam in 2011. Currently, the venue exhibits more than 40,000 items that are somehow connected to tattoo making. Having observed the museum and its exhibition, do not hurry to leave the area. There is an interesting book store near it, where it is possible to buy various books dedicated to tattoos.
If you like modern art, then wait till Sunday and head to Spui Plein
. On weekends, the square turns into a large and very popular art market. This is the place where travelers can see works of the most famous and talented artists of Amsterdam. It is possible not only to observe, but also to purchase the works that you like. Besides art, people come to the market to listen to live music as this is one of rare places where it is possible to see street musicians play on harps.
Restaurants and coffee houses of Amsterdam usually strike tourists by their diversity. This city will be surely appreciated by admirers of gastronomic tourism. Café Pacifico Restaurant …
Open
There are many parks in Amsterdam, and each of them has its own interesting peculiarities and places of interest. If the idea of seeing one of the most symbolic and unusual park monuments sounds appealing, head to Leidseplein Square and find the Hotel American that is located close to it. Then move south-west and you will reach a small charming park that is not known to the majority of travelers. In the park, find the old sycamore tree and look at its branches. There is a tiny figure of a human with a saw. This monument is a vivid illustration of the famous proverb "don't cut the bough you are standing on". The author of the statue and the time when it was installed are not clearly known. According to a theory, the monument was made by a local and it appeared in the park in the 80s of the previous century.

This article about ideas on extraordinary weekend in Amsterdam is protected by the copyright law. You can re-publish this content with mandatory attribution: direct and active hyperlink to
www.orangesmile.com
.
City tours, excursions and tickets in Amsterdam and surroundings
Original sights of Amsterdam, deserving Guinness book
Pythonbrug
From the series
"The Most Unusual and Strange Bridges on Earth"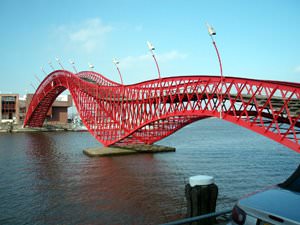 Check on the map:
Distance from Amsterdam center - 3.8 km.
The color of the bridge was chosen by chance and has no particular symbolic character. Within a few years 'Python' Bridge became a must for many excursion programs through Amsterdam and attracts not only the curious tourists, but also the construction workers from different countries. Like the other bridges of Holland, 'Python' is very solid and secure. Only high-strength steel was used during the construction of the bridge …
Read further

Electric Ladyland Fluorescent Museum
From the series
"15 Unofficial Man-Made Wonders of the World"
Check on the map:
Distance from Amsterdam center - 1 km.
In recent years, the museum's collection replenished with a variety of unusual sculptures. The layout of the Earth and a huge statue of Shiva are among the most impressive ones. Visit to the amazing museum in Amsterdam promises to be not only memorable, but also very informative event. Guests will learn about using fluorescence in contemporary art, industry and even marketing. They will understand how the thinnest ray of light is able to turn even an ordinary gray stone into a priceless piece of art. …
Read further

Netherlands Institute of Sound and Image
From the series
"Glass Architecture - Impressive Villas and Buildings from Glass"
Check on the map:
Distance from Amsterdam center - 24.4 km.
The project of this bright façade was made by an artist Jaap Drupsteen. He decided to devote this building to the history of Dutch television. Every glass panel on the façade is a washed-out photo where is depicted one or another important moment from the history of television. All photos were thoroughly chosen by the artist. He matched them on the façade by colour. The main part of the building is a warehouse of the audio-visual depository that is one of the largest in Europe. …
Read further

Amsterdam by photo artists
Search for interesting places on Amsterdam map
Visiting neighbours of Amsterdam for exclusive entertainment
Walk through hidden local streets, sneak to a small cafe, breathe and enjoy Amsterdam from inside. Stay out from the beaten track during your city weekend, discover the soul of Amsterdam as a real travel gourment. Follow our guide, take one of the exclusive services and spend your time in Amsterdam unforgettably and with a full passion!