City break in Bucharest. Active leisure ideas for Bucharest - attractions, recreation and nightlife
Bucharest has simply everything you need for quality rest - beautiful parks and gardens, interesting shopping malls and colorful markets, modern movie theaters and nightclubs, as well as a huge number of attractive restaurants and cafes. Fans of outdoor activities will surely enjoy visiting the garden of Cismigiu, which was founded in the middle of the 19th century. The development of the garden attracted many outstanding designers. Currently Cismigiu is home to rarest trees brought from the highlands. During warm months of year a huge number of flowers is planted there. Every day the garden is visited by a large number of residents and tourists, who enjoy walking on winding paths in the shade of trees, boating on the lake and looking at the splendor of the local beauty.
Palace of the Parliament, CEC Palace, Arcul de Triumf, as well as many others, they all become the world's cultural heritage objects and remain as iconic monuments for Bucharest …
Open
Fans of active pastime will definitely prefer Herastrau Park, which is also distinguished by beautiful landscape design. This park is simply perfect for sports entertainment. You will find numerous bike paths, tennis courts and several playgrounds for children here. Fair Square is located just a few steps away from the park. Here travelers can always find interesting souvenirs and gifts.
Tourists who cannot imagine rest without shopping should definitely not forget to visit Bucharest Mall. Here hundreds of shops and pavilions offer their visitors to choose from a wide variety of products starting from clothing and stylish accessories to household appliances and toys. Without a doubt, Humanitas bookstore is one of the best bookstores in Bucharest. This is the place where you can always find the newest books as well as your favorite works by world famous authors. Thomas Antiques shop is a very interesting place where you will surely find old paintings, interesting home decorations and items made of precious metals, which were created by skillful masters several centuries ago. Copyright www.orangesmile.com
This is a city with unusual architecture, spacious boulevards and largest number of parks. Within latest years many new buildings have been created in Bucharest, however, the city still …
Open
Fans of night entertainment will certainly never get bored in the city. They are surly recommended to visit SkyBar, which is considered the most popular club in Bucharest. Interesting theme parties take place here several times a week. The club is frequently visited by well-known music bands and DJs. People who want to relax in an unforgettable tranquil atmosphere will surely fall in love with Interbelic Club. Modern music, a cozy lounge with sofas, large selection of refreshments and friendly atmosphere of Interbelic will surely help you to spend a wonderful evening with friends. Fans of gambling will also easily find a suitable place in Bucharest. Palace Casino is a great place to play roulette, classic table games or try your luck in modern slot machines.
In Bucharest, there is also entertainment for those who prefer intellectual games and want to test their wit. Thus, to do this, you can try such escapes quests as TROLL, The Void, Captive or Escape Arena. These centers are considered the best for both an acquaintance with games of this kind and enjoying the favorite game. Another good way to entertain yourself is playing a treasure hunt. In the capital of Romania, this leisure option is represented by a game with the name of CityHunt Bucuresti.
Bucharest is one of the best cities in Romania for family recreation. The choice of entertainment for holidaymakers with children here is simply huge. The most famous and visited …
Open
Those who wish to gain some experience in playing virtual reality games should pay attention to such entertainment centers as Gateway Virtual Reality Studio, VR GameLab or VR Gaming Romania. The city is also ready to please laser tag enthusiasts who will surely appreciate Laser Megazone and LaserMaxx. And travelers wishing to try their hand at go-karting will not be at a loss if they go to conquer Karting - a center with a very simple name but lots of interesting things. One of them is, of course, the surge of the extreme hormone making the heart beat faster and the brain feel pleasure. Another good place for enjoying this pastime is Amckart Tunari.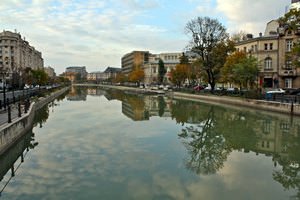 Axe Throwing - Dacian Rules where you can experience throwing axes is very popular here. Well, in order to play the sport beloved by aristocrats, you can go to GolfRoom or Golf Planet to enjoy this kind of recreation to its fullest. Another kind of fun pastime charging you with an unprecedented amount of positive energy would be a visit to Bubble Games entertainment center providing the possibility to feel like a living bubble playing football. You can be sure that both children and adults will like it.
Corn hominy porridge called Mamaliga is considered the hallmark of the national cuisine. Despite the fact that culinary traditions change simply every year and traditional dishes change …
Open
The Romanian capital has quite a lot of entertainment centers specifically designed for families. One of these places is Joy Club where every visitor from any age group is free to do whatever he/she wants. Gymboland, Funland are considered great places for spending time as a big family. If there is a desire to try rock climbing, you should not ignore centers like NoGravity Club or Fabrica de Catarat. But if people want to have a swim, the Romanian capital has prepared Divertiland Water Park and Piscina Urbana especially for them. And visiting Miau Cafe leaves no one indifferent - even dog lovers. Such a visit gives you many positive emotions for at least a long time.
Other centers where children have a lot of fun include House of Bounce, Divertiland Playland (for children aged from 3 to 6 years old), Creative Board Gaming (for a bit older kids). Besides that, small citizens of any age group will definitely be happy to explore theme parks located here in the capital of Romania. We are talking about such centers as Oraselul Copiilor, Terra Park, Parcul Tei. For enjoying ice-skating, please contact Cotroceni on Ice where both children and their parents can find entertainment.
Participating in national celebrations is the best way to get acquainted with national traditions and customs of Bucharest. Because of a wide choice of interesting celebrations Bucharest is …
Open
Those who prefer mystical places will definitely have something to do in Bucharest. More precisely, in its vicinity. One of these places shrouded in mystery is called the Witches' Pond. It is located in Boldu-Creteasca forest near the capital of Romania. It is interesting that there are no living creatures here - no frogs or birds, and all animals keep away from this place. Another oddity is that the temperature of the water never changes in the heat nor in the cold. It is no wonder that there are many legends connected with this place.
There are many other remarkable places that are definitely worth a visit in Bucharest. For example, Cărtureşti Carusel bookstore. Seems like nothing special? However, you should go there to feel the atmosphere creating the illusion that you are not in a mall but on a carousel. Do not miss the opportunity to visit unique museums in the Romanian capital. For example, such as Muzeul National al Satului "Dimitrie Gusti", Palatul Cotroceni, and Muzeul Militar. Connoisseurs of art will appreciate institutions like Rotenberg-Uzunov, Theodor Pallady Museum, and Codrin's Gallery.

This guide on active recreation and leisure in Bucharest is protected by the copyright law. You can re-publish this content with mandatory attribution: direct and active hyperlink to
www.orangesmile.com
.
City tours, excursions and tickets in Bucharest and surroundings
Recommended places for active recreation and leisure in Bucharest
Amsterdam
Where: Str Covaci 6, Bucharest;
Opium Studio
Where: Str Horei 5, Bucharest;
Jazz Café Bar
Where: Şos Stefan cel Mare 6, Bucharest;
Deja-vu
Where: B-dul Nicolae Bălcescu 25, Bucharest;
Cafeneaua Actorilor
Where: B-dul Nicolae Bălcescu 2, Bucharest;
Bonsai
Where: B-dul Magheru 24, Bucharest;
Allure
Where: Calea Floreasca 110, Bucharest;
Salsa III
Where: Str Mihai Eminescu 89, Bucharest;
The Office
Where: Str Tache Ionescu 2, Bucharest;
Reference information
National and city parks around Bucharest
♥ Natural park 'Comana' , 36 km from the center.
On the map
Photo
♥ Nature Park 'Rusenski Lom' , 86.3 km from the center.
On the map
Photo
♥ Natural park 'Bucegi' , 116.4 km from the center.
On the map
Photo
♥ Nature Park 'Persina' , 116.6 km from the center.
On the map
Photo
♥ National park 'Piatra Craiului' , 140.8 km from the center.
On the map
Photo
Amusement parks near Bucharest
♥ Amusement park 'Orǎṣelul Copiilor' Bucharest, 3.4 km from the center.
On the map
Photo
♥ Amusement park 'Luna Parc' Pitești, 103.7 km from the center.
On the map
Photo
Water attractions around Bucharest
♥ Water park 'La Playa Acua Park Chiajna ' , 12.5 km from the center.
On the map
Photo
♥ Water park 'Therme aqua park' Bucharest, 19.1 km from the center.
On the map
Photo
♥ Water park 'Smile Aqua Park' Brașov, 136.6 km from the center.
On the map
Photo
Attractions and entertainment in Romania

Fans of skiing will appreciate the high slopes of the Carpathians which is open for descent from December to March. The main ski centers in Romania are Sinai, Predeal and Poiana Brasov. The development of this type of active recreation in the country began only recently, such that the most modern technologies were employed in the beautification of resorts. Ski areas in Romania offer tourists a comfortable activity in mountaineering, cross-country skiing and even bobsleighing. …
Open

Photogallery of picturesque Bucharest
Search for active leisure and attraction spots on Bucharest map
City break ideas for neighbours of Bucharest
Guide to your best city break in Bucharest - popular places for recreation and leisure. Things to do during the day in Bucharest - attractions, parks, beaches, aquaparks, racing tracks, biking trails or waterski. Recommendations (with addresses, phone numbers and links) where to spend your time in the evening (bars, discos, clubs, etc.). We share some good ideas and the question 'What to do in Bucharest?' disappears immediately.