Family trip to Bucharest with children. Ideas on where to go with your child
Bucharest is one of the best cities in Romania for family recreation. The choice of entertainment for holidaymakers with children here is simply huge. The most famous and visited entertainment center of Bucharest is the Divertiland Water Park. It occupies a vast territory with a lot of pools and equipped terraces. Slides and attractions here can be seen for every taste. The water park has a pool with artificial waves, which is suitable for surfing training, equipped playgrounds for the youngest and an excellent café.
Holidaymakers with young children should visit the colorful water park Crangasi Aqua Parc. A significant part of its pools and attractions is designed specifically for toddlers. This water park is very calm and relaxing. There is a shallow pool with fountains for young children, slides for children of various ages, and spacious terraces where children can run and play. In the water park, there is an excellent restaurant, so one can comfortably rest here all day. Copyright www.orangesmile.com
Some hotels in Bucharest are distinguished by a very attractive and non-standard design, including upscale Z Executive Boutique Hotel. Mirrors in carved wooden frames and beautiful patterned …
Open
An obligatory part of the family holiday in Bucharest should be a visit to the local zoo. Among its inhabitants are tigers and lions, camels and ostriches, as well as sharp predators, including lynxes. The zoo is very beautifully decorated and is adorned with many trees and other living plants. At any time, visitors can peek into the restaurant located on the territory of the zoo or relax on one of the benches in the shade of trees.
A very unusual entertainment center is Oraselul Copiilor, which will be interesting to visit with children of any age. In addition to the usual attractions, the entertainment center offers visitors other entertainment, including fascinating excursions to the fairy-tale town. In this amusement park, besides the playgrounds and attractions, one can see interesting sculptures, visit the fairy-tale castle or relax on the restaurant's outdoor terrace, where visitors are offered a special children's menu.
One of the most prestigious hotels in Bucharest is Grand Hotel Continental that is located in the immediate vicinity of the National Museum of Art and occupies a beautiful historic building. …
Open
With children of school age, it is worth looking into the science museum Casa Experimentelor, in which every visitor can feel like a real researcher. All the exhibits in it can and should be touched. Children will have the opportunity to learn a lot of new things about modern scientific achievements. They will also be able to master the basic laws of physics and take part in interesting experiments in game form. The museum conducts both general and special excursions for children.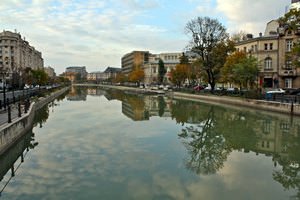 Those who like to relax in picturesque parks, in Bucharest can be recommended Parcul Lumea Copiilor. This large and well-kept park will be pleasant to visit at any time of the year. It is great for hiking in the summer and for skiing in the winter. There are several playgrounds for children on the territory of the park, as well as sports grounds. In the summer, interesting attractions are always set here and carting center equipped. The park is very popular not only among tourists, but also among locals.

This guide to family holidays in Bucharest is protected by the copyright law. You can re-publish this content with mandatory attribution: direct and active hyperlink to
www.orangesmile.com
.
City tours, excursions and tickets in Bucharest and surroundings
Reference information
Amusement parks near Bucharest
♥ Amusement park 'Orǎṣelul Copiilor' Bucharest, 3.4 km from the center.
On the map
Photo
♥ Amusement park 'Luna Parc' Pitești, 103.7 km from the center.
On the map
Photo
Water attractions around Bucharest
♥ Water park 'La Playa Acua Park Chiajna ' , 12.5 km from the center.
On the map
Photo
♥ Water park 'Therme aqua park' Bucharest, 19.1 km from the center.
On the map
Photo
♥ Water park 'Smile Aqua Park' Brașov, 136.6 km from the center.
On the map
Photo
Zoos and gardens in/near Bucharest
♥ Zoo 'Zoo Băneasa' Bucharest, 9.3 km from the center.
On the map
Photo
♥ Zoo 'Brașov Zoological Garden' Brașov Cartierul Noua, 136.3 km from the center.
On the map
Photo
Things to visit with your kids in Romania

Fans of active sports will appreciate the ski resorts in Brasov, Sinai and Pridyale. Modern ski tracks for all levels of training will allow safe descent even to the smallest skiers. Also, most resorts are equipped with bobsleigh trails. Older children will prefer mountaineering. Ski resorts are open to visitors from December to March, providing couples with children the opportunity to spend an unforgettable Christmas in the company of their loved ones. Qualified instructors equipped with safe and modern equipment will guarantee you a quiet vacation filled with only positive emotions. The famous Romanian cuisine will please family members with hearty dishes after a long active recreation. …
Open

Photogallery of best places of Bucharest
Children attractions (aquaparks, zoos, amusement parks) on the map of Bucharest
Interesting places to visit with children around Bucharest
Guide to sightseeing and entertainment for children in Bucharest - parks, attractions, museums, zoos, water-parks. All fascinating and educational sites of Bucharest, which are must visit and see for your child. Find out the best discovery routes and places for kids (local theaters, exhibitions and museums), where you can spend quality time together. Bucharest for families with children.