How to spend top weekend in New York - ideas on extraordinary attractions and sites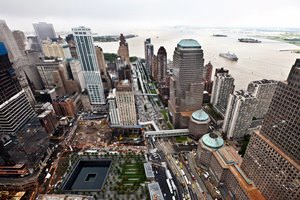 If you have already visited Times Square and have taken many pictures of the Statue of Liberty and Brooklyn Bridge, it's high time to start exploring unusual landmarks of New York. The megalopolis is rich in interesting places that are not known to many travelers.
For many people the national cuisine of the United States has always been associated with fast food, but you need to visit just a couple of restaurants and bars in New York to change this …
Open
If you like street art, don't forget to visit Long Island. One of the small quarters on the island, which is informally known under the name 5 pointz, is loved by graffiti artists. Their attention was drawn by the abandoned warehouses, the walls of which are nowadays covered with colorful paintings.
In order to rest from numerous people and noise of thousands of cars, head to Bushwick. Once a prospering industrial district, Bushwick looks quite abandoned nowadays. There are many old and rundown buildings and time-worn cars that have been abandoned by their owners. It's hard to imagine, but there are many old and forgotten districts like Bushwick in New York. Stalkers also enjoy walking in Red Hook and Vinegar Hill. It is not always easy to reach distant quarters, but the result is worth the effort – you will be able to see old and abandoned buildings, the age of many of which is more than a hundred years. Copyright www.orangesmile.com
While walking around the city, travelers will surely notice various interesting features, many of which may seem to be rather peculiar and unexpected. Thus, an ordinary bus stop here is a …
Open
If you happen to visit crowded Third Avenue during your exploration of the city, don't forget to dine in Exchange Bar & Grill that is open on that street. At a glance, it's a traditional grill bar with a classic menu that is not much different from other dining places. However, that is one of the most unusual places to eat in New York. The grill bar has dynamic prices that are formed in a very unusual way similar to the stock exchange market. Prices for food and drinks change literally every minute. If some dish is popular, the price remains high. In case some meal loses popularity, its price can fall down to a minimal level.
Do you like reading and always bring new beautiful books from your trips? Then you simply cannot leave New York without visiting Bedford Avenue. The picturesque street is the location of one of the most creative book stores of the city - Spoonbill & Sugartown. The main peculiarity of the store is not its size or particularly low prices but the choice of books that includes many old and even unique folios.
Broadway is the largest street of the city and one of its main attractions. The length of the avenue estimates 30 kilometers. Here you will find award-winning restaurants, best shops, …
Open
Fans of reading will like one more unusual venue - McNally Jackson café that is open on Prince Street. The design of this thematic café is quite creative, and books are the main decoration. Walls are covered with book pages, and some heavy tomes hang from the ceiling on the ropes. The café has a small library where guests can select a book and enjoy a cup of fragrant coffee and reading at a special table. These tables have bookends so visitors can comfortably enjoy reading, drinking coffee and eating fresh baking at the same time.
Do you want to experience extreme and romantics at the same time? If so, it's the right time to make an excursion to New York underground passages. Not many know that there are many old tunnels in the city, and the majority of them are concentrated in Chinatown. Popular excursions will get you to the old Atlantic Avenue Tunnel that was built in 1844.
New York is widely famous for stunningly huge number of entertainment venues, nightclubs and shops. Fans of dancing and night entertainments are free to choose from widest selection of …
Open
When exploration of underground passages becomes a bit boring and you start missing shopping, head to East Village that is famous for its numerous antiquity shops and vintage boutiques. In these shops, one can find carefully kept Chanel costumes made in the 70s of the previous century, Wu-Tang Clan t-shirts that were incredibly popular in the 90s, and many other iconic goods of the past.

This article about ideas on extraordinary weekend in New York is protected by the copyright law. You can re-publish this content with mandatory attribution: direct and active hyperlink to
www.orangesmile.com
.
City tours, excursions and tickets in New York and surroundings
Reference information
Michelin-starred restaurants in New York
♥ Restaurant 'Zutto' New York. Type - Asian. 0.5 km from the center.
On the map
Photo
♥ Restaurant 'Jungsik' New York. Type - Korean. 0.6 km from the center.
On the map
Photo
♥ Restaurant 'Tamarind' New York. Type - Indian. 0.6 km from the center.
On the map
Photo
♥ Restaurant 'Bâtard' New York. Type - Contemporary. 0.6 km from the center.
On the map
Photo
♥ Restaurant 'Macao Trading Co.' New York. Type - Asian. 0.6 km from the center.
On the map
Photo
Art galleries in New York and around
♥ Art museum 'New Museum of Contemporary Art' New York City, 1.5 km from the center.
On the map
Photo
♥ Art museum 'Museum of Russian Art' Jersey City, 2.6 km from the center.
On the map
Photo
♥ Art museum 'Whitney Museum of American Art' New York City, 2.8 km from the center.
On the map
Photo
♥ Art museum 'Rubin Museum of Art' New York City, 3 km from the center.
On the map
Photo
♥ Art museum 'Dia Art Foundation' New York City, 3.7 km from the center.
On the map
Photo
New York by photo artists
Search for interesting places on New York map
Visiting neighbours of New York for exclusive entertainment
Walk through hidden local streets, sneak to a small cafe, breathe and enjoy New York from inside. Stay out from the beaten track during your city weekend, discover the soul of New York as a real travel gourment. Follow our guide, take one of the exclusive services and spend your time in New York unforgettably and with a full passion!