Preparing your trip to Isle Of Man: advices & hints - things to do and to obey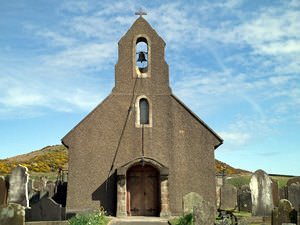 1. The island has ferry to Liverpool; it is worth noting that the ferry runs between the island and the city all around a clock. In summer, you can also take the ferry to Belfast and Dublin; it is allowed to carry vehicles on the ferry.
2. The Isle of Man has a very mild climate; the coldest month is February, but at this time the temperature rarely drops below +5°C. The warmest weather is in July and August, when the daily temperature is about +18°C.
3. Mann can boast a well-developed road network, the quality of which will please even the most discerning drivers. It's also worth considering that, according to local regulations, drivers don't have to comply with speed limits.
4. In addition to the main highways, towns of the island are connected with railways. Trains don't go during the whole year, some of them are only available in warmer months.
5. The island has its special currency - Manx pound, which is equal to the British pound. You can pay in both British and Manx pound in local shops, restaurants and hotels, but it is worth considering that the local currency won't be accepted outside of the island. You can exchange Manx pound exchange for British pound in absolutely any bank; no commission for such conversion will be charged. Copyright www.orangesmile.com
6. Most travelers visit the island in spring and summer, when the race is held. Those who decide to go for a trip at this time of year are recommended to book a hotel room in advance. Fans of relaxing leisure would be enchanted by the island in early autumn, when there are very few of tourists.
7. Public transport on the island is represented with an extensive network of buses that cruise around towns from early morning to late in the evening. Vacationers also have an opportunity to rent a car; the most popular car rentals are situated in the airport.
Traditional cuisine of Isle of Man is simple, affordable and very attractive. There are no exotic delicacies in it; highly culinary masterpieces can be found only in upscale restaurants. The …
Open
8. Shopping fans have to consider that shops close no later than 7:00 pm even in big cities. Short duration of the working day is typical for many restaurants; they can be closed at 4:00 pm already. Late visitors are welcome only in several pubs and bars, which are usually situated in the center of large towns.

Preparing your trip to Isle Of Man: advices & hints - things to do and to obey You can re-publish this content with mandatory attribution: direct and active hyperlink to
www.orangesmile.com
.
What to visit being in Isle Of Man - unique sights
Baldoon Castle
From the series
"The Most Mysterious Buildings (Houses, Palaces, Castles) in the World"
Check on the map:
Distance from Isle Of Man center - 69.1 km.
A true world leader in terms of mystical castles and palaces is the United Kingdom, as beautiful and mysterious legends are associated with literally every historic site of the country. Some legends don't have confirmation, but the history of Baldoon Castle clearly isn't one of them. There are many locals who have seen the ghost of a young girl living there. According to one legend, that's a ghost of Janet, the successor of the famous nobleman, James Dalrymple. …
Read further

City tours, excursions and tickets in Isle Of Man and surroundings
Car rental on OrangeSmile.com

Saudi Arabia to Open 38 Hotels in Diriyah
Diriyah is one of the first mega projects in Saudi Arabia. Hotels and other infrastructure will start opening next year, and all works are expected to end in 2026. The first 18 restaurants in Bujairi Terrace will start operating already in early 2022.
Read this
29.09.2023
Photos of Isle Of Man
Services search (pharmacy, police, parking, banks) on Isle Of Man map
Tips for the cities around Isle Of Man
Travelling to Isle Of Man - advices and tips. What should be provisioned in advance, the rules you might want to follow, and the things you better avoid doing in Isle Of Man. We help you to make your trip smooth and easy, with no unexpected surprises.