City break in Istanbul. Active leisure ideas for Istanbul - attractions, recreation and nightlife
Tatilya Entertainment Park is one of the best places for family holidays. The park occupies the fifth place in the list of largest parks in the world. Tatilya has enough space for as many as five thousand visitors at the same time. Kids will appreciate large selection of rides and game rooms, and music lovers are welcome to visit the amphitheater, which hosts music performances. In addition to this, the park has six restaurants and several bars where you can order drinks.
1. Before photographing local people, you should definitely ask them for permission. Remember you cannot make shots of women dressed in black capes. 2. When you enter a home or a mosque, …
Open
Miniatürk Park is another place that is worth visiting. This park was opened in 2003. Miniatürk is a mix of a conventional park and an open-air museum. Here you will find spacious terraces for rest and recreation, as well as some thematic areas with established models of attractions. In the park you will find cozy cafés, bars and lots of interesting shops. Youngest visitors will find much interesting in a specially created garden. The Istanbul zoo is widely known far beyond the borders of the country. Here you can see rare exotic animals and birds. You will be also pleasantly surprised by the design of cages, and by beautiful fountains and pools that are made everywhere in the zoo. Near the sanctuary is made a large park where you can walk through the picturesque valleys and relax on a hot day.
Istanbul never ceases to attract fans of nightlife. Here you will find clubs and discos for every taste. Reina club is considered a popular holiday destination. Besides a dance floor area here work several restaurants. The dance floor of the club is equipped on the roof of the building, so visitors can fully enjoy the panoramic views of the city. The opening of Babylon nightclub took place in 1989. The club has immediately become a favorite place of rest among jazz fans. During its long history the club has greeted many famous guests. Now its stage frequently hosts concerts of popular music groups. Rock music fans should definitely visit the Kemanci club, the three halls of which host various musical programs every night. Roxy club is another notable facility for fans of nightlife. Here are often organized the performances of popular DJs. Copyright www.orangesmile.com
Walks on charming French Street, mastering the ancient art of smoking narghile, degustation of seafood under the Galata Bridge or on the roof of an old house – you will find all these and …
Open
If you desire to comprehend the soul of this great city, you can just buy a ticket for the boat excursion and go to conquer the Bosporus. You will see the Galata bridge and tower, the Karakoy district, the Istanbul Modern, the Jihangir district, the Dolmabahce mosque and palace, the Beşiktaş stadium, the Galatasaray Lyceum, the Ortaköy mosque, the big Bosporus bridge, the Esma Sultan Palace, the Arnavutköy and Bebek area, the island Suada, historical peninsula, Topkapi Palace, Hagia Sophia, blue mosque and many more. All these will cost you 20 euro per a person. The excursion is held for an hour and a half. You will learn: where to try the most delicious sandwich in Istanbul with mackerel and baklava, kumpir and waffles, what the Ottoman pink color looks like, what is Ottoman Baroque, what is yalas and why the Bosphorus was blocked by chains.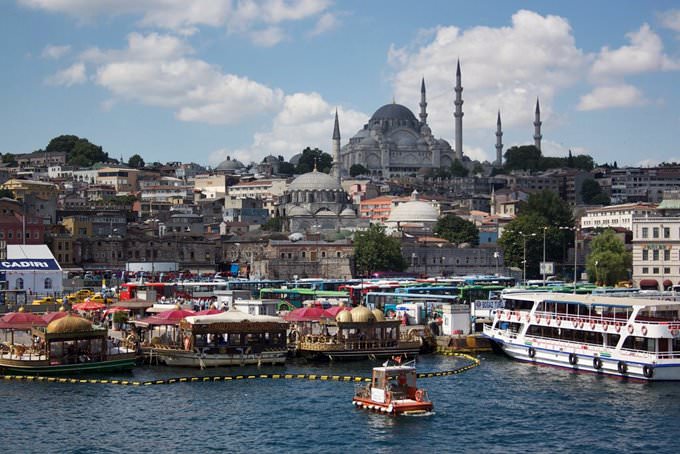 Another way to learn the city of Istanbul by taking the walking excursion "How to understand Istanbul and get pleasure from it". This is the daily group sightseeing tour, which is worth taking in order to get acquainted with the city. For 3 hours you will begin to navigate in the main sights of the city and the intricacies of Istanbul history. Discover the favorite places of local people. After the tour, Istanbul will become clearer to you, and walking around the city will be more interesting! You will learn your favorite places - Ottoman coffee houses, city hookahs, cheap home cafes and restaurants with a panoramic view of Istanbul magnificence. You will find out where to try traditional dishes without tourist admixtures, how to make profitable purchases, where to have fun and how then you can comfortably reach anywhere in the city even at night. All these pleasures cost 20 euro per person.
Istanbul is rich in unique hotels, such as Hypnos Design Hotel that is able to hypnotize visitors by a mere design of its façade. All elements of this designer hotel are indeed hypnotically …
Open
And the last excursion every active tourist, especially shopper, must take is the individual walking tour through the bazaars of Istanbul. The tour is conducted by a local resident. Find out where and what to buy, see the markets, which do not write in the guidebooks. The price is 53 euro for the four-hour tour. The market behind the Galata bridge near Eminonu Square (Saturday-Sunday) is littered with Chinese toys and mobile phones of incredible colors and a completely mysterious origin and quality. And on Beyazit Meydanı (also on Saturdays and Sundays) you can buy apple tobacco and smuggled Syrian silk scarves, which are traded by the Kurds. One of the most famous urban markets in Kadikoy runs two days a week: on Tuesdays - as a grocery (especially popular are various kinds of cheese here), and on Sundays - as a flea market.
This guide on active recreation and leisure in Istanbul is protected by the copyright law. You can re-publish this content with mandatory attribution: direct and active hyperlink to
www.orangesmile.com
.
City tours, excursions and tickets in Istanbul and surroundings
Recommended places for active recreation and leisure in Istanbul
Orient Express Bar
Where: 34 Hüdavendigar Caddesi, Hocapaşa, İstanbul, Istanbul; Telephone: +90 212 520 71 61;
Kaktüs
Where: Imam Adnan Sok. 4, Beyoglu, Istanbul; Telephone: +90 212 293 61 00;
Kemanci
Where: Siraselviler Cad. 69/1-3, Taksim, Istanbul;
Roxy
Where: Siraselviler Cad., Arslan Atari Sok. 3, Taksim, Istanbul; Telephone: +90 212 249 12 83;
Reference information
Amusement parks near Istanbul
♥ Amusement park 'Vialand' Istanbul, 6.9 km from the center.
On the map
Photo
Sites around Istanbul from our surveys on extreme Earth places
Sirkeci Gari Station
From the series
"Top 14 Most Astonishing Railway Stations in the World"
Check on the map:
Distance from Istanbul center - 1.1 km.
Earlier at this place were placed marvellous Ottoman villas and ancient fortress walls. All this was demolished before the building of the railway station. The scientists found this district very significant from the archaeological point. Under the station may be placed ancient ruins of the Constantinople. Sirkeci Gari Station is attractive not only for admirers of ancient architecture but also for gourmands. In the clock tower, the luxurious restaurant "Orient express" has been adoring people with its marvellous dishes and atmosphere for a number of years. …
Read further
Dolmabahce Palace
From the series
"The Most Elegant Buildings of Baroque Architecture"
Check on the map:
Distance from Istanbul center - 1.1 km.
Nowadays the wonderful Baroque palace is used as a museum. Visitors can see there a lot of marvellous elements of decoration and old pieces of art. Dolmabahce Palace is a very popular sightseeing in Istanbul. Tourists like to take a lot of pictures of it, not only from the ground but also from the water during a boat trip. Since 2007, this palace is an official residence of the Turkish prime minister. That's why a great part of rooms is closed for tourists. Near the Dolmabahce Palace, you can find the so-named mosque, which is also very interesting to visit. …
Read further
Turk ve Islam Eserleri Muzesi
From the series
"Top Surviving Artifacts of Muslim Civilization"
Check on the map:
Distance from Istanbul center - 1.6 km.
You can walk around the museum both independently and accompanied by a guide, all its exhibits are supplemented with detailed explanatory signs. Some of the exhibits, presented in the museum, are very unusual, here you can see huge stone columns, and slabs, which are carved with a variety of historical subjects. The collection of ceramics is a collection of great interest, as well as the collection of old books collected in the museum. This museum will be interesting to visit even with children. The whole point is that during the tour with the help of a projector interesting themed cartoons are being shown. …
Read further
Photogallery of picturesque Istanbul
Search for active leisure and attraction spots on Istanbul map
City break ideas for neighbours of Istanbul
Guide to your best city break in Istanbul - popular places for recreation and leisure. Things to do during the day in Istanbul - attractions, parks, beaches, aquaparks, racing tracks, biking trails or waterski. Recommendations (with addresses, phone numbers and links) where to spend your time in the evening (bars, discos, clubs, etc.). We share some good ideas and the question 'What to do in Istanbul?' disappears immediately.