Maps of cities and regions of Mexico
Additional maps of Mexico
Unique points of interest in Mexico
Toilet with Glass Floor
From the series
"Public Toilets, Who Makes it Extravagant"
One of the most terrible toilets in the world can be found in Mexico, in the city of Guadalajara. A few years ago, the unique design-high-end penthouse was set up in one of the city's high-rise buildings, the main features of which are the WC with the glass floor. The penthouse is on the 14th floor of the building, its toilet was built above the deep stone pit. When entering the transparent glass floor, it seems that you simply enter the abyss. This original toilet is more suitable for fans of the nerve kinkel.
The room in which the toilet is today was once the elevator shaft. After the conversion of the building, a new application has been developed for this purpose. Although not everyone can get into the toilet, the curious tourists can see this unusual sight. For this you just have …
Read all
Cenotes of Yucatan
From the series
"Stunning Beauty Places of the Earth, Unknown to Tourists"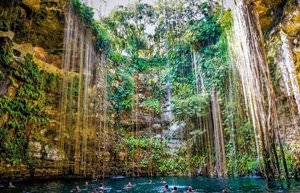 The peninsula of Yucatan is known for its incredible natural beauty. No wonder this is one of the most unique and little explored sights - Cenotes. These are the underground karst caves that are filled with the water. Cenotes have formed as a result of volcanic activity. In total there are about 2 400 cenotes on the territory of the peninsula. Many of them form a single complex with the underground rivers and lakes.
Some underground holes have long been known to and known by thousands of tourists. In some underground caves one can discover the wonderful beaches, and the others are popular with the divers. Many cenotes, which can be seen on the peninsula of Yucatan, are very old. The arches of some subterranean caves are gradually collapsing, making them a kind of deep wells. On the …
Read all
All unique sightseeing Mexico

Fantastic City Tours and Excursions in Mexico
Country maps

Reykjavik to Host Two Important Esports Events
Riot Games is bringing two major esports events to Iceland for the first time. The contests will take place in the Laugardalshöll indoor sporting arena in Reykjavik. It was not easy to be selected for these events as League of Legends and Valorant are extremely popular games with a big fan base around the world. Fifteen cities were competing in the bidding process but Reykjavik was selected.
Read this
13.04.2021
Interactive maps of hiking and biking routes in Mexico
1. You can zoom in/out using your mouse wheel, as well as move the map of Mexico with your mouse.
2. This interactive map presents two modes: 'Biking Routes' and 'Hiking Routes'. Use the '+' button on the map to switch between them.
Railway and landscape maps of Mexico
This Mexico map has two modes: 'Railway Network' and 'Landscape & Rural Map'. Use the '+' button on the map to navigate.
Maps of cities and regions of Mexico