National cuisine of Czech Republic for gourmets. Authentic recipes, delicacies and specialties
The Czech Republic is located in the heart of Central Europe. The cuisine of this country is world famous for its wonderful beer and juicy meat used for the preparation of many dishes. Roasted crispy pork knee is one of the traditional Czech dishes. Karbanátek is fried, breaded meat patties made of minced beef, pork or fish. Grilled sausages are served with mustard or horseradish, there are also popular sausages marinated in vinegar, onions, and all sorts of spices. They are usually eaten with beer. "Pilsner Urquell" and "Kozel" are the two most famous and popular beer brands in the Czech Republic. Locals also like stewed beef generously poured with vegetable sauce, which is often served with whipped cream.
1. In Czech cities, especially in Prague, tourists are often insistently offered to exchange money on the street. Of course, you should do this only …
Read further
The meat of turkey, chicken, lamb, rabbit, as well as fish, is often used in traditional dishes. In Czech restaurants and local kitchens, you can find such dishes as roast duck and stuffed goose. Stewed pork goes to goulash, a spicy rich soup with onions particularly popular in wintertime. The most common garnishes to the main dishes are potatoes, rice, whipped cream, sliced dumplings made from potato or millet flour. Dumplings are generally well-liked here. They are prepared from yeast and flour with the addition of sugar, eggs and salt, and boiled in salted water for 20 minutes. Fried cheese is also widespread. Special tasty cheese popular in the Czech Republic is called "Hermelín" - it is white on the outside and very soft inside.
Apart from goulash, Czechs love onion and garlic soups. Salads are typically seasoned with lots of sauce or mayonnaise. Shopska salad is made from diced vegetables: tomatoes, green, yellow and red peppers, cucumber and onions covered in Feta cheese. All ingredients are mixed, sometimes with olive oil. Cucumber salad with sour cream, salt, sweet pepper, sweet onions, vinegar, and garlic is quite popular. Cucumbers are left in a colander with garlic and salt for half an hour, then the vegetables are manually squeezed out as much as possible. Copyright www.orangesmile.com
Many tourists travel to the Czech Republic as families. Here there are entertainment and educational programs and places to suit children and adults …
Read further
Popular local desserts include fruit dumplings, as well as pancakes with various fillings: fruit, jam, ice cream. They are covered in almond nuts or whipped cream. Sugar is added to some types of salads. A multi-layered honey cake with nuts and condensed milk is also very popular. On holidays, Czechs often eat fish soup. Dishes that contain legumes symbolizing the material well-being are always prepared for Christmas. Fried carp is indispensable during the winter holidays, and many Czechs put fish scales in their wallets to attract money in the coming year.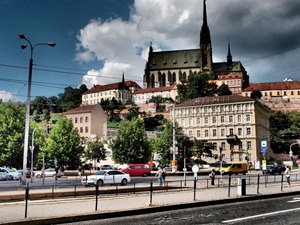 When dining at a Czech restaurant, keep in mind that bread standing on the table or served with a soup is rarely free. You'll most likely have to pay for each slice. Sauces and garnishes are normally paid separately. In cafes and restaurants, Czechs often share tables with strangers - sitting down next to someone is normal when there are no free places. After the meal, it wouldn't be superfluous to compliment the chef. It is customary to leave a tip in the amount of 10-15% of the bill. Tips shouldn't be left on the table but given directly to the waiter along with the total amount, informing him/her about it.
In the Czech Republic, shopping malls, stores, and supermarkets are at almost every turn, which makes it a great destination for shoppers. Popular …
Read further
If you are invited to a Czech home, be sure to bring a bottle of wine with you. Men traditionally enter the house first, the same rule applies to restaurants. The knife is held in the right hand, the fork in the left. Hands should be visible, do not put them on your knees. Putting elbows on the table and picking teeth are not acceptable. At somebody's home, guests eat everything that is on the plate, after which offered a second batch. But keep in mind that agreeing immediately is ill-mannered - first it's better to refuse.
For fans of eating out, in the Czech Republic, there are all kinds of coffee shops and restaurants. Browar Krajowy brewery restaurant in Prague is a great place for beer lovers where Czech Lion beer is brewed and served, as well as traditional Czech dishes. Artisan Cafe & Bistrot in the capital offers fragrant coffee and own-baked pies. The cafe is vegetarian-friendly. In Karlovy Vary, you will find Smichovsky Pavilon, an elegant restaurant that is more than 120 years old. Czechs gather here to watch sports on large screens.

This article about national cuisine of Czech Republic is protected by the copyright law. You can re-use the content, but only under the condition of placement of an active link to
www.orangesmile.com
.
Fantastic City Tours and Excursions in Czech Republic
Reference information
Michelin-starred restaurants in Czech Republic
♥ Restaurant 'Alcron' Praha. Type - Modern cuisine.
On the map
Photos
♥ Restaurant 'Aromi' Praha. Type - Italian.
On the map
Photos
♥ Restaurant 'Atelier' Praha. Type - Modern cuisine.
On the map
Photos
♥ Restaurant 'Aureole' Praha. Type - International.
On the map
Photos
♥ Restaurant 'Bellevue' Praha. Type - Modern cuisine.
On the map
Photos
♥ Restaurant 'Blue Wagon' Praha. Type - Modern cuisine.
On the map
Photos
♥ Restaurant 'Café Imperial' Praha. Type - International.
On the map
Photos
♥ Restaurant 'Casa De Carli' Prague. Type - Italian.
On the map
Photos
♥ Restaurant 'Divinis' Praha. Type - Italian.
On the map
Photos
♥ Restaurant 'Eska' Prague. Type - Czech.
On the map
Photos
♥ Restaurant 'Field' Prague. Type - Modern cuisine.
On the map
Photos
♥ Restaurant 'George Prime Steak' Praha. Type - Meats and grills.
On the map
Photos
Sights of Czech Republic - photostream
Cuisine and restaurants in popular cities of Czech Republic
Map of Czech Republic cities with popular restaurants