Cuisine of Liberec for gourmets. Places for dinner - best restaurants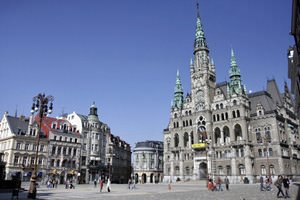 Liberec is the perfect place to explore traditional Czech cuisine. This city has many attractive restaurants offering not only a rich regional menu but also a special authentic atmosphere. At any time of the year, traditional soups are an important component of the menu. Mushroom soups are especially popular with tourists. Česnečka soup cooked with a large amount of garlic is considered a classic of the menu. A mandatory component of the dish is all kinds of smoked sausages and other meat delicacies.
Liberec is a wonderful city for families with children. Many of its sights are ideal for a family visit. In the city, there is an inventive scientific and entertainment center iQLANDIA. A …
Open
Even though regional dishes are clearly dominated by first courses based on meat, some soups are still prepared without it. A good example is Bramboračka - potato soup with seasonal vegetables. The way of serving the first courses is also special in Liberec restaurants. In some of them, dishes are served in bread bowls. To serve such dishes, they use the most delicious fresh bread, which is rarely left untouched.
The most common snacks in local restaurants are all kinds of meat delicacies. Among them, it is definitely worth highlighting juicy sausages, which are typically served with pickled vegetables. Gourmets would be interested in trying smoked sausages and jerky meats. On the menu, such cold cuts are called Klobása. Before serving, most sausages are usually grilled beforehand. Copyright www.orangesmile.com
Liberec is the perfect place to explore the traditions and lifestyle of local population. Local residents are distinguished by an interesting character, a special attitude to their culture …
Open
Liberec is also famous for its cheese-making traditions. After all, cheese is another common snack and an important component of popular dishes. Some types of cheese are fried and served with a vegetable garnish or french fries. Hermelin cheese is perfect for frying. The production of blue cheese is also linked with many interesting traditions. Guests of the city will have a chance to try rare Vltavín cheese. The cheese heads are covered with white mold outside and blue inside. The cheese turns out to taste very piquant and unique.
Typical main courses are all kinds of meat goulashes and roasts, they also prepare original and hearty dishes of potatoes. A popular festive dish is spit-roasted pork. As for desserts, attention should be given to traditional pastries. In Liberec, they bake fantastic sweet pies and world-famous Czech cakes.
The main historical symbol of Liberec is the old Town Hall, a striking Renaissance-style architectural monument. Its construction took place at the end of the 19th century, the main …
Open
One of the best Czech restaurants in town is Plzenka - Duli, which is stylized more like a small cozy cafe. Here, guests are offered simple and locally popular dishes, for the preparation of which they use regional products. Here you can taste wonderful home-style treats, as well as enjoy popular Czech beers.
The famous Valdstejn restaurant is a favorite place of fans of hearty meat dishes. If you believe its regular visitors, it's here that you can try the best steaks in Liberec prepared from the most tender pork and beef. The dishes are distinguished not only by impeccable taste but also by spectacular decoration. The menu available to guests is very diverse. In addition to traditional Czech food, they also serve Mediterranean cuisine. An affordable price level is another nice bonus.
Liberec invites fans of active holidays to visit beautiful nature parks and botanical gardens. Besides, the city offers several modern entertainment centers. The favorite spot of tourists …
Open
Certi na Jestedu invites visitors to try popular Czech and European dishes. This cozy restaurant serves great soups from various types of meat, as well as the best regional delicacies and dishes from seasonal vegetables. A variety of poultry dishes is among the main features of the menu. Chefs are especially good at duck dishes. For dessert, it's definitely worth ordering traditional home-style pastries.
U Prasete Restaurant is located away from the busy central streets, so local residents make up the bulk of its visitors. Here, for a moderate price, you can try traditional every-day dishes locals are used to. Rich meat soups with fragrant bread, stews with gravy, sweet and savory pastries, dozens of beers and popular soft drinks - these are the main features of the attractive restaurant.
1. Liberec offers very comfortable weather conditions. It is never too hot here even in the height of summer, and in winter, severe frosts and winds are quite rare. 2. The city has a …
Open
Among the most original local restaurants, Rybarska Basta stands out. Its location is a unique historic building, which used to serve as a fishing harbor. This restaurant is one of the few in the city, which, in addition to traditional meat specialties, offers visitors a decent selection of fish dishes. Another characteristic of the restaurant is that many of its specialties are cooked on charcoal so have a unique taste.

This guide to cuisine and restauraunt in Liberec is protected by the copyright law. You can re-publish this content with mandatory attribution: direct and active hyperlink to
www.orangesmile.com
.
City tours, excursions and tickets in Liberec and surroundings
Liberec in photo set
Searching where to eat - restaurants and cafe on Liberec map
Cuisine and restaurants in the neighbours of Liberec
Travel notes on best cuisine and restaurants of Liberec (Czech Republic) on OrangeSmile.com. Famous recipes and traditional dishes and courses in Liberec restaurants. Where to eat - our recommendations on popular places in Liberec, where you can taste delicious meal and also spend a good time with your friends.