City break in Almere-Stad. Active leisure ideas for Almere-Stad - attractions, recreation and nightlife
City tours, excursions and tickets in Almere-Stad and surroundings
Sites around Almere-Stad from our surveys on extreme Earth places
Castle Muiderslot
From the series
"Impressive Castles and Palaces Located on Water"
Check on the map:
Distance from Almere-Stad center - 6.4 km.
Already a century later, there was no trace of the fine, exquisite atmosphere prevailing in the castle. The gardens were destroyed and the castle was converted into prison. In the 20th century the historical building was restored. Today the castle is a branch of the Amsterdam State Museum. Recently, the unusual medieval-style attractions were arranged in the palaces. All visitors can try on the ancient armor or costume of the court jester, learn to deal with the old weapons. In the small courtyard you can enjoy the aristocratic entertainment - participate in the falcon hunting. …
Read further

Pythonbrug
From the series
"The Most Unusual and Strange Bridges on Earth"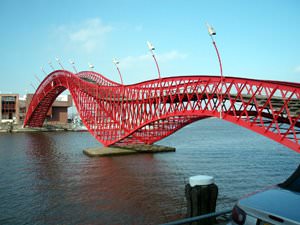 Check on the map:
Distance from Almere-Stad center - 13.7 km.
The color of the bridge was chosen by chance and has no particular symbolic character. Within a few years 'Python' Bridge became a must for many excursion programs through Amsterdam and attracts not only the curious tourists, but also the construction workers from different countries. Like the other bridges of Holland, 'Python' is very solid and secure. Only high-strength steel was used during the construction of the bridge …
Read further

Photogallery of picturesque Almere-Stad
Search for active leisure and attraction spots on Almere-Stad map
City break ideas for neighbours of Almere-Stad
Guide to your best city break in Almere-Stad - popular places for recreation and leisure. Things to do during the day in Almere-Stad - attractions, parks, beaches, aquaparks, racing tracks, biking trails or waterski. Recommendations (with addresses, phone numbers and links) where to spend your time in the evening (bars, discos, clubs, etc.). We share some good ideas and the question 'What to do in Almere-Stad?' disappears immediately.